.
.
Hey wonderful friends!!!  Today at the PANDARAZZI FORUM I did the drawing for a panda pendant valued at over 150.00!!!!  All the members had to do were to add their comments HERE ON THE FORUM and tell the Pandarazzi membership which Chinese Horoscope sign they were.
Check out the UTube video below I did just for contest that shows how I chose the winner!!!
.
CLICK HERE IF THE VIDEO BOX DOESN'T SHOW UP JUST BELOW IN 15 SECONDS OR SO.
BE SURE TO TURN THE VOLUME ON!!
If you would llke to participate in future panda jewelry drawings or be the first to be informed of any panda or China inspired jewelry, be sure to sign up for the PANDARAZZI FORUM….it only takes a moment and you can participate as much or as little as suits your schedule!!!
Congrats to Meowkitkat for being the #9 winner that Bling Bling chose!!!
Diana….Bling finally got that bath she so desperately needed.  A visit to SPA GRAFFITI and she looks almost like new!!………well except for the noodle soup I dribbled on her and my camera in Chengdu…lol!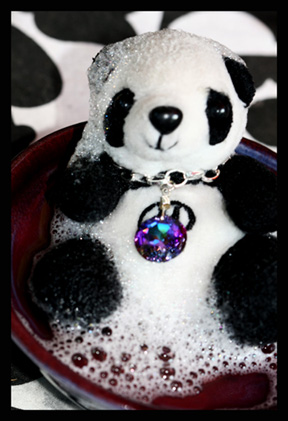 And a seriously big grandma brag.  The Vincent puppies you all saw a month ago are growing up fast.  Here they are on Ekarat's website in Thailand with mommy "Money" and daddy  "Vincent" (Dianas and my boy) Unreal to think our Vinnie has been gone for years but is carrying on through this modern miracle of frozen little swimmers!!!  We just saw Ek this weekend at the Portland dog shows and it was such a wonderful visit.  Great to catch up after we saw him in Thailand in February.
Thank you again Ek from all of us… Steve and myself and Diana and Jim for giving our Vincent such a beautiful wife to compliment him!!  I can hardly wait to see them in person some day!!
YOU CAN SEE EKS WEBSITE AND THE PUPPIES LARGER BY CLICKING THE PHOTO  BELOW