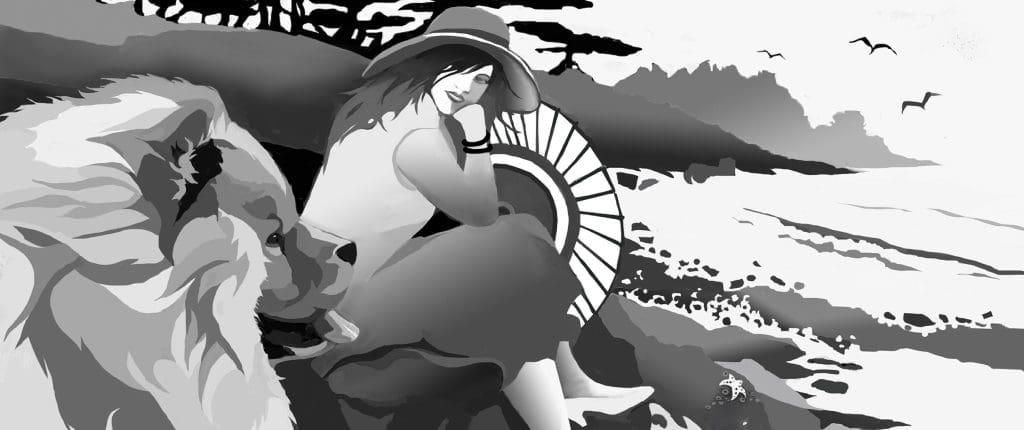 CUSTOM LOGO DESIGN by Sandra
I truly love designing personal, kennel, and Specialty Club logos, and take great pride in creating eye catching illustrations that celebrate the heritage of your breed, show theme etc. while translating beautifully into print. From small items such as business cards and lapel pins, to impressive banners, logo wear, etc. with a style that highlights selling appeal and your "brand", on all of your personal or club swag.
---
$250.00 USD is my logo base price
Custom logo pricing varies according to how complex you require it to be , but for the most part, logos are best kept streamlined (Art Deco and streamlined is my signature style) to print in the highest quality

.

Complex backgrounds or multiple dogs in a logo will add to the final cost.

If you already have ideas or a theme/elements to work with, we can brainstorm those into a concept for an accurate price quote.
---
MY PRICE QUOTE INCLUDES
The logo artwork and text (kennel, club, or personal name) where applicable

The client or clubs' exclusive use of the logo artwork

The original files will be emailed to you or your printer in a few different versions to work on both light and dark backgrounds,

A lower resolution version of the logo will be supplied for easy social media sharing.

I retain the right to display the logo in my advertising once the client or club has made the logo/specialty public. If you prefer to keep it private just let me know.
For embroidery, you will need to have the print files converted. Most embroidery companies offer that service.
---
BELOW FIND A SAMPLING OF RECENT LOGOS I HAVE DESIGNED
---
---
CONTACT ME at

[email protected]

TO GET STARTED ON A PRICE QUOTE AND THE FUN OF WORKING TOGETHER ON YOUR CUSTOM LOGO DESIGN
---