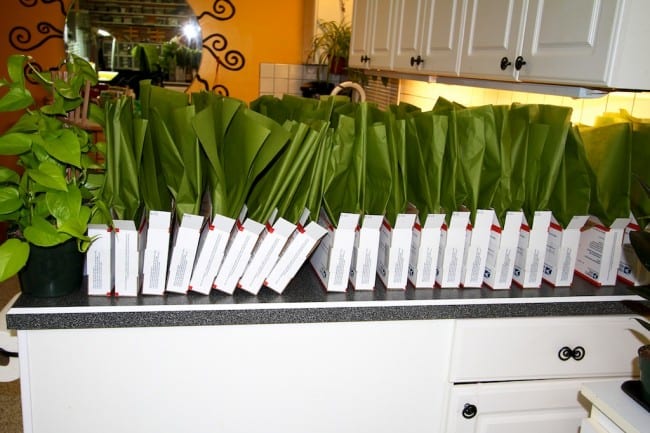 ASSEMBLING PRIORITY MAIL BOXES AND LINING WITH GREEN TISSUE..JUST A HINT OF THINGS TO COME
I want to first thank you all for making this 2012 Graffiti Jewelry Trunk Show the most exciting event yet. All of last week's jewelry purchases have been lovingly wrapped, given a goodbye kiss and sent off into the world to their new owners!!!! This was truly an International event, as parcels were shipped to the following countries. The United Kingdom, USA, Brazil, Canada, France, Germany, Australia, Finland and New Zealand.
SOLD items will be reappearing under the GALLERY tab on my website early this week and are still visible on the PREVIEW
I am extending a 20% discount special from today for tomorrow as well on all remining Trunk Show jewelry. There are some real treasures still awaiting at this special deal .
Use discount code MONDAYSPECIAL20 at checkout on my WEBSITE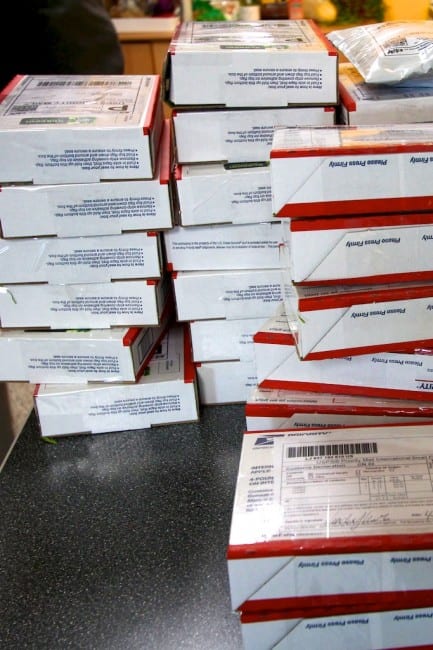 ABOVE: PACKAGES WAITING FOR STEVE TO BRING TO POST OFFICE
Making jewelry and art is far more than a business for me…it's my sanity and my strength. My customers are not only the people who purchase and wear my designs, but my muses and friends whom I've gotten to know and adore. Thank you from the bottom of my heart for your continued friendship and support.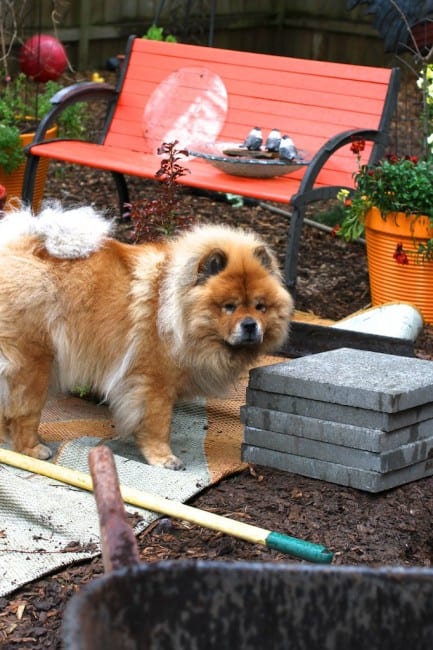 LIL WAS NOT AMUSED BY FELIX COMING OVER TO TEAR UP HER YARD
While I was feverishly trying to get the last details ready for the Trunk show on the 11th…who decides to show up to do my patio project but Felix…our awesome garden helper. He had a quiet day but little did he know how insane mine was. Right after the jewelry preview, and before the sale that evening, I had to run to Home Depot with Felix to pick out and purchase more patio tile! We love our little area he did last year so much that we decided to expand it a bit.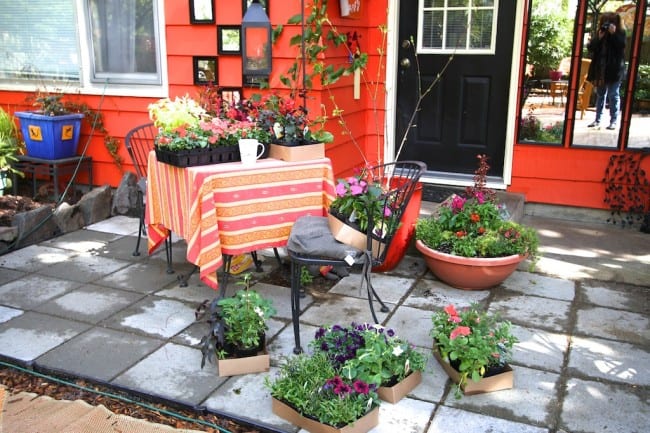 All went well and I got back in plenty of time but it was a crazy crazy day!!! I decided on Saturday morning to treat myself to a few new flats of annuals for my patio pots and had the most relaxing (and hard working) weekend ever, decorating my expanded space.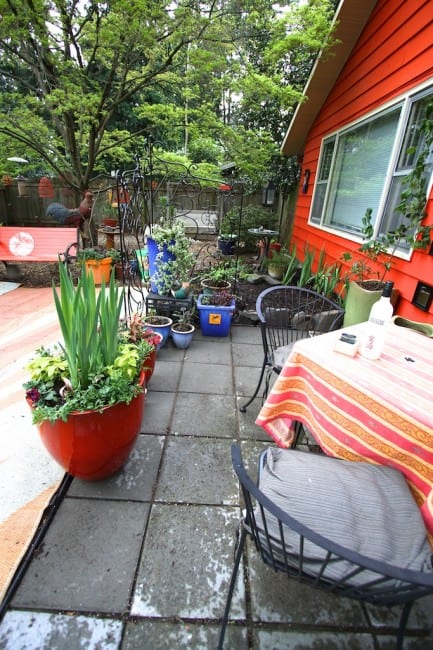 We expanded the patio 3 extra rows of the 18" pavers on the west end and one more row to front edge of the patio. What a difference this made in our usable space…and so affordable too. Now I can put my little bistro table on there where the bench used to be . It's already my favorite place for morning coffee and bird watching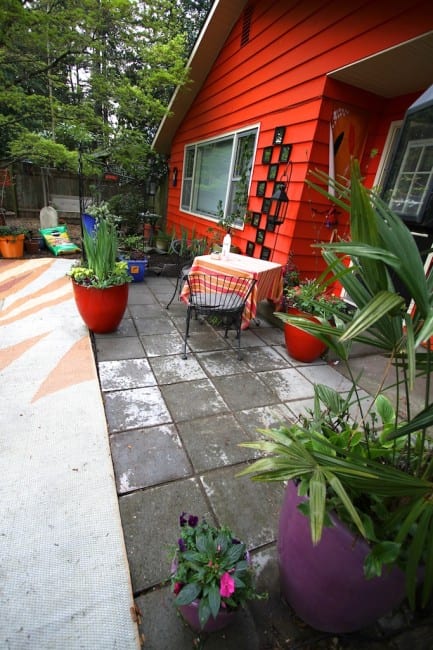 To the far end of the pavers in the photo above you can see I removed all the pots and am planning to plant shade plants directly in the ground in that space. I still need to decide how big of an area I need soil hauled in for but it will be a really serene shade garden complete with water feature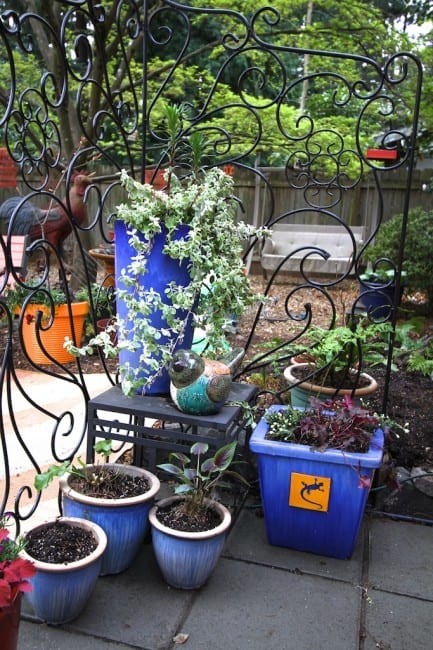 And above, …that Felix is always full of great surprised. See this wrought iron corner "screen" ? He found that at a metal recycling center and knew it had to come to my house!!!! He was so tickled that I was jumping for joy over his find. I'm just starting to decorate this corner with my cobalt pots. Just want until the plants start really growing and filling the pots. My little secret garden!!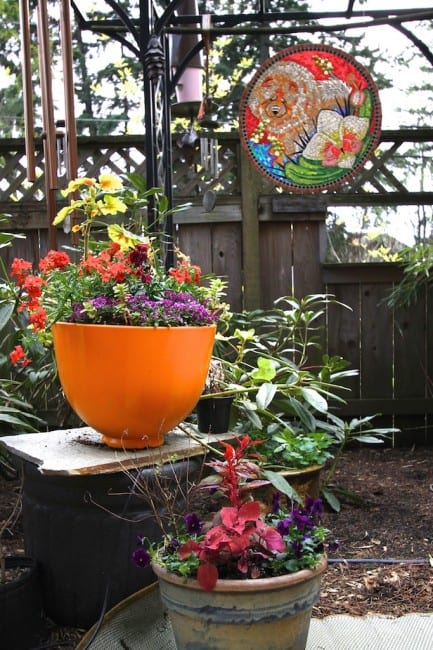 Of course the Wanda mosaic is still a fave feature in my garden. I planted a few pots to match the colors in the mosaic.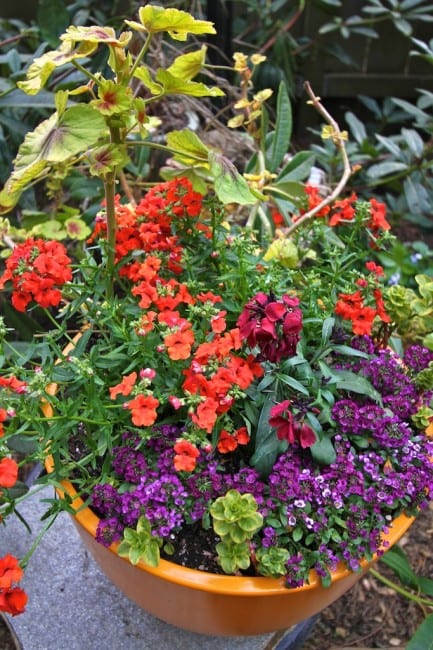 This pot full is going to rock in about a month.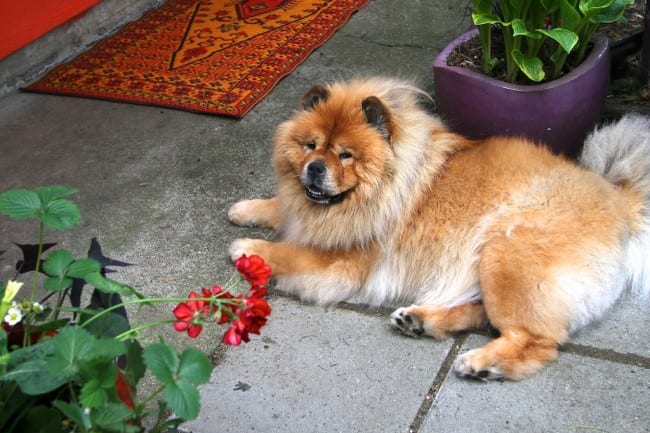 And dear Lillian got a bath today but was not happy about her ears being brushed so I put that off till tomorrow. Look at that wacky horn over her ear. Such an angel is devil dog about drying her head. Feetzies need a good trim too.
Big hugs to you all and have a glorious springtime week!!!