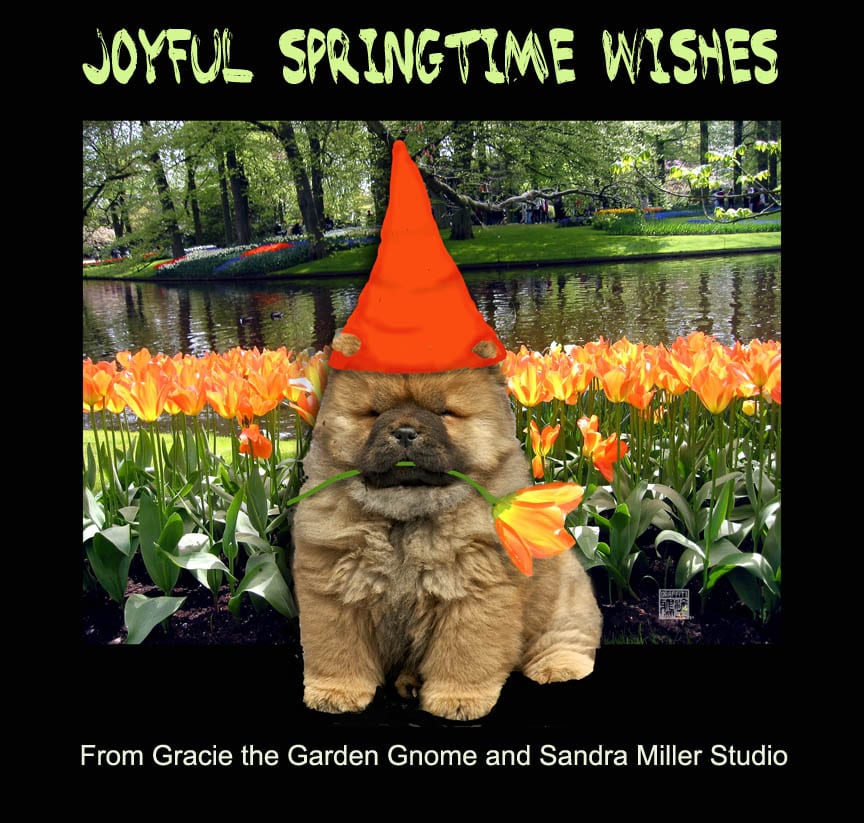 NEW IPADIO PHONECAST TODAY…SEE SIDEBAR OR BELOW IN POST
What fun we are having here with our new girl Gracie and enjoying every nanosecond of her puppyhood.  It's amazing the life she has added to our household and to see old Meg and Lillian interested in Gracie makes it even sweeter.  Be sure to see in the video hub at the bottom of this post, the NUMEROUS iphone vids I've done of Gracie this week.  She is such a smart baby with such an easy going disposition
As I work in the garden and watch Gracie grow, I often take a few minutes to sip a cup of Lemongrass tea I brought home from Thailand and swing on my freestanding bench swing.  Right now the Japanese maple towers over me full of fresh new leaves and teeny red flowers which the hummingbirds adore.
I took this photo above between downpours.  The sky was electric blue with huge puffy clouds above
Gracie had her 10 week birthday this week so I decided to do a photo shoot in black and white and put some of the cutest images to music on this short birthday video (above) !!   Click  the arrow to start and turn on your volume
Gracie with Happy Feet…..what a joyful feeling to run like the wind!
A Scrub Jay has discovered  Gracies outdoor exercise pen with it's random kibbles of spilled food.  I'll have to remember they like this stuff to draw them closer for photos in the future
More puppy bliss
My garden helper walking away with the fish pond hose
BELOW IS A PEEK AT MY GARDEN ON A SHORT VIDEO….COMPARE TO PIX THIS SUMMER WHEN YOU CAN'T SEE THE PATHWAY
I hope you all have a delightful and safe Easter weekend.  I have a number of pendants almost done and ready to list for Mothers Day gifts as well as batik handbags with pandas , moonbears and chows!!!
Also is anyone interested in more bead combos.  ??
Big hugs from the Miller family!!