Hello my friends.  1000 apologies for the disappearing act last week but I was called away at the last minute  to the midwest for family matters and while I was visiting Minnesota, made a side trip to my BFF in Iowa to see her 8 week old litter of beautiful chow puppies.
I have a gazillion gorgeous photos I took at Dianas house and will send them soon but had to share these few of  awesome  baby "GRACIE".  The human and chow smiles say it all.  I was lured to "Camp Hillygus" and the bait was too cute to resist!! LOL!
Diana you are getting really good with my camera because it was hard to choose which shot of the two of us I liked the best…….kind of the problem of the week…….making choices with so much WONDERFUL everywhere I turned !!!  My brain was so fried the last day I couldn't even make a decision about the appetizer to order at the airport on the return trip home .
DIANA (JIDI CHOWS)
The decision to bring a puppy into our lives again was unexpected to say the least and is life altering and HUGE. So many incredible babies have been offered to us over the past 7 years by our beautifu friends  since we decided not to actively show or breed dogs any more.  I have been showing since I was in Junior High so cutting off the dog show hobby 7 years ago (mainly because of my eyesight) was like quitting a severe smoking habit.   I just kept saying NO NO NO to all the kind and generous  offers to bring a bundle of joy into my life again for fear of having to go through the inevitable decision to "quit" again some day
We won't be breeding again but will show Gracie to her championship..I will try to do it myself and Steve will help when I can't.  I have an arrangement with Diana in the event she would like to let her have babies to continue the lines.  Diana and I have both worked with the same lines since the start.  She is one of a handful of incredible friends who have carried on with these pedigrees even after we stopped being active in breeding dogs.  I have pix of another very special litter I hope a friend will let me share soon too! GRIN!!
This chance to hold a single petal of the "CHINAROSE" (our kennel name) close to my heart once again is one of the biggest and most unexpected surprises I have had in all my years in Chows Diana and Jim.  I hope you know how much this girl means to Steve and I on all levels.  She is pure joy and fits our home like a glove!!  She even fetches just like her mommy "Fannie"
And check out the photo of our Magenta at 4 months below……….how could I not bring Gracie home? No one will ever replace Magenta nor would I want them to, but Gracie already has wormed her way into a place in my heart that had been feeling VERY empty for far too long .   I stubbornly resisted letting another dog try to fill that painful void until now. Gracie came  into our lives as unexpectedly as Magenta left us.  It was just meant to be I am certain!!!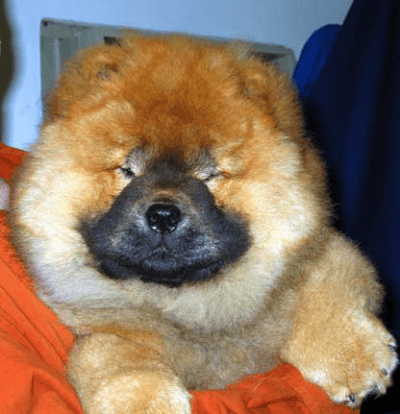 ABOVE IS MY DEAR MAGENTA PICTURED AT 4 MONTHS OF AGE
More photos to come this week and video too.  You will have to pardon the obnoxious new puppy mom photos in advance……..Gracie will Grace more blog posts than the pandas I guarantee!!  They are babies for such a short time and I want to record every single moment.
These photos are of Jim Hillygus with his "shadow", 11 year old Nicki who still thinks shes a puppy
Does this just make you want to cry….I love the old dogs sooooooo much!!
Nicki in the middle of a play roll
I'm catching up on email now.  I had some issues with AT & T in Iowa with the iphone so had to quit checking emails for fear of the dreaded "roaming bill".  If you wrote with anything important and I do not answer by tomorrow evening, please resend in case I missed your email.  More to come soon!!!!!