Talk about the light of our lives, Mz Gracie has certainly made herself at home and is using her cute edge to the max to get all the oooooh and ahhhhhhhs from everyone she meets! She is even finding Meg and Lillians soft spot and play bows to them when they walk by her ex pen outside my studio window. Check out all the new videos below this post highlighting the cuteness that is GRACIE at 8-9 weeks old!!
Above and below are new photo greeting cards I created as well in my SAVING GRACE series….just as the name implies…I am saving every moment of "GRACIE" in photographs because they only stay little for so long. These are priceless moments I don't want to miss and hope you might like to share some chow puppy cuteness when you send cards as well
All the photos above are available at my Zazzle store as framable greeting  cards. And  just in case you haven't seen enough Gracie for the week, below are all my Flickr photos of Gracie so far in a slideshow.  More to come of Gracie, the Garden and some new handbags this week!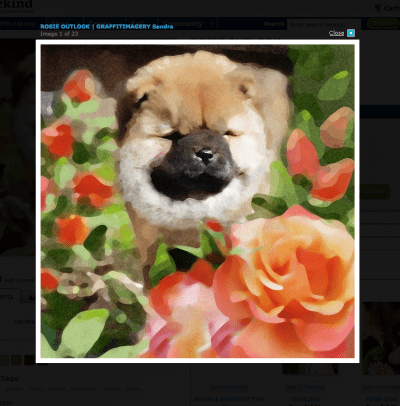 CLICK IMAGE ABOVE TO FIND THIS FINE ART PRINT ON IMAGEKIND
Thank you all so very very much for your sweet congratulations and kudos about Mz. Gracie.  She sends you special purple smooches and sweet puppy breath.  Wow I can't believe how much I have missed that puppy breath for the past 7 years!