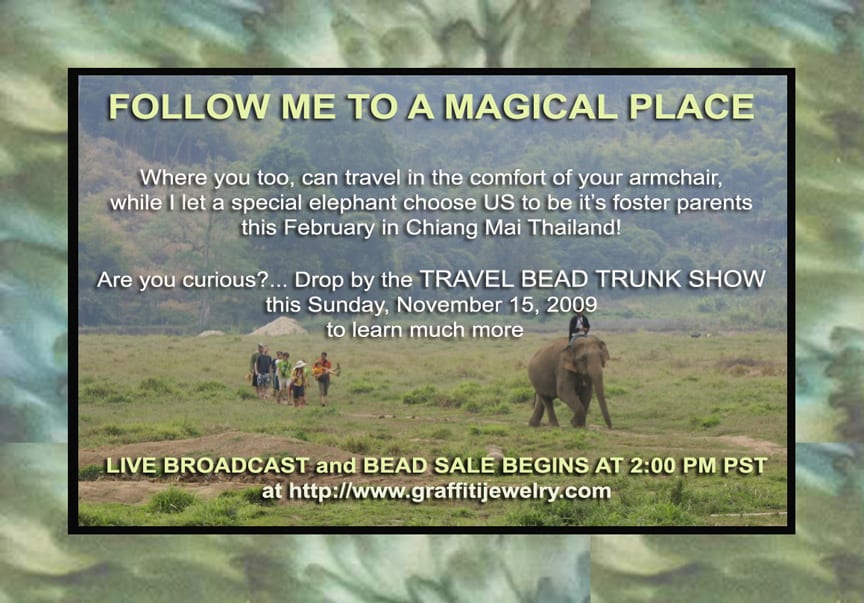 I can hardly believe I got all the beads coordinated and organized since our return from our last trip. What a good feeling to have all the little orbs and pendants in their cozy packages and I'm ready to get this trek through the forest of bead-iful treasures on the road
YOUR TREK STARTS AT GRAFFITIJEWELRY.COM TOMORROW AT 2:00 PM PST
(that is 5:00 east coast, 4:00 central time zone)
—————————————————————-
YOUR GUIDED TOUR FOR THE BROADCAST AND TRUNK SHOW
—————————————————————-
? The LIVE broadcast will popup in a separate window from the SHOW WEBSITE.  The link for the broadcast is in RED at the top of the page.
? This allows you to shop in one window while you watch me in my studio in another. Virtual "Window Shopping"…I like that!! Be sure to turn your volume on! In the event the live screen isn't responding…or look in the chat window for instructions.

? You will need the most current version of Adobe Flash or equivalent for the broadcast to work. The most current versions of Firefox and Safari are the best browsers to use as well.  Test your browser  ahead of time on the site to make sure you see a video and a chat room area.  Type in the chat to test and see if it is working.

? At the opening of the show I will be available to chat with you LIVE for about an hour about the beads and my travels. The studio cam will be on until 6:00 PM PST  so please stop in and say HI in the chat room and ask questions  I can show you all my studio stuff….as far as the firewire cable on the cam will stretch!

? At 3:00 I will start to load all the bead groupings onto the website for you to choose from. You may need to refresh your screen occasionally during this time to see the newest bead sets I've added. I will announce on the broadcast when all the sets are up on the site (should take 15 minutes to half an hour)
? Feel free to start shopping at any time during the loading process. Add items to your cart as you wish but if you change your mind about a set, please remove from the cart so others can see it too as many sets are one of a kind. The carts time out in two hours so feel free to check out and come back for more. Any overage in shipping fees you pay will be refunded in extra beads.
? Once your postage adds up to a priority mail box cost (depending on weight) I will send you a FREE SHIPPING COUPON CODE to continue shopping this week "freight free". All purchases made from now until Wednesday night will be combined in a single shipment so fee free to check out multiple times to assure you get the beads you want
? All the descriptions in the first category called BEAD TRUNK SHOW are audio descriptions so you will want to have your volume on . The voice has also been converted to text for those who can't have their sound on, but hold back the hysterical laughter…….SpinVox who translated my voice came up with a number of "lost in translation" conversions of my words. The "voice to text" conversion only goes for 60 seconds so listening to the audio is always best. I have added a voice message  below for you to test.  .
? Sorry no presales….sales are first come, first served the 4 days of the show which is open through Wednesday night November 18th.  Sets are sold as I have combined them..no substitutions please, but feel free to ask after the show if I have any left of a certain bead you like .  Most are very limited quantities    To make sure everyone has a chance at some of my most primo sets I have set up a few…
? EBAY AUCTIONS will run during the show with auctions closing on Monday and Tuesday. If you win auctions, and have purchased beads off the website as well, please contact me to send you a new Ebay invoice to combine shipping costs to save you money.
? And last but not least…..dont miss the SHOW SPECIALS All the beads are a special deal but the Show Specials have some of my best collector pendants/bead combos DEEP DISCOUNTED to make room for more goodies in the studio.
I AM SO EXCITED TO SEE YOU ALL TOMORROW. I HOPE YOU CAN FIND SOME TREASURES YOU CAN'T LIVE WITHOUT
If you are not a jewelry designer or beader, you may even find a special gift of stocking stuffer for a friend or loved one.
I will make the collage photos of the sets available when the show opens which you can download to give with your gift or use for
design inspiration yourself.
BELOW FIND THE PREVIEW SHOW OF JUST SOME OF THE BEADS THAT WILL BE AVAILABLE FOR PURCHASE!!
If the video doesn't show up  CLICK HERE for a direct link to all my YouTube videos