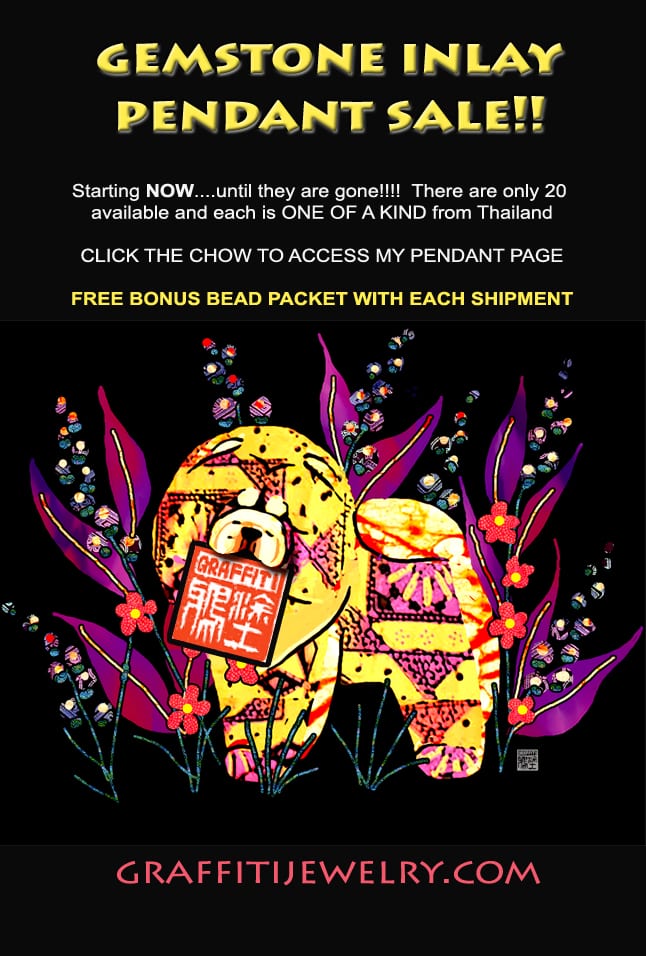 I can't believe I'm parting with all of these spectacular pendants, but I need to make room for other travel goodies and felt they were better off getting into the hands of designers and collectors who can put these to good use NOW
On each photo there is a faint horizontal line going across the top.  This is the approximate location of the stringing hole or in some cases there is a sterling plated bail.
The bail can accomodate a chain or neckwire or average cord.  The others that are drilled with no silver bail can accomodate multiple strands of beading wire but no chain.  They are intended to be beaded into a design
I hand picked each of these pendants which feature multiple gemstone inlays done by master lapidary experts.  The 2 piece pendants have a stunning "hinged" joint between the pieces for the most beautiful movement on the neck
Each one of these are a perfect work of art using Mother Natures pigments as decoration!! The pricing on these beauties are below wholesale.. A perfect opportunity to grab some Xmas gifts quick..Each is one of a kind ..only one of each available.  All  I have is listed this week.  Each comes in a beautiful organza gift bag.

CLICK HERE OR ON THE GRAPHIC TO ENTER THE PENDANT SALE!!!!