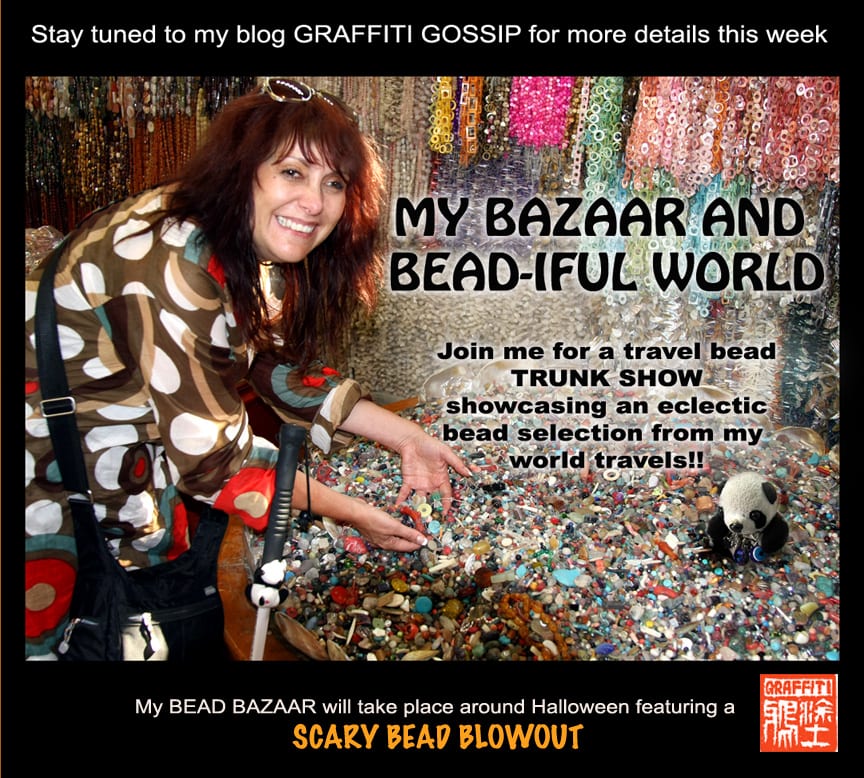 Photo above taken in Cairo Egypt on our trip we just returned from last week….I am up to my elbows in beads at home too
and need to start releasing some of these beadies  back into the world and into YOUR talented hands, to design with for yourself
or get an early start on  holiday gifts.   I have enough to share and some new goodies to offer from Egypt and Turkey too!
PHOTO ABOVE TAKEN IN THE GRAND BAZAAR IN ISTANBUL
We had such an incredible time on our trip and I am just beginning to sort though my images. Even if you are not a jewelry designer, consider purchasing a bead collection or two as stocking stuffers for your friends and family who are addicted to the bead "crack" like I am.  I guarantee that a pretty wrapped parcel of beads will override most other gifts in the WOW department when you are dealing with a bead addict.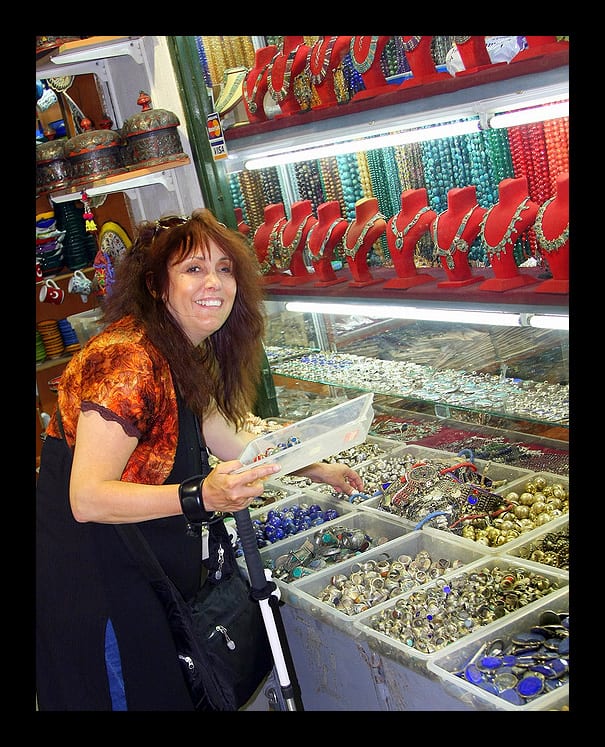 BEAD SHOPPING AT THE GRAND BAZAAR IN ISTANBUL
A classic bead addict…hunched over bins of beads…drooling and with eyes glazed over

MORE OF THOSE INCREDIBLE LAMPS YOU SAW ON THE TRAVELBLOGUE FROM TURKEY
Dont these look like exotic huge beads???

IN A BEAD SHOP IN CAIRO
Everything starts to look like beads like this crystal balls in the bead shop.  I actually checked for a stringing hole..that's sad!! lol

HERE I AM PHOTOGRAPHING THE BEADS I'M ABOUT TO PURCHASE
So stay tuned for a BEAD BAZAAR shopping experience you will NOT want to miss…I know I'm "stringing" you along here and not giving many details yet…..but heck you wouldn't want me to ruin the surprise!!!!
BLACK KITTY WAS UNDER OUT TABLE IN CAIRO AS WE ATE KEBABS

AND DONT BE AFRAID…THE SCARY BEAD BLOWOUT WILL BE A RIOT!!!

I can tell you this will be  a unique experience… and I will have a live studio cam in the studio during parts of the sale!!!
Have a fantastic Sunday my friends and I will be in touch this week!
SIGN UP FOR BLOG UPDATES SO AS NOT TO MISS ANY OF THE NEWS!!