Since FACEBOOK is about the faces , acquaintances and friends in our lives, I thought this post an appropriate time to post this photo of 3 beautiful faces that we have all come to care so much about.  To the left is the ONLY photo I have of Karen Tracy…our dear friend who lost so many of her chows last Friday.  Of course you all recognize Martha Stewart and Kahn who is the puppy Karen gave to Martha and was lost in the fire as well.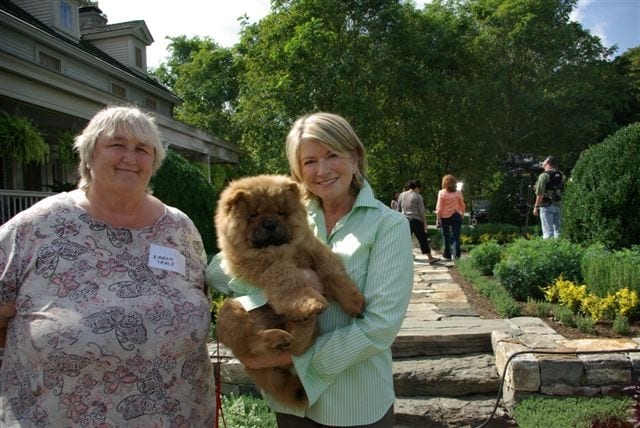 These are only a FEW of the many faces who were tragically affected by the fire including the fuel truck driver (who is currently upgraded to stable condition), Karen and her family, the police, fire fighters, the hard working and stoic veterinary teams, the boarding clients and their dogs…omg the list goes on and on. So many "faces" are affected including every single person who has viewed the news reels of the fire or read the story of the fire
Well to get to the main point of this post before I drift too far please  read below
As of this writing we are approaching $7000.00 in the fund for Karen and have the opportunity of adding another 1000.00 without hardly doing a thing!!

ACCESS OUR PROJECT HERE ANY TIME
http://www.amazee.com/chow-kennel-devistated-fire-0
THE RALLY SPONSORED BY AMAZEE/FACEBOOK REQUIRES THAT ALL YOU DO IS FOLLOW THESE INSTRUCTIONS ABOVE AND ADD KARENS PROJECT TO YOUR PROFILE PAGES.
THE RALLY DETAILS HERE AS WELL
AMAZEE is passing on a thousand bucks for the Amazee project that is added to the highest number of Facebook profiles using the cool new Amazee app!
So that is our mission for the day…spread the work..far  and wide to all your Facebook friends!!! We can win this money my friends if we all pass the info on.
Thank you so much for your help and please share this blog post and cross post to as many of your lists and contacts as you can!!!!