Through the tragedy at Karen Tracy's kennel, I recently met a wonderful man and his wife via a comment they left here at Graffiti Gossip in the first days after the fire. Pictured is "Duncan"…the sweet Cairn terrier who "owned" the McGeehans…heart and soul and was one of the boarded dogs that did not survive.
Below is Daves very heart touching story about their dear Duncan, and in another blog post this week I will update you on the continuation of their search for a  rescue Cairn terrier.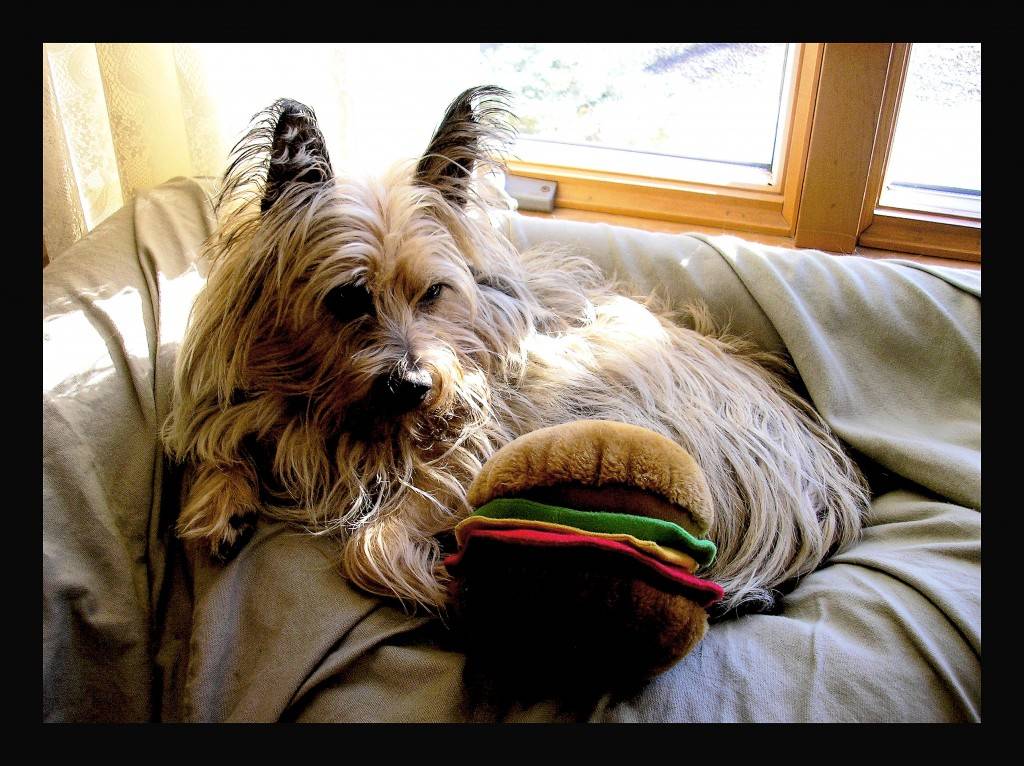 A lot of national publicity has been generated regarding the Pazzazz Kennel fire due to the fact that one of the Chow pups was owned by Martha Stewart.  All of the articles speak of the terrible loss of her dog, the other Chows, and the five borders of various breeds.  I just wanted to put a face on one of the "five borders."
He was our eight year old Cairn Terrier, Duncan.  We normally take him with us on all our vacations but since we were to only be away for one night in downtown Philadelphia, we boarded him for that night.  Shortly after dropping him off, the explosion occurred.
Duncan was the most typical of the Cairn personality: tirelessly curious, boundless of energy, and a lover of people.  He was as at home on a 15 mile hike on the roughest part of the Appalachian Trail as he was lying next to me at a summer concert in the park.  He was famously known as "Duncan, The Spinning Dog" for his habit of spinning around in circles in tribute to each car that passed us on our daily morning walk along the country roads near my home.  He was a tireless chaser of squirrels who never came close to ever catching one.  But he never gave up for he knew what many of us eventually learn, "It's the journey, not the destination that counts."  But his specialty was converting people who were indifferent towards dogs into dog lovers.
The are no words I know of to express the grief I feel for the loss of Duncan, the other dogs, and the injuries to the propane deliveryman.  The last act of the injured deliveryman before collapsing was to grab the kennel owners own dog and throw her over the fence to safety.  Her named was Chillie and she was Duncan's mom.
The deliveryman, Tim Kleinhagen, has been upgraded to stable condition.  Please keep him in your prayers for a full and as quick a recovery as possible.
The kennel owners treated all their dogs, both theirs and any borders, like their own children.  Karen and her mom Jean have lost most everything and have the added burden of the mounting vet bills for their badly injured dogs.  I ask anyone who is touched by this tragedy to please send a donation in Karen Tracy's name.
NOTE FROM SANDRA…THE ADDRESS BELOW IS THE CURRENT PLACE TO SEND CHECKS
————————————————————
Mark Powell
Powell Law
527 Linden Street
Scranton PA      18503
Make checks payable to:  Powell Law, Escrow
————————————————————
So many good people in this world!!!! Our hearts are with you both Dave in this healing process.   Nothing will ever take Duncans' place but there are a big pair of pawprints waiting for another special Cairn  to fill.  There is so much love just waiting to be shared and I'm certain Duncan would not want you to go on without  a friend to share your walks with.
Love and heartfelt saddness for your terrible loss
Sandra