Can you believe this?? I"m so excited we were selected at PROJECT OF THE DAY at Amazee!! This is the best possible advertising we can get and has already brought in some folks who are donating who are out of the familiar chow loop.  What a wonderful caring world we live in!! Thank you all for your generosity!  We are coming close to the 2500.00 initial goal so I raised the bar..SEE BELOW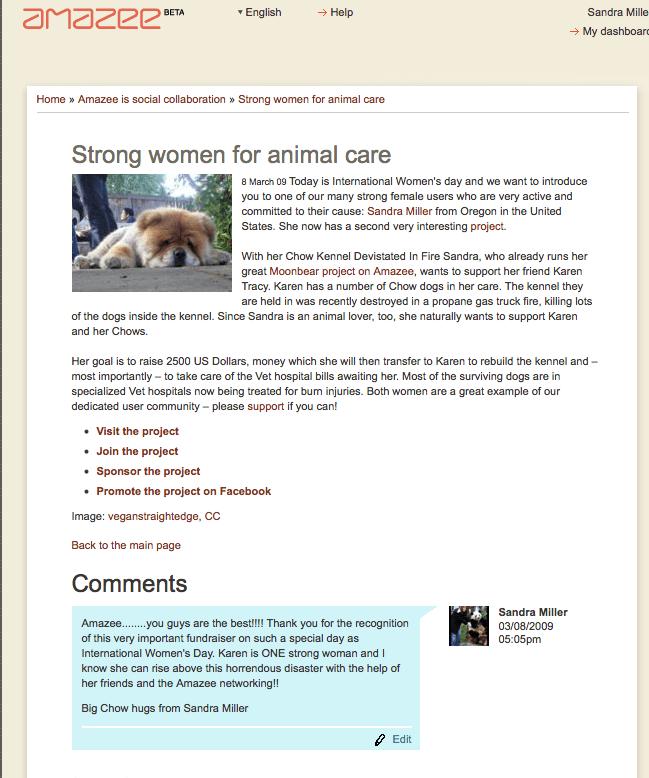 CLICK THE IMAGE BELOW TO GO TO THE AMAZEE PROJECT AND JOIN AND OR/DONATE
OUR TOTAL AS OF THIS WRITING IS $1800.00 USD!!!! THANK YOU ONE AND ALL!!!!
And on another very sad note….
Big Sigh!!!!!!!! I just spoke with Karen and she said she lost her girl Marti who is Journey's mom this morning . The burns were apparently just too bad and Karen didn't want her suffering any longer. She was able to say her "goodbyes" as Marti peacefully left her beloved owner.
I told Karen about our Amazee project and she was speechless and overwhelmed at the response. She said the expenses will be astronomical as far as the vet bills go even though the clinics are doing their best to accomodate Karen. She told me to pass along her deepest thanks to all of you. Her phone recorder is full and is not accessing email right now but she knows how much you all are here for her!!
One thing she told me that blew me away is one of the police on the scene was his FIRST day on the job!!! He told Karen later that he saved one of her dogs. OMG what a miracle.
I will update you more on how things are going but thought you would want  to hear about Marti. She was the first dog I ever met of Karens and I'm so sick for her!!!  Just one of many many heartwrenching stories.
Hugs
Sandra