Yippie….We had a ball yesterday at the Garden show!! Bling was in rare form that's for sure and my friends Susan, Frankie and Paula were pretty darned good sports when I was  posing the panda at every booth!! Can you believe we were there from 9:00 till 5:30?
ABOVE IS BLING AND AN ANTIQUE AFRICA SCULPTURE…THE GUY RUNNING THE BOOTH WAS LAUGHING SO HARD.  THIS SCULPTURE SEEMS TO BE HAVING A GENDER CRISIS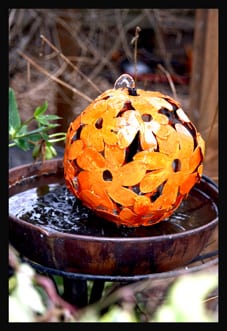 ABOVE:ONE OF MY TREASURES I BOUGHT FOR THE GARDEN
We ran into Marte who I have bought garden art from for years and hadn't seen here in about 5 years!! This metal ball she cuts and welded by  hand and painted in a rich orange.  I temporarily put it in my bird bath as a water feature!!

And here is my big purchase.  A 10 Foot tall hand made rain chain with graduated Gingko leaves!! The largest leaf at the top is 18″ wide!!!!   This eventually will have water piped up to the top and a small pool below for it to drip into.  I am so thrilled with my purchases!!! Even bought a Hellebore with panda eyes (in slideshow)
Below is the slideshow …you can click the INFO button for the titles and descriptions to turn on.  I thought poor Paula was going to die when I asked a strange guy who was quietly  reading his book while we ate lunch, to take our photo.  He was so emotionless it just cracked us up.  I really should have taken HIS photo too..hee hee hee