Hello everyone!!  I hope you all had a fantastic holiday and  survived the shopping madness!! I spent the past 4 days in front of the computer from before dawn till midnight each day playing on my new computer and updating a lot things my old computer couldn't handle.
CLICK THE PHOTO BELOW TO GET BEAMED TO PANDARAZZI.COM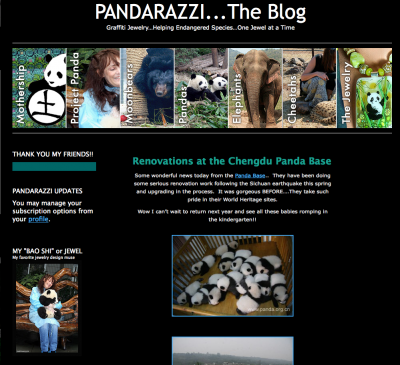 My biggest accomplishment has been bringing my PROJECT PANDA forum up to speed and making some changes.  The forum was failing miserably with no technical support to help me fix things …..so I had to switch gears.   The old saying "when one door closes a new one opens" sooooo applies in this situation.
MEG  HELPING ME PHOTOGRAPH A NEW PANDA NECKLACE
To make a long story short I opened up a new blog to replace the forum which will be more than just a panda blog.  Please come on by to see what I've been up to and SIGN UP for email updates in the upper left column at Pandarazzi.com (just as you did for Graffiti Gossip)  The two blogs have separate mailing lists so you will need to quickly submit your email addie at Pandarazzi if you want to get the updates when I post.  There will be a lot of helpful info at that blog with some exciting adoptions coming too!
There is also now a link at the top of GRAFFITI GOSSIP that brings you to PANDARAZZI
————————————-
DONT MISS THE CHOW AUCTION ON EBAY…MEGS PANDA NECKLACE WILL BE THERE SOON!
CLICK IMAGE