Can you believe it!!! Ek wrote to me this week from Thailand with some more great puppy  news!!!
Angel had a fantastic weekend (the Vincent x Money puppy) again and I want to share Eks news verbatum with you via his email.  This grandma (and grandma Diana) are so very proud of our grandchowdren!!
The letter below is from Ekarat with his permission !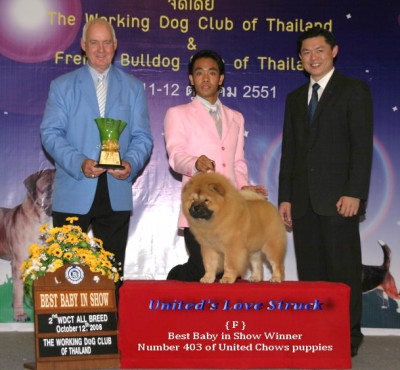 It is time to share update news from Thailand again. It was so much fun to have Sandra Millers and her daughter Liz came to visited and spends time for 1 week.  She had been seen what I have including my puppies. Dianna had 2 of my puppies and she had named them "Ginger" and "  Honey ". I hope she will have lots of fun with them in the show ring soon. I can not wait to her the result as well.
At the show last weekend here in Thailand, I did have a chance to take " Angle " United's Love Struck back to the show again and she did quiet well. She is 4 /2 months at the moment.
On Saturday , She won Group 2 at the The Mall Lovely Pets Day's & WDCT Championship Dog Shows , 1st WDCT All Breed Championship Dog Shows under Taiwan Judge : Mr.Chan Sui Kung then in the afternoon show was Group 5 Specialty, Angle won Best Baby In Show Specialty under Indian Judge : Mr.Partha Sekhar Chatterjee.
On Sunday was The Mall Lovely Pets Day's & WDCT Championship Dog Shows , 2nd WDCT All Breed Championship Dog Shows. She won Best Baby in Show under all a rounder Australian Judge : Mr.Richard Baker. It was very exciting win for us as she had been shown 6 times and won 4 Best Baby in Shows. This Best Baby in Show win was number 403 of all United Chows puppies to update.
I would like to Thank You Sandra and Dianna for giving me an opportunity to used Vincent frozen semen also another Thank you go to my handler Molly Exner who help me working for the breeding.
Angle will be in the USA the end of this month and hope your guys will have a chance to see her if  you do please give her a hug for me.
Thank you all your guys who let me share these news.
AND A SIDE NOTE FROM SANDRA:  A BIG HUG OF  THANKS GOES TO YOU EK, FOR YOUR ADMIRATION AND SUPPORT OF OUR VINCENT FROM THE TIME HE WAS A LITTLE PUPPY.  IT WAS OUR ABSOLUTE PLEASURE TO SEE YOU USE VINCENT IN SUCH A RESPECTFUL AND RESPONSIBLE BREEDING.  VINNIE  IS ONLY ONE HALF OF THE PEDIGREE ON THESE BABIES WITH YOUR MAMA DOG "MONEY" CONTRIBUTING HER WONDERFUL GENES TOO.  WE ARE SO EXCITED TO WATCH THESE KIDS MATURE AND DEBUT IN THE SHOW RING