OMG I am so excited you guys!!! Remember the litter I have been showing you all sired by our Vincent in Thailand out of Ekarat's gorgeous girl he calls "Money"…………well check out these photos from this very weekend at a series of shows in Thailand.  Below is what Ek writes….its best you hear the details from him as the Thai show system is a bit different from ours here in the U.S.! Thank you Ek and to your handler for strutting Angel off so beautifully this weekend!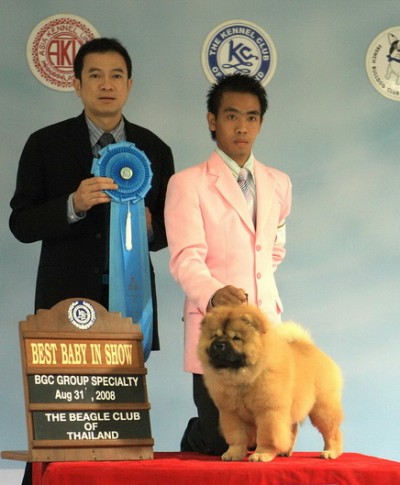 "It is time to share our new coming star United's Love Struck " Angle " at 3 1/2 months old. These shows were her first weekend out. On Saturday , She won Reserve Best Baby in Show at Group 5 specialty [ Spitz and Primitive dog ] under Judge : Mr.Robert Dawson (Australia licensed Philippines). On Sunday, She won Best Baby in Show at Group 5 specialty under Judge Dr.M.L.Apiwut Kasemsanta (Thailand) same day at the all breed show, She won Best Baby in Show All Breed under well-respect Judge : Mrs.Lynne Lee (Australia). All the win she had last week were the great start and hope she will do more winning.
She still has 3 littermates and I know they will follow her footstep as well."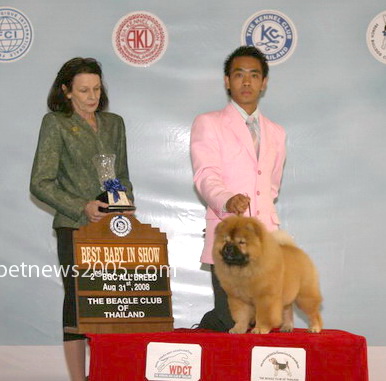 Ek says our little lady may have an Angelic name but she is absolutely full of herself with energy and high spirits and wanted to play with all the dogs in the ring.  A little wiggle bug I bet like her daddy was at that age.  Ek tells me that "Money" is the same way so Angel comes by it honestly..the little devil
Now to do a HAPPY DANCE in a new pair of Chow Keds Tennis shoes I designed this weekend which will be in my Zazzle store later today.  Even the "TONGUE" on the shoes is purple!!!  The heel actually says "Heel" on green and white pindotted fabric!!! Wooooooo Hoooooooo fun stuff!!
CLICK PHOTO TO GO TO MY ZAZZLE STORE