CLICK PHOTO BELOW TO ACCESS THE ARTICLE
Cell phone photo courtesy National Geographic article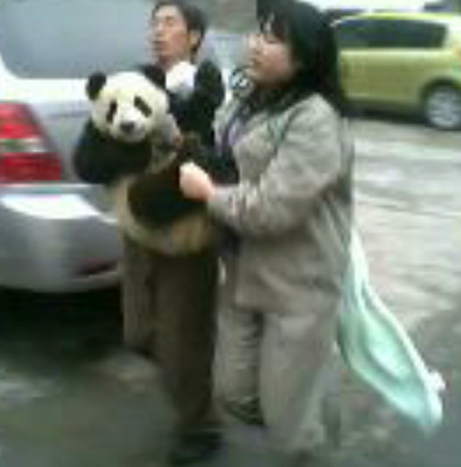 Wow…what a whirlwind yesterday was. When all was said and done and I got my 3 panda tribes all worked out….I recieved even more requests to join in the adoptions so I opened up one more Panda Adoption Tribe of 10 adoptees for anyone else who wishes to join in and help out in this wonderful project!!!
Please email me or place a comment on this blog post if you wish to be a part of PANDA ADOPTION TRIBE 4. See the last 2 previous blog posts for more information on what these adoptions entail.
Yesterday I received 2 wonderful emails from director Suzanne Braden at Pandas International..the organization who is liaison in helping coordinate the Wolong adoptions. With all that is on her plate I was shocked to get an answer so promptly to all my adoption questions.
She stresses as I did earlier that the adoption packets will take longer than usual because of the situation in Wolong but they will be processed when things get back to "normal" .
"As you well know from the greatest needs at Wolong are medical
They have no way to accept money and would do them no good now anyway.
What we will be doing is providing Medicine and Medial Supplies for the
Entire Wolong Panda Community – Pandas, Staff and the locals who support the
reserve.
Our board member in China has arranged for 6,000 pounds of medicine to go to
the area."
Now off to the kiln to create some panda treasures!!!! I am working like crazy and loving every minute of it!
CLICK THE ORCHID BELOW TO SEE SOME OF MY SAN FRANCISCO IMAGES!