LEARN MUCH MORE ABOUT OUR CHINA TRIP HERE
THIS PANDA ADOPTION IS NOW FULL!! THANK YOU ALL FOR YOUR SUPPORT!!
THANK YOU BEARY MUCH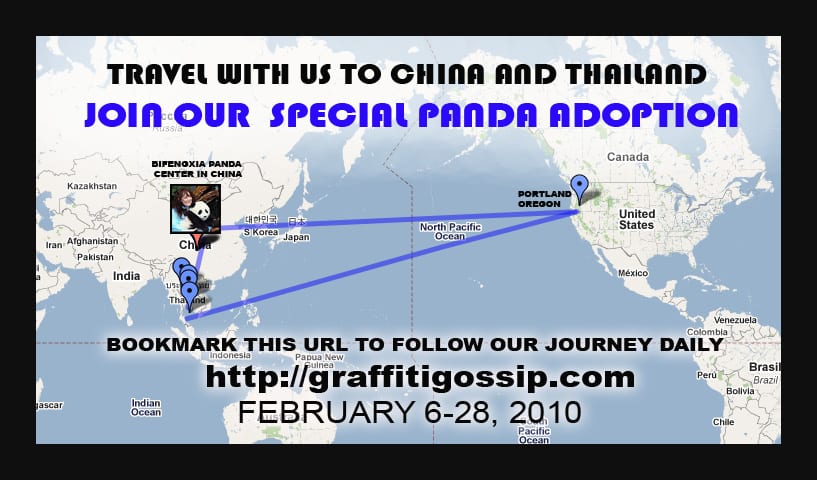 As if being a part of our amazing journey as an armchair tourist isn't adventure enough……think what a lasting memory you can give to yourself or a loved one for Valentines Day or Chinese  New Year by being a part of our  YIN YANG TOUR GROUP PANDA ADOPTION !!
In cooperation with PANDAS INTERNATIONAL and Bifengxia Panda Base in China,  and our incredible adoption coordinator Carrie Phillips, I am proud to offer this exciting  opportunity to a very special  group of individuals (thats you guys…my blog readers!)
We will SHARE in the   one year adoption of not only a panda………but a panda you will be meeting on our visit to Bifengxia on February 8, 2010 (7th China time) via this blog. What a perfect way  to help this endangered species and be a part of a $500.00  adoption that can be out of reach for many in this economy..AND you are getting a bonus virtual vacation to China and Thailand to boot!!!
Each person donating a minimum of $25.00 USD  will receive an adoption certificate from Pandas International and be listed on my website under the adoptions tab at PANDARAZZI MAGAZINE
As she always does, Carrie will be sending us updates as she gets them from the Bifengxia Panda Base
OUR DEADLINE FOR RAISING $500.00 or more IS MARCH 1, 2010
In the event we go over 500.00 we will apply that towards the same pandas care.
PANDAS INTERNATIONAL PHOTO
I THANK EVERYONE  FOR YOUR GENEROUS SUPPORT  TOWARDS THIS EXCITING PROJECT IN 2010!