SET YOUR ALERTS
ARTISAN CHOWTROLL SALE EVENT
---
TUESDAY, SEPTEMBER 12TH, 2023
PREVIEW AT 9:00 AM PACIFIC TIMEZONE
SALE STARTS 10:00 AM PACIFIC TIMEZONE
---
THERE WILL BE A VIDEO PREVIEW OF ALL THE CHOWTROLLS AVAILABLE FOR ADOPTION
ON TUESDAY, AN HOUR BEFORE THE SALE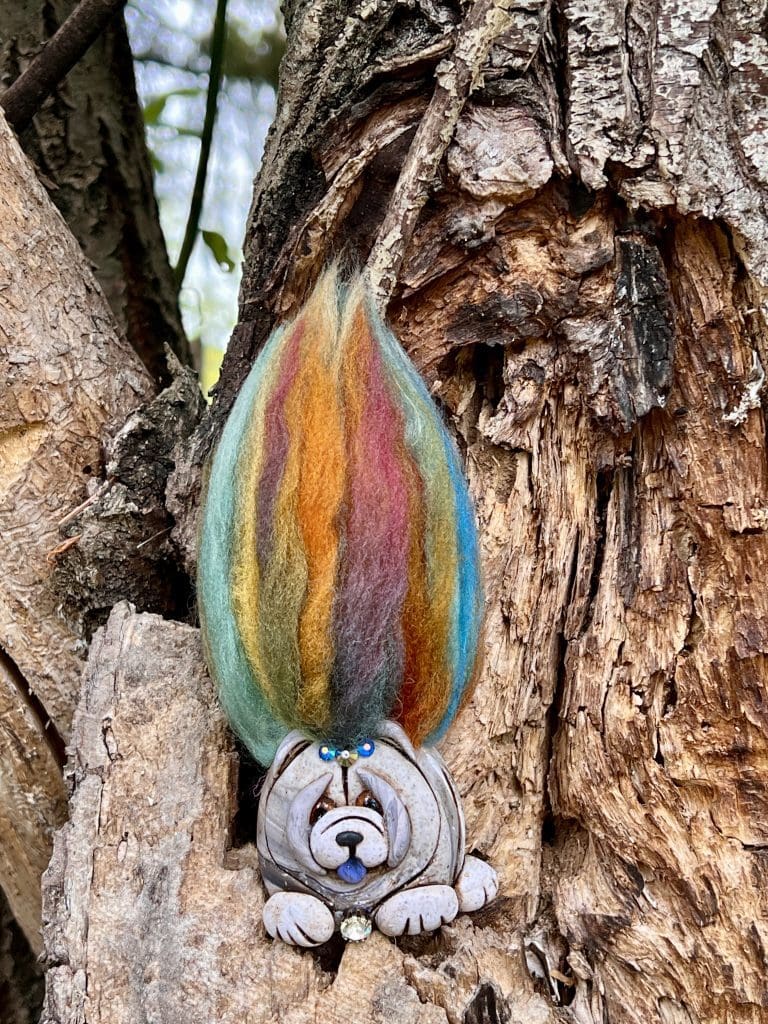 This is a sale not to miss!!! Next Tuesday I will be doing a special drop of my brand new design of 15 ChowTroll Artisan dolls created from polymer clay to look like real ocean pebbles paired with real glass eyes and beautiful handed wool topknots of troll hair!! !!! A beautiful addition to your Sandra Miller Chow art Collection and perfect for gifting as well.
---
The event will be at this link THE BAMBOO TEAHOUSE-Sandra Miller Auctions
---
Each of the adorable ChowTrolls are different in shape, color combo, expressions and pebble patterns. They are created by hand, one at a time from polymer clay which I hand-mixed and blended to mimic real stone. I know "Its not nice to Fool Mother Nature" ……but I sure had fun trying. They echo everything from granite to sandstone, to agate and petrified wood. No two are alike.
The colors and textures and inclusions are all part of the actual clay and no paint is used. . Hours of color blending, sculpting and lots of love go into every one of a kind sculpture that echos the charming troll dolls of the 1960s-80s.
Each ChowTroll has been styled individually with a custom color blended mohair topknot wig
Other darling accents on each ChowTroll include a bellybutton gem, forehead bindi gem, Artisan made REAL glass eyes, a black heart "tattoo" on the bum cheek, as well as the cutest little bum crack like the vintage trolls had
Each ChowTroll comes to you signed on the bottom of the piece impressed with "Sandra Miller" and is named with a birthday and signed birth certificate
Each ChowTroll arrives in its own Zen Garden display box and a surprise amulet pouch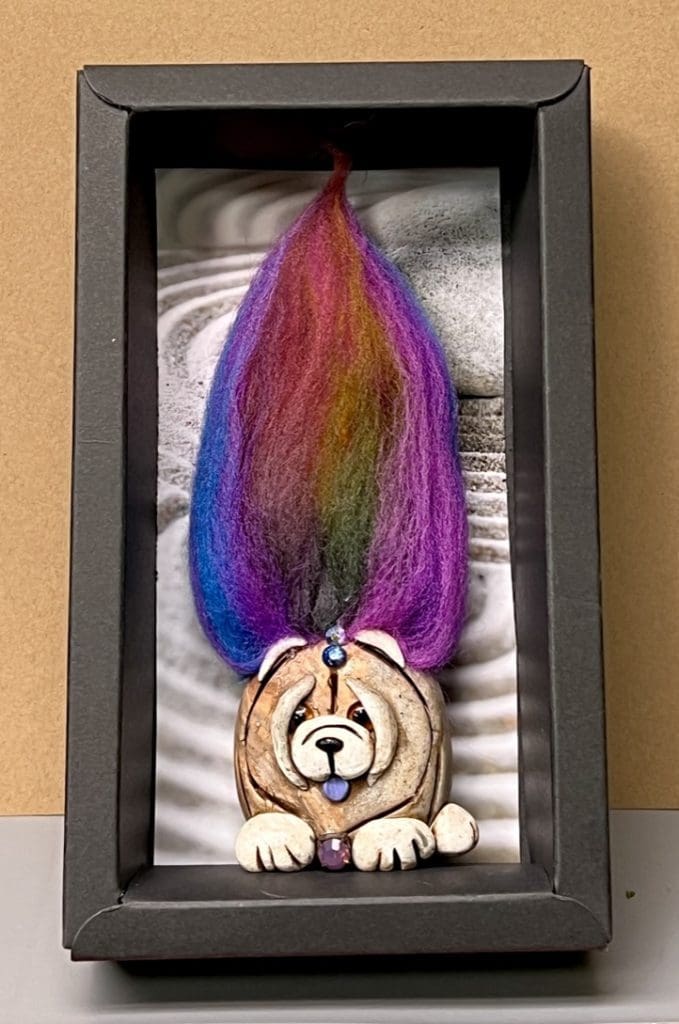 ---
HOW THE SALE WORKS
---
This is a fixed-price sale…not an auction. LIMIT of One ChowTroll Artisan Doll PER PERSON .
Once all 15 are listed, if there are any still available to claim you may try for those.
---
The 15 ChowTrolls will be listed one at a time about 5 minutes apart or when the previous one is claimed….whichever comes first, starting at 10:00 AM Pacific timezone Tuesday, Sept. 12th, 2023
---
The event will be at this link THE BAMBOO TEAHOUSE-Sandra Miller Auctions
---
The first person to comment "MINE" on each listing Tuesday gets to purchase the ChowTroll associated with the comment. You may need to refresh the page to find the next listings. There will just be photos of each of the items (no video) I will send PayPal invoices once the sale is over.
Each ChowTroll artisan doll will be an exclusive artist FIXED PRICE to be announced on the preview for this event, plus Priority Mail postage.
INTERNATIONAL SHIPPING -Please inquire with me about International shipping PRIOR to the sale as it can be very expensive. Local duties, taxes or other fees are also the responsibility of the International buyer.
Keep your eyes peeled TUESDAY for these rare instant-gratification purchase opportunities!!!! Have fun everyone and thank you for stopping by!!!
THE END