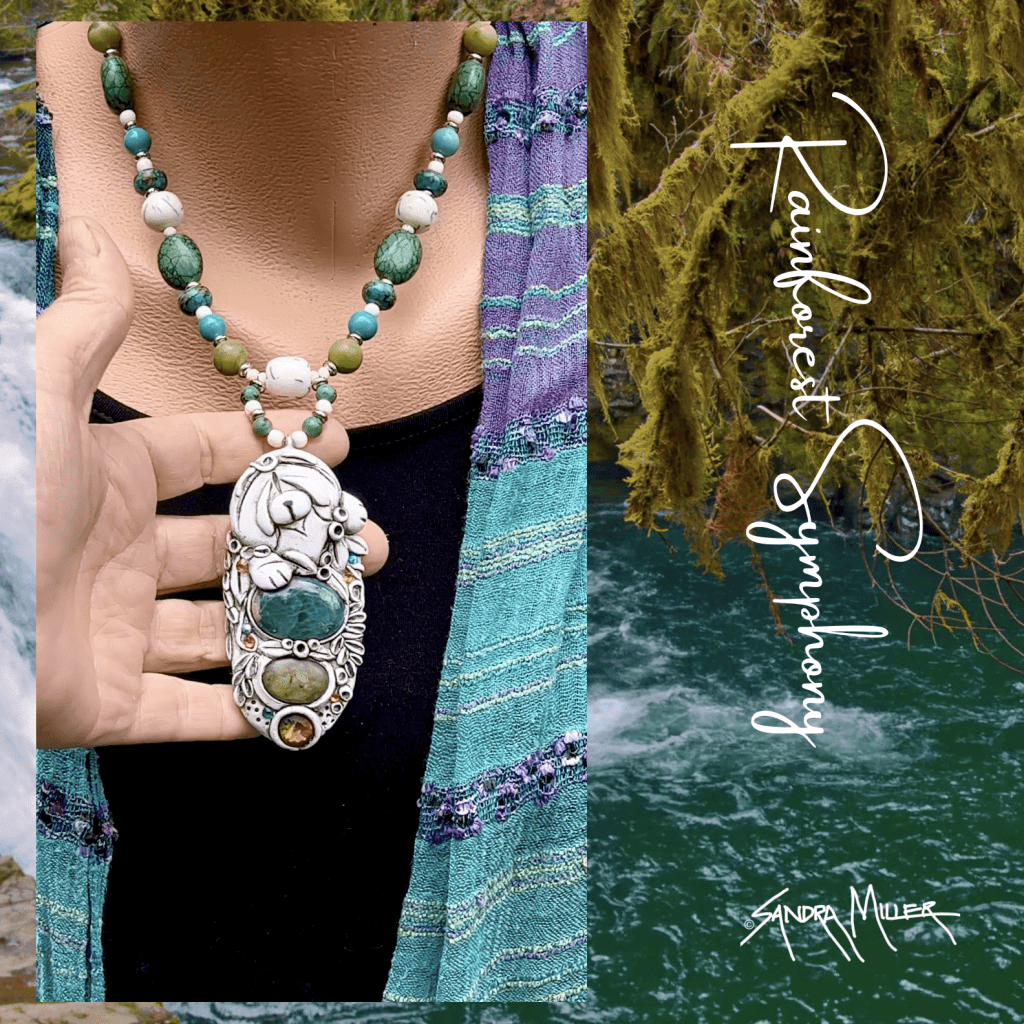 "RAINFOREST SYMPHONY " One of a Kind Chow themed statement necklace and earring set
The auction closes this MONDAY MAY 8, 2023 at 6:00 pm Pacific time –
As always, bidding starts at an insanely low $1.00. The value of this beauty is well over 350.00
---
This gemstone treasure chest of a necklace is overflowing with special mementos from our travels around the globe including genuine Jade and Turquoise purchased at a gem show in Bangkok Thailand.

Every one of these necklaces is an adventure in revisiting all of these beautiful lands and experiences. Thank you for allowing me to share them with you this way
—————————
THE FOCAL POINT CHOW
The beautiful chow pendant is carved and sculpted in hand-blended polymer clay with an intricately textured garden scene surrounding her.
The pendant is then fired to a hard durable finish. Next I apply many layers of an antique-looking, time worn patina to mimic the warm glow of antique carved bone. Hours of work go into the sculpting, sanding and finishing of these unique pendants
__________________________
THE ACCENTS
On the pendant, you will see a flashy 1/4″ Swarovski crystal at the bottom.
The next stone up is genuine Jade, and the larger stone is rich teal ocean jasper. She has matching tiny Swarovski crystals tucked in for a glint of bling, but not so much as to take away from the organic look of the necklace
The beadwork consists of some of my best travel finds including turquoise and jade plus ivory colored crackle beads in vintage 1940s lucite which helps keep this necklace light weight on the neck.
Jade is a gemstone believed to have several benefits, including increasing fortune, grounding, and enhancing relationships as well as calming and soothing properties.
As the stone of cleansing, turquoise is believed to be good for releasing negative energy. Turquoise is also known as a calming stone to enhance serenity and lift your spirits
Tiny real bone hand made seed beads from Africa make beautiful spacers and pull the color up into the beadwork from the pendant
Matching earrings are included and the winner can let me know if they prefer pierced wires as pictured or would like they switched to clip ons..
Fully adjustable necklace on soft rolled French leather from 16" – 28" using a bead slide to adjust at the back (see video).
The necklace is signed with an impressed "Sandra Miller" on the back of the pendant and comes artfully gift boxed.
---