Hello my friends!  Its been a busy summer here at my Oregon home and studio as usual.  The garden is always calling , especially when the bananas are taking over!  I have 3 large clumps of these in the yard and we really excited when the huge blooms appear and teeny bananas form.  They never get very big but are still so darned adorable and fun to peel …I feel like King Kong peeling a normal banana….its quite empowering. LOL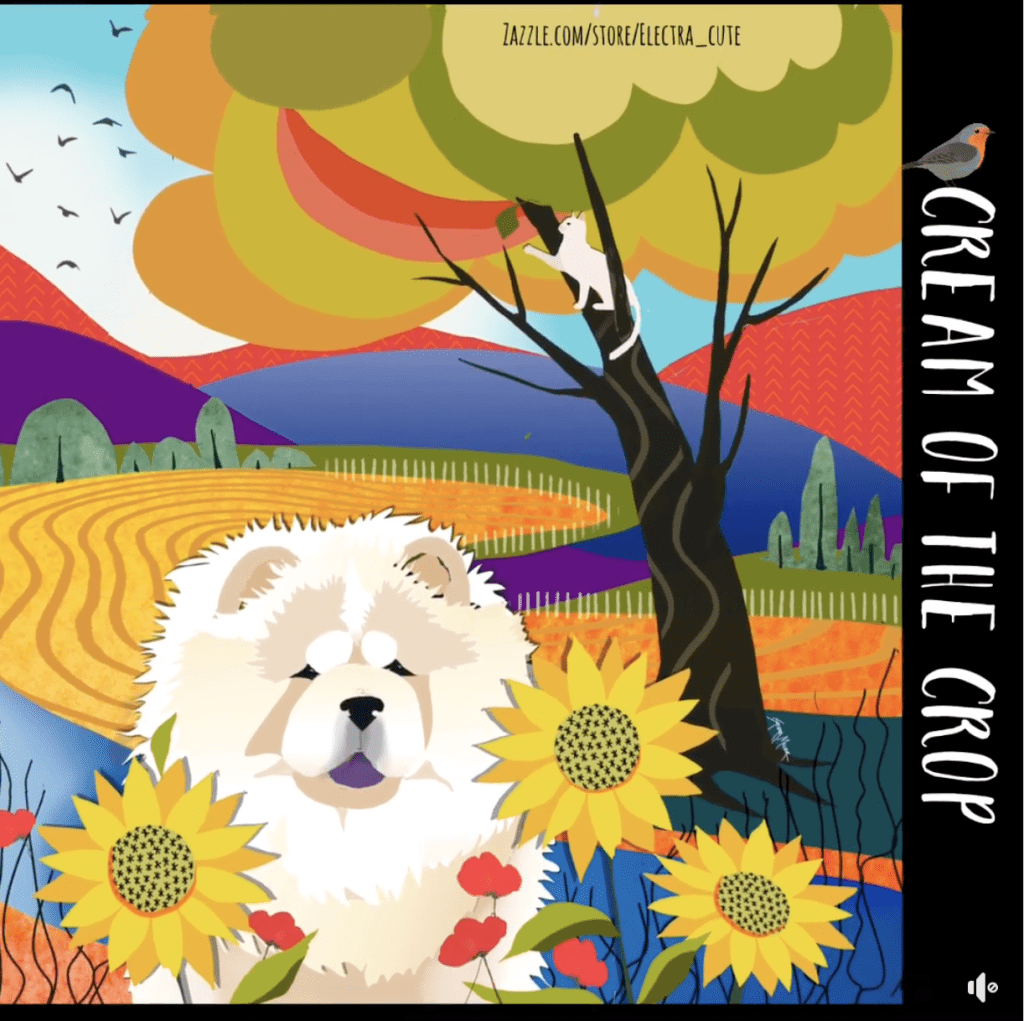 In the studio I have been incredibly busy working on new illustration art and jewelry as well as logo and portrait commissions.  Above and below are a couple of new chow designs I recently added to my ZAZZLE BOUTIQUE and also to the FLAG STORE
And how about these awesome LUNCHBOXES  now available in my ZAZZLE BOUTIQUE!!    So many new artworks to choose from including cats and Finnish Lapphund, Shiba Inu and more!!!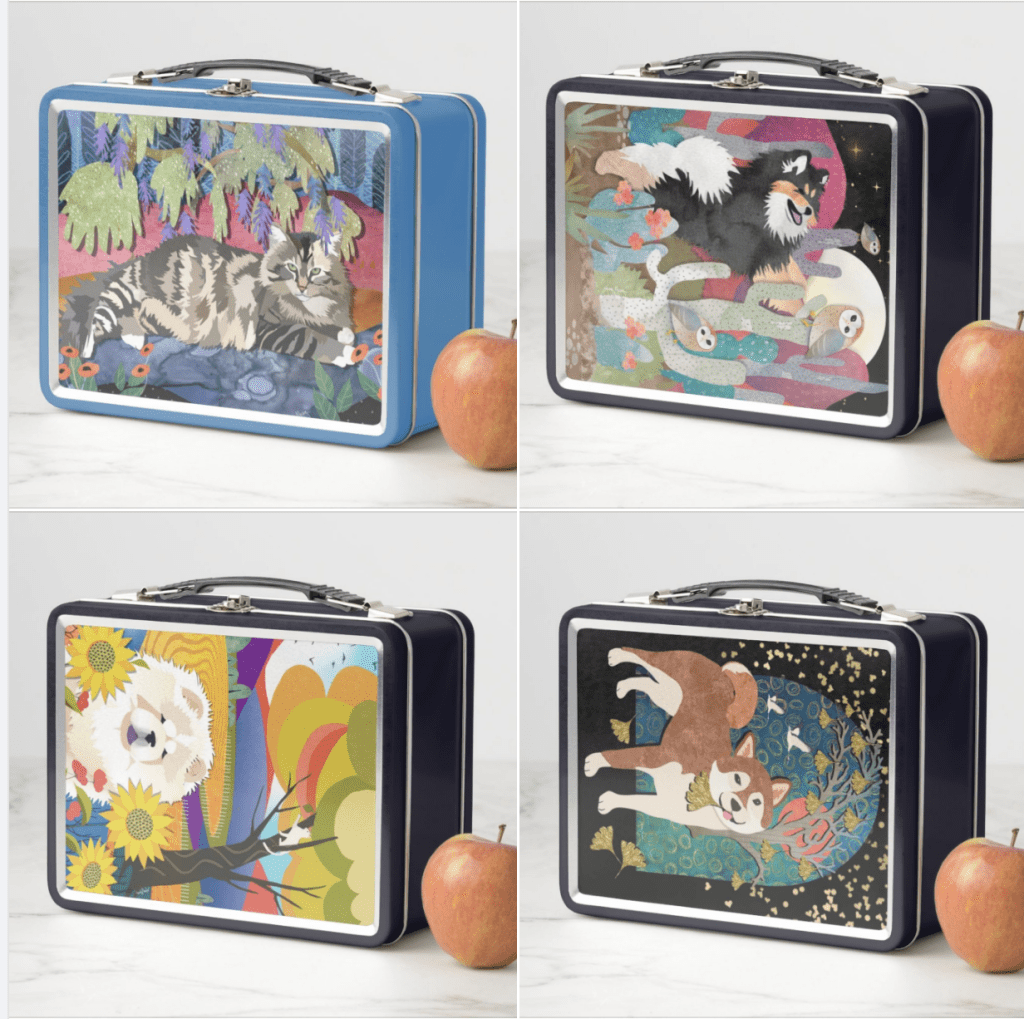 Below is a blast from the past from my silk painting days that I unpacked last week.  I'm considering making a smaller limited edition print version of this art as it is the ONLY silk painting I have kept.
In 1994 I was up to my eyeballs in creating hand-dyed silk artworks and clothing. I studied the old French techniques and did everything on a pure white piece of silk stretched on an open frame.
The dyes need to be steam set in my homemade steamer for 12 hours and pray the dyes didn't run when I unbundled the steamed parcel
It was quite the process which I became very fond of and VERY. Sensitive to the dyes so I had to quit doing them
This whimsical ocean edge scene features our handsome top-winning chow Vincent It is my only silk painting I still have and it is HUGE. Ihana was helping by showing off the scale of this piece!!!
And last but far from least……we had to say goodbye to our handsome Onni over a month ago with the sudden onset of stomach cancer.   It was like pulling the rug out from under us. Our  little pack will never be the same without this his gentle presence in our lives, but every day we feel he is never very far away.  With that said, our hearts are broken!
In memory of Onni I just finished the cover illustration  for my CHOW ART 2023 Calendar.   I'm hoping to have it available by the end of October
"WHEN THE SUN BLOWS HER CANDLE OUT AT DUSK, THE DANCE ON THE RAINBOW BRIDGE CONTINUES IN THE GOLDEN AURA OF THE MOON…
FOREVER THE BRIGHT LIGHT IN OUR HEARTS.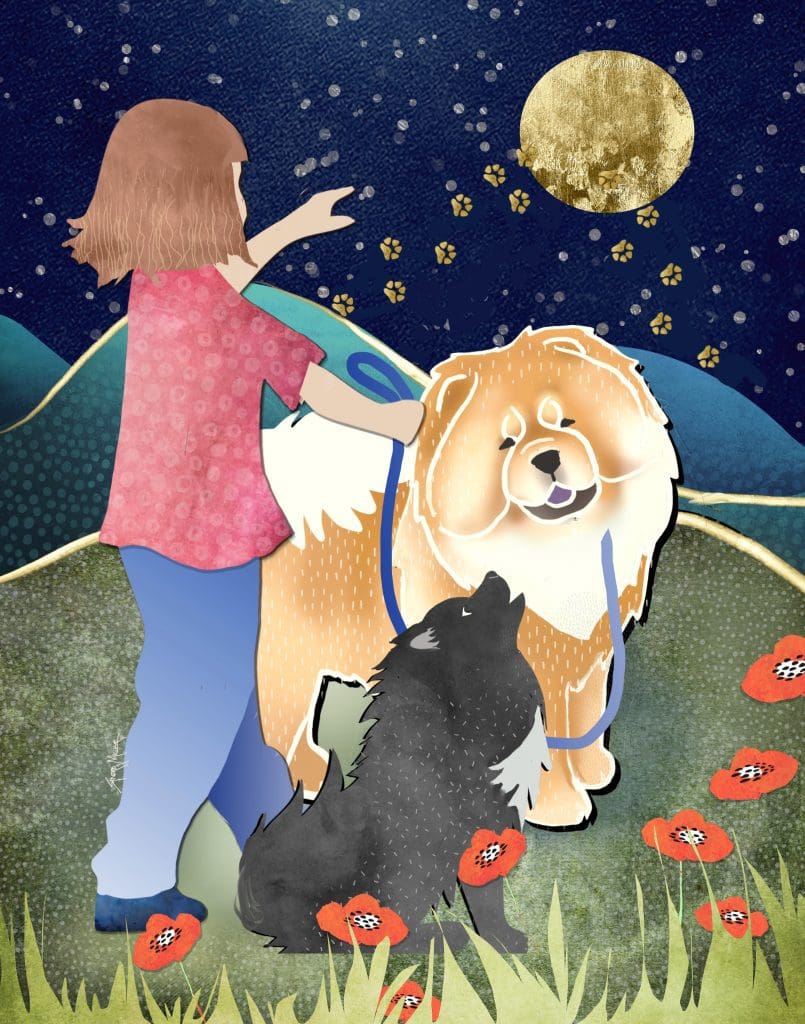 Enjoy these wonderful summer days dear friends.   I can feel autumn fast approaching and I look forward to crisp autumn evenings again.
Love always, Sandra