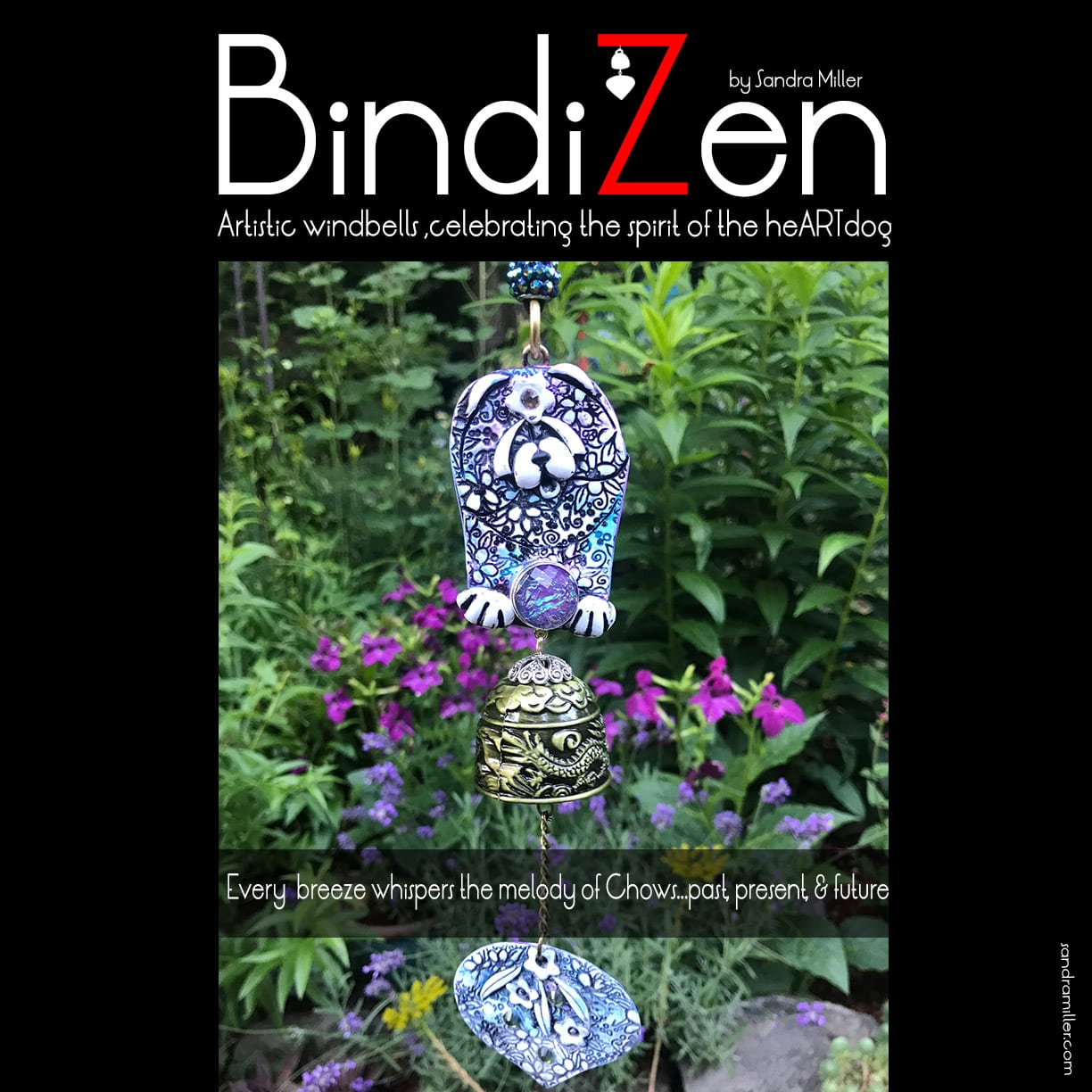 CLICK HERE TO ACCESS THE SALE ON SUNDAY, JULY 8 FROM 5:30 PM (Pacific time) until about 7:30 PM
IMPORTANT!! PLEASE READ ALL 6 STEPS BELOW TO PARTICIPATE. ITEMS WILL BE FIXED PRICES (No bids)
---
HOW IT WORKS……Be the first to comment "MINE" to purchase an item See all 6 rules below before the sale
* One purchase per person due to limited supply
* USA Priority Mail shipping per purchase is $5.00
* See below for International shipping info.
HERE IS HOW IT ALL WORKS!!!
___________________________________________________
Welcome to this private sale of one of a kind CHOW THEMED designer wind bells and chimes by Sandra Miller. The event will be co hosted by special guest Valerie Gilb . At the rapid pace these shows tend to go, Valerie will be an incredible help in keeping the dialogue flowing smoothly while I'm busy listing each item to purchase!!
Limited pieces will be available for purchase, so please remember only ONE CHIME PER CUSTOMER during this event. There will be more coming soon in a second sale and each is one of a kind. Sorry, no presales or custom orders for the bells at this time.
___________________________________________________
1. Be sure to accept the invitation to this event to participate. I will provide a PREVIEW VIDEO on the Facebook event page  of most of the available items (and a few surprises) the evening of Saturday, July 7th. This preview will include more details about how they are made and how to care for your chime.
2. On the day of the sale JULY 8TH, come to this event page a little before the designated time (5:30 PM Pacific Time). I always use Pacific timezone so please make adjustments for your own area.
3. TO PURCHASE: On this event page, I will be posting the items…..one at a time at about 5-minute intervals. Each windbell will have a photo with an accompanying description and A FIXED price. You may need to refresh screen periodically to see the newest additions
4. Comment "MINE" on available items that you wish to purchase in the photo comments as the items you are wanting to purchase show up on the event wall
* Again….please remember only ONE WINDCHIME/BELL PER CUSTOMER during this event.
* In the extremely rare event the timestamps are tied an item, the first person in the row of comments is the winner.
*Please no substitutions, canceling or changing your mind. When you win an item, you have made a commitment to purchase it. The show preview was created to help make your decisions ahead of time.
*You will need to be quick to comment "MINE"……. as each unique creation is one of a kind and in high demand.
5. On each item, The FIRST lucky person to comment MINE will be sent a Paypal invoice after the sale is over. I will contact you privately via Facebook messages for your Paypal email address. All info is kept private . Credit cards accepted through Paypal. Payment is due within 24 hours from the end of the sale and items will be shipped within a couple of days.
6. The chimes may be shipped Internationally (all customs, local taxes and shipping are the responsibility of the purchaser) * Windbells may be shipped international via USPS Global Priority Mall. Actual charges range from 26.00 – 38.00 depending on your location.
SEE YOU SOON!!!