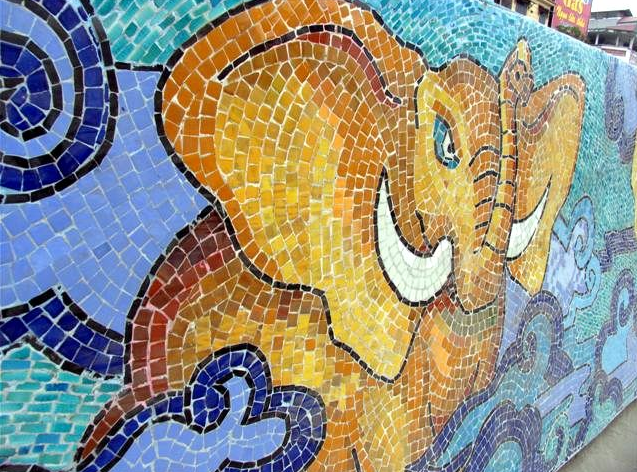 Yesterday as the taxi drove us in from the airport to out hotel we were reminded of all the reasons we had return to this wonderful city and greeted with many new sights since our trip 10 years ago. One being this jaw dropping mural that lined a very long span of the highway.  I was so curious I had to research and found out it was completed in 2010 for Hanoi's 1000 year anniversary.
Below is a great video I found on YouTube highlighting many sections of this Guinness record setting mosaic with an excerpt below that from Wikipedia.   I hope to get closer to take some photos of this masterpiece myself.  We plan to visit one of the famous potteries this week too.   My garden is filled with those huge deliciously glazed porcelain planters…all made in Vietnam.
The Hanoi Ceramic Road originated with the journalist Nguy?n Thu Th?y, who won a prize in the Hanoi architecture contest for her idea of transforming the dyke system around Hanoi into a ceramic mosaic.
The work of decoration began in 2007 for the dyke wall of about 6.000m in length and 0.95m in height which runs along the road of Âu C?, Nghi Tàm, Yên Ph?, Tr?n Nh?t Du?t, Tr?n Quang Kh?i, Tr?n Khánh D? and terminates at the pier of the Long Biên Bridge. The Ceramic Road was planned to be finished in 2010 to commemorate the Millennial Anniversary of Hanoi in October 2010.[1]
Participating in the work of decoration are not only Vietnamese artists but also foreign embassies and culture centres in Hanoi such as the Goethe-Institut, L'espace, British Council, Dalte Centre and other culture centres from Russia and South Korea.[1]
Description
The mosaic wall is made from ceramic tesserae which are product of Bát Tràng, a village famous for its Bát Tràng porcelain
The content of the mosaic represents the decorative pattern from different periods in the history of Vietnam: Phùng Nguyên culture; ?ông S?n culture; Lý Dynasty; Tr?n Dynasty; Lê Dynasty and Nguy?n Dynasty. Also incorporated on the wall are modern art works, paintings of Hanoi and children's drawings.