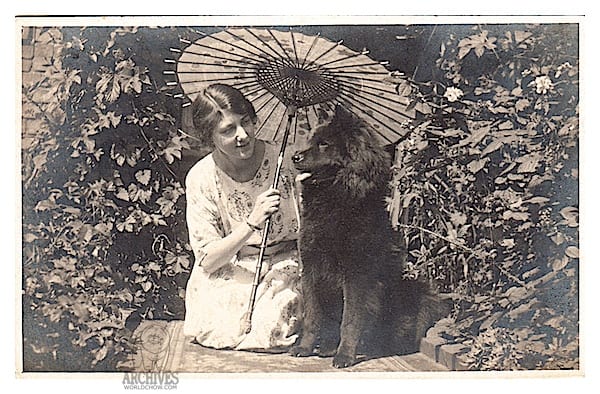 This one of a kind image above is from the private collection of Sandra and Steve Miller
©2013
Hello friends!  It's been a long time since I have updated here at the blog as I have been immersed in 2 huge new adventures that have been keeping me pretty busy….one of these projects led directly into the next. I will post again this week explaining a bit more about my new Chow website which archives the dog breed up to the 1950s in the USA through our own collection of ephemera, articles, and art as well as contributions from others in the fancy.
The site is in its infancy but has great potential as a visual resource.
As a dog enthusiast, breeder, and ephemera collector of 45 years, the one thing that always has grabbed my attention in the antique shops and flea markets has been one of a kind vintage photographs and postcards. Specifically ones of dogs with their people. I visualize the relationships of the subjects in each image and like to think that because the photo has been noticed, collected, archived and shared, that these wonderful memories will never be left behind or forgotten.
My RE-IMAGINED series all start with a spark of vintage inspiration, with the addition of my own artistic elements to help tell a new story.
The RESTORATION series are all ephemera in my personal collection which I have restored to their unaltered and original beauty with gentle archival tweaks and repairs
The REPURPOSED series is yet to be created but will incorporate newspaper, magazine, bookplates put into collage form
IN EVERY CASE THE ORIGINALS HAVE BEEN ARCHIVED IN THEIR ORIGINAL, UNALTERED CONDITION IN ACID-FREE CLIMATE CONTROLLED STORAGE
BELOW ARE JUST A FEW EXAMPLES OF THE NEW ALL OCCASION AND HOLIDAY CARDS AVAILABLE WITH MAY MORE TO COME…CALENDARS AS WELL THIS WEEK