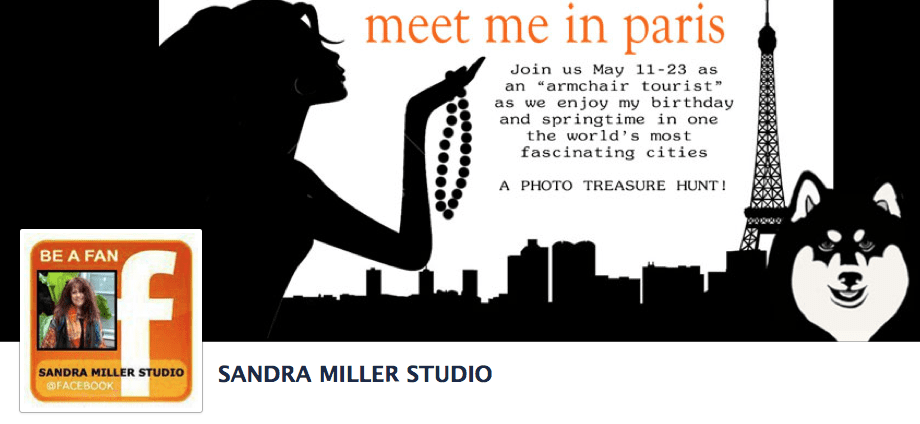 Its that time again my friends, for a new adventure and roadtrip…this time to a romantic spring fling in Paris! It began as a short business trip for hubby Steve and ended up being extended to a bit of a vacation for both of us. We have been to Paris a number of times and always look forward to experiencing more in this incredible city.
We will be posting all of our photos on my SANDRA MILLER STUDIO Facebook page, so just click the orange FACEBOOK logo above to access the fun!! We hope to visit Monet's Giverny gardens again and of course the Musee de Montmartre is sooo worth a revisit, as are the Paris underground Catacombs which are fascinating…a little spine tingling yet beautiful at the same time …such history!.
And the FOOD!!! I can almost taste the escargot now!!
LOOK AT THAT S -CAR- GO!!!!!
HOW WOULD YOU LIKE YOUR PARISIAN COFFEE???
Café (kuh-fay) is plain coffee with nothing added, but is strong as it is brewed like espresso.
Café au lait (kuh-fay oh-lay) is a popular French coffee style that has been popularized in America, as it's served in tres francais New Orleans at Café du Monde. In France, this is simply coffee with steamed milk, and it's almost always wonderful. You will sometimes get the coffee served in one pot or in the cup, and then a pitcher of steamed milk to pour in as you please.
Café crème (kuh-fay khremm) is, as it sounds, coffee served in a large cup with hot cream.
Café Décafféiné (kuh-fay day-kah-fay-uhn-ay) is decaffeinated coffee. You will still need to tell them you want milk (lait) or cream (crème) with your coffee.
Café Noisette (kuh-fay nwah-zett) is espresso with a dash of cream in it. It is called "noisette," French for hazelnut, because of the rich, dark color of the coffee.
Café Americain (kuh-fay uh-meyhr-uh-kan) is filtered coffee, similar to traditional American coffee.
Café Léger (kuh-fay lay-zjay) is espresso with double the water.
AND WHAT IS FRANCE WITHOUT PARTAKING THE STUNNING WINES?
White Burgundy is my preference!!!!
AND THE CHEESE…MY PERSONAL WEAKNESS AND FAVORITE DESSERT!!
SEE YOU IN PARIS!!!!!