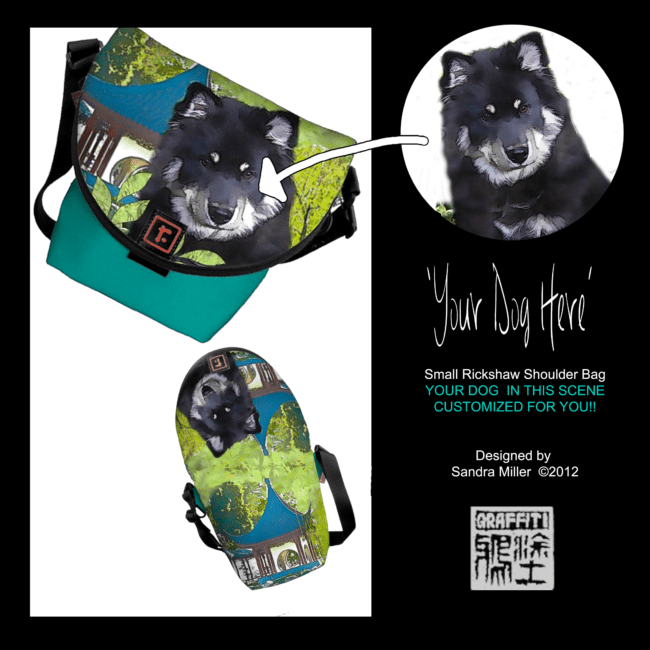 Hello my friends!! As I enjoy these crisp autumn days I have been beyond productive in the studio, preparing for the holiday season to come. One thing I have had in the back of my mind for months now has been custom accessories with your own dogs featured in the designs. Thank you Maiya the Chow, Lulu the Papillon and Onni the Lappie for modeling for these 3 examples!!
Gift certificates will be available as well if you want the recipient to order their own custom bag with their pet's photo
NOTE: there are also a number of non custom art to wear purses in the right sidebar available for purchase!!
CLICK HERE TO RESERVE YOUR CUSTOM BAG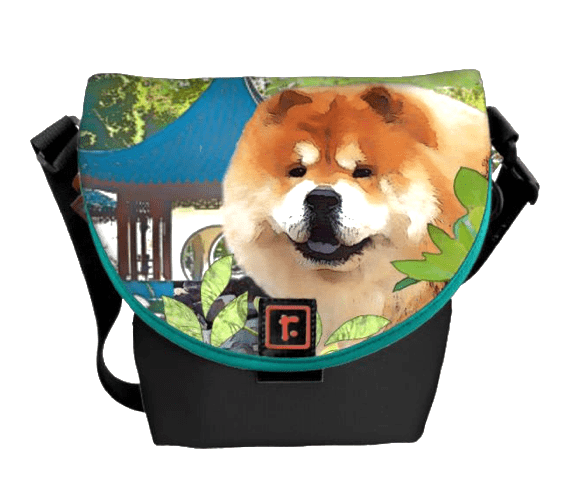 CLICK HERE TO RESERVE YOUR CUSTOM BAG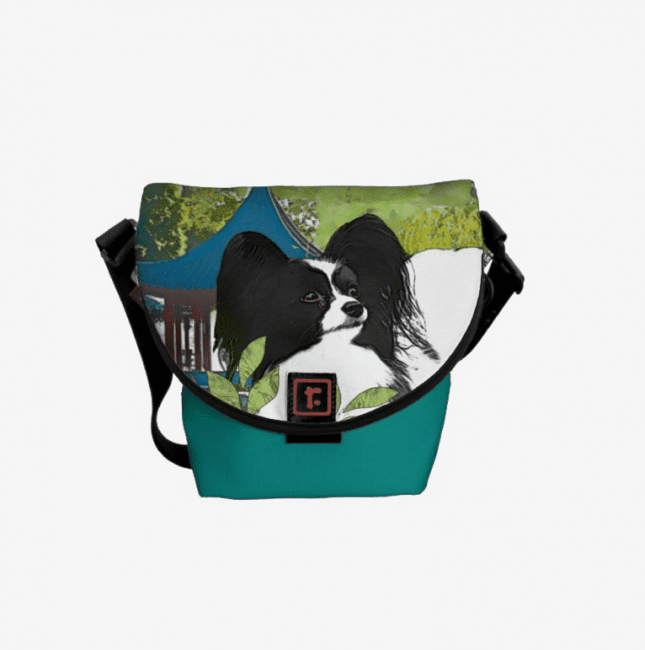 THIS IS A VERY LIMITED PRODUCTION I HAVE CRFEATED OF THIS CHINESE GARDEN SCENE, WITH YOUR OWN DOG FEATURED ON THE FRONT IN ONE OF A KIND ARTWORK!!
Rickshaw Messenger/shoulder/crossbody bag
The 3rd image shows the size on the body very well
The artwork on this outrageously yummy shoulder bag I designed from top to bottom to allow me to insert your dog into the scene! I first start with the highest quality photo you can send to me of your dog from the shoulders up. It needs to have decent light and contrast but a perfect photo isn't necessary as I can do my digital magic to bring out the best in your image.
I then create artwork from your photo and give it a bit of a stylized "cartoon" effect to blend with my fun Asian inspired garden background …then it's time to make your dog do a "sit stay" just off center from the pagoda. What a unique gift for this holiday season and talk about a great ringside bag!!!!!!
If you would like any text added such as a kennel, dog or personal name, just ask….I will be happy to add at no extra charge! I will contact you after your order is placed to work out all the customizing details
These bags are not only beautiful, they are tough as nails, created to order just for you, and shipped in about 3-5 days time!! Made in the USA!!! The design in printed right on the fabric and is even washable!!
Great for a day hike or as fun alternative to the standard purse, this convenient cross body purse/ Messenger Bag is the perfect addition to your daily routine. This bag features two interior compartments for your personal effects and amazing exterior printing of the artwork. Carefully constructed with a focus on environmental sustainability, this bag combines form, function, and a small ecological footprint.
Water resistant, extra durable (machine-washable).
Large main compartment and 1 front pocket.
Lightweight and forms to your body.
Long shoulder strap for cross body or shoulder wear
Made with a sustainability focus in San Francisco, CA.
Dimensions 8 H x 9 W x 4 D.