ABOVE IS A FINNISH LAPPHUND LEATHER WALLET I NAMED "REVONTULET" TO CELEBRATE THE NEW LINE
REVONTULET…the Finnish word describing the AURORA BOREALIS. In Finnish Lapland, where the Northern Lights are seen in the sky up to 200 nights per year, they are called "revontulet", which means "fox fires"  An ancient Finnish folk fable tells of an Arctic fox that started fires by running on the snow – its brush-like tail spraying up the crystals so that sparks flew off into the sky.  Our Finnish Lapphund puppy "Onni" is quite fond of this story!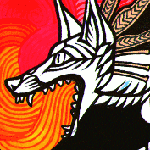 Many of you have seen the Aurora Borealis in person or on documentaries.  Growing up in Minnesota I was very fortunate to have been witness to the magical light dance on many a camping trip near the Great Lakes and Canada. When the sky is at it's blackest at night is when the undulating lights can be observed at their best.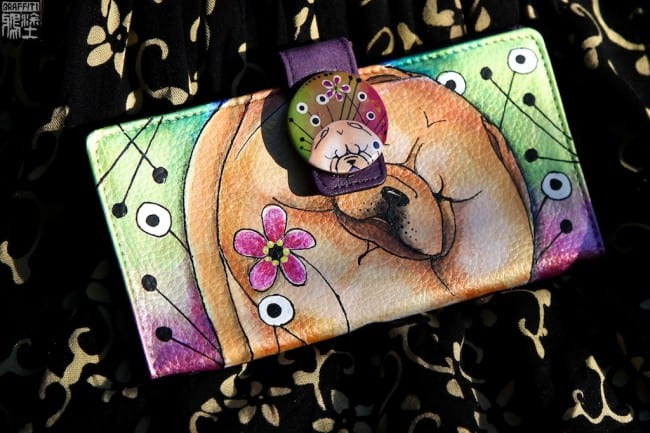 As I was writing that previous paragraph,  It occurred to me what a parallel that statement was to my eyesight (or lack of) and it's influence on my art.  Many of my long time blog readers, customers and friends have watched my art morph over the years…partly from fine-tuning my skills, but also because of the eyes failing to cooperate fully, I had to adjust my style and techniques.
STOP BY MY ZAZZLE STORE TO SEE MY LATEST REVONTULET ONE OF A KIND DESIGNS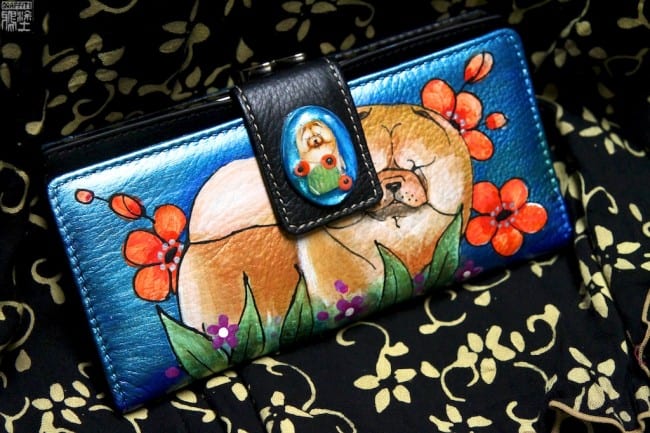 I know I'm getting a bit "profound" here, but I truly believe as my left eye grew dark and totally blind, I  saw light in a very different way.. and in a weird way….I see MORE light now and shadows have more color.  Vivid colors and stark contrast are my signature style not only because I love them…but I can SEE them…lol!  So my statement above regarding the Aurora Borealis really does apply to my journey in art as well…..
"When the sky is at its blackest at night is when the undulating lights can be observed at their best."
The video above is a selection of northern lights filmed during winter 2011 in several locations in the Finnish Lapland.
STOP BY MY ARTFIRE WEBSITE TO SEE MY LATEST REVONTULET ONE OF A KIND DESIGNS
My REVONTULET line of hand-painted leather designs is created using highly metallic and pearlized permanent leather stains and paints that mimic the electric shifts of color and hue of the Aurora Borealis. Combined with rich matte finishes in some of the elements as well, the push and pull of textures, contrasts, and color make these beautiful art accessories the center of attention!!
I add very special details such as dog-themed charms and my custom "buttons" and snap covers in polymer clay and resin, created to coordinate with each leather wallet or purse.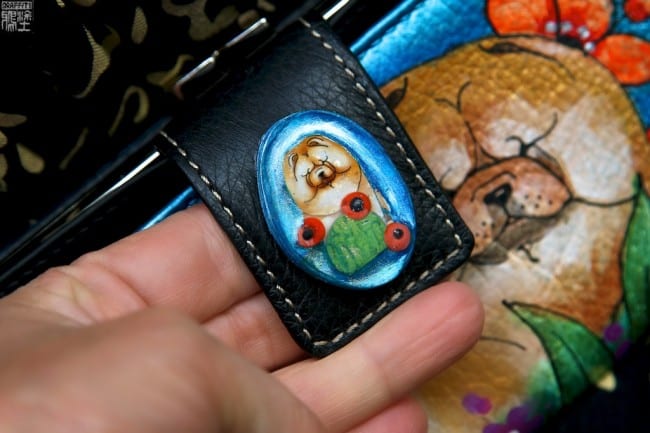 These handpainted leather goods disappear off of the site fast so you may want to act with the speed of light if you fall in love with a particular piece.  I will be posting new handbags and wallets a couple of times per week, each requiring 1-2 weeks to complete so they do take considerable time to create, photograph and list.
Connecting to my FACEBOOK PAGE is the best way to keep on top of new pieces that I will be listing, as I announce them on FACEBOOK first.