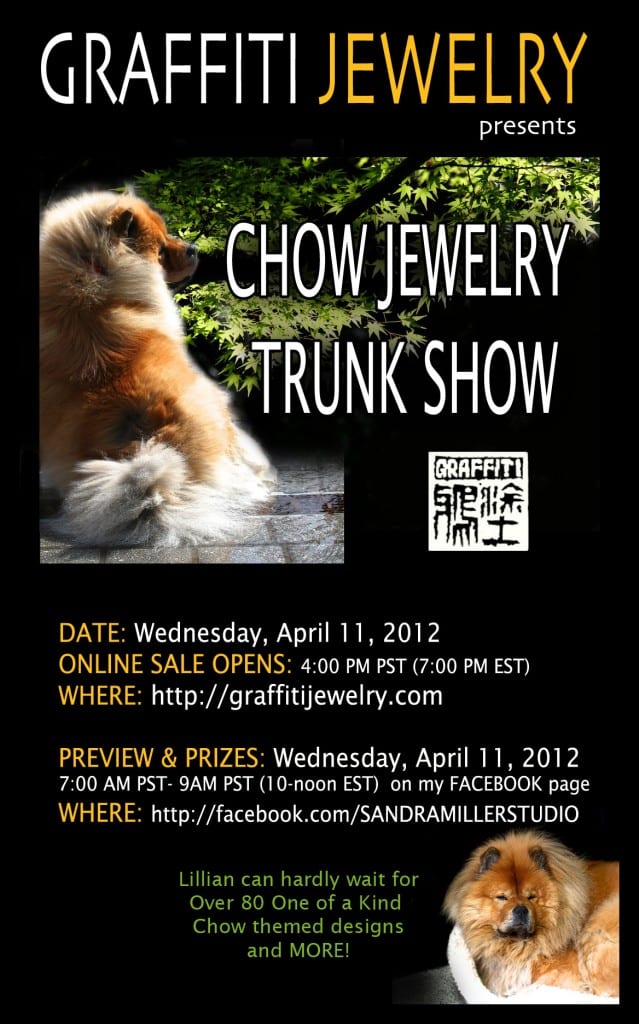 Hello my friends…Spring has sprung here in Portland Oregon, but along with it the rains are back. I was just listening to the local news and we are expecting up to 5 inches of rain on the coast and 3 in the city. As hard as it is to have things soggy all the time, the air is warmer every day and the temptation to be in the garden is literally dampened for the time being. It works out fine as I'm coming down to the final tweeks for the Trunk Show and am so excited to show you all what I've been up to for months! The lure of the garden calling would probably not be the best timing right now! SMILE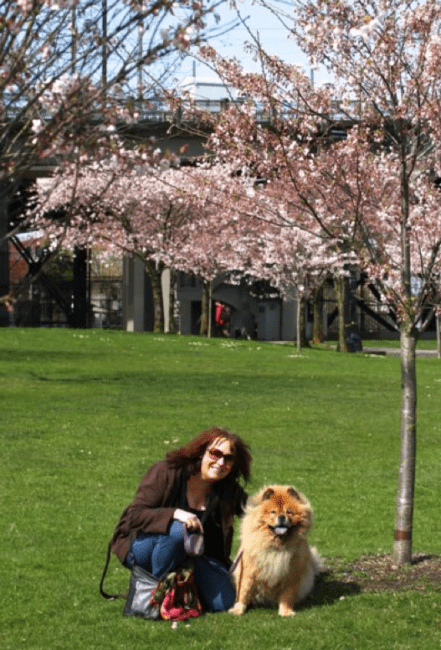 ABOVE: LIL AND I AT WATERFRONT PARK LAST WEEKEND IN PDX
Note the show times above and that they are at two separate locations
The PREVIEW link will also be posted at GRAFFITI JEWELRY just in case you are unable to view it at Facebook. I did a lot of fun new things this year including putting measurements on all of the preview photos and VIDEO descriptions on my SIGNATURE pieces.
The videos really help bring each item to life and will hopefully give viewers a "tactile" feast for the eyes . I want to make this Trunk Show feel as if you were at live event where you can touch and hold the jewelry. Pour your own wine, tea or coffe and you will be set!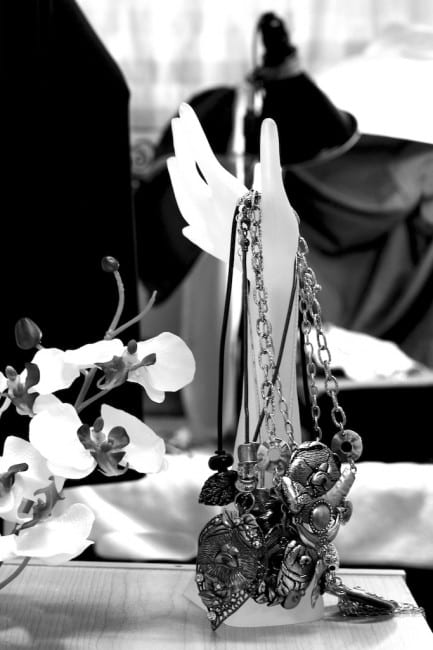 ABOVE: JEWELRY WAITING THEIR TURN TO GO INTO THE PHOTO BOOTH FOR THEIR PORTRAIT!
During the process of getting ready for the Trunk Show, each piece of jewelry goes through an incredible amount of moving around through my studio. I thought you all might like to see few of the steps involved for each one of a kind design I listed below.
Sculpting , firing the focal (pendant,brooch,ring etc)

Adding crystals, glitz, details, charms, beads

Creating the piece of jewelry to frame the focal

Adding finishing touches to the final design (chain,clasp,pinback etc)

Creating my GRAFFITI signature stamp and attaching to each

Photographing each design in multipole positions. Closeup, in the hand, on the mannequin etc.

Put each into it's own case after photo and then name the design

Bring the designs back in from the photo booth and load photos onto the computer

Crop, adjust color, choose best images of each design (I take over 20 of each)

Upload 3 photos from each to my template I created in Photoshop to make the collage you see on the website

Save the collages (I can do 5 per day) onto the desktop to now upload to the preview page and website

Add item by it's new name to the spreadsheet, record measurements, details and price

Load each item to Trunk Show Preview page and transfer spreadsheet details

Load each item to the website where they will be for sale and transfer spreadsheet details

Create videos for 18 of the "Signature" items with voiceovers and actual video plus photos

Load videos onto YouTube and add the titles and details from spreadsheet
OK…NOW WE ARE AT THE FINAL STAGE……ALL NEXT WEEK I WILL BE WRITING DESCRIPTIONS!!!
So when you haven't heard from me in a while in the weeks preceeding one of my Trunk Shows….this is why. I adore being busy so this is more fun than should be allowed for me…., I just wish my carpel tunnel loved it too…lol. When I pack all the Trunk Show items to ship out I'll photograph the insanity in the studio ……that's an event in itself!!!
STAY TUNED….more Trunk Show info to come next week