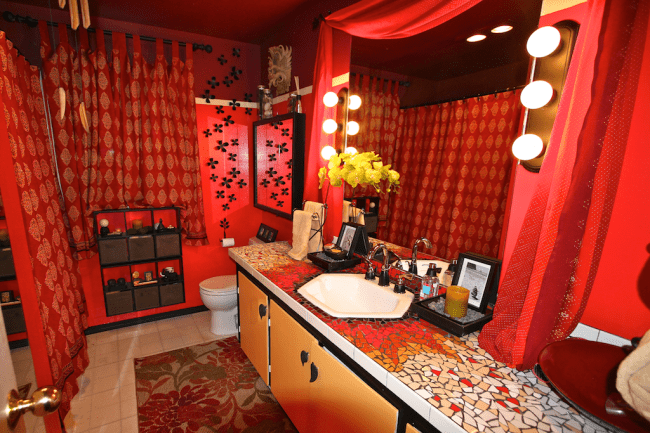 Happy December my friends!! It took me half a month to get around to saying that but I've been up to my elbows in projects. First I want to thank everyone who took advantage of my Pet portrait special. I will show you all the results after Christmas as most of the portraits are being given as gifts…we don't want to spoil the surprises!!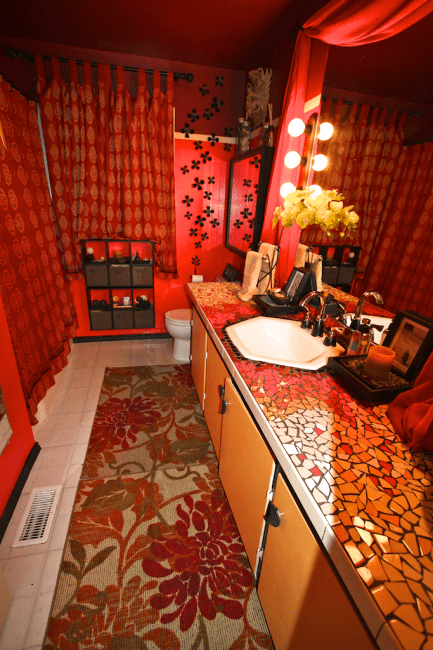 The second project as you can see is that I needed to give our largest bathroom a freshening up with paint and some new decor. I mosaiced the countertop when we first moved into this 1955 ranch home and have absolutely loved it, but the walls and trim were starting to show signs of wear from not having enough ventalation for long hot showers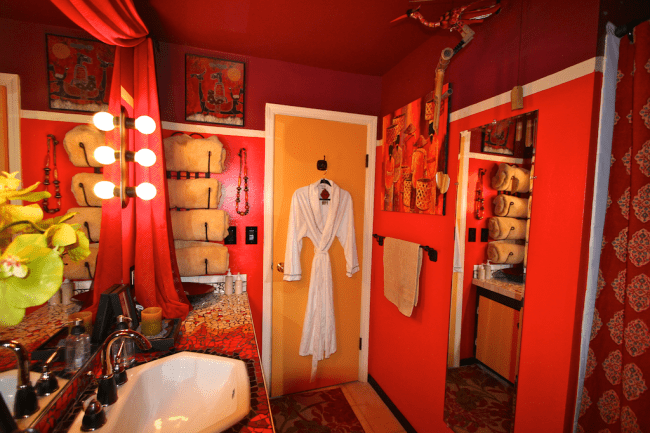 I went in and started right away with scrubbing the room from the ceiling on down to the floor , then re painted the bright red portion of the room. The darker ceiling color was in really good shape but the walls and black floor trim had been bumped and dinged a few times. What a difference using Sherwin Williams best quality paint. 2 coat is all it took. The Behr paint I used years ago never did cover completely with 5 coats. Yeowch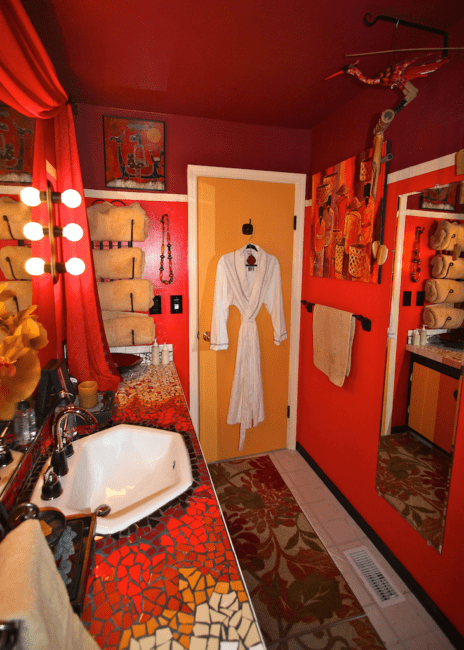 Brand new rugs from Target, Huge Ralph Lauren Bath sheets from Marshalls (85 each regular price for 15.00!!) and our Indonesian batiks and paintings we purchased in Bali gave this room a crazy spa atmosphere….maybe not uber zen… but it will wake you up in the morning!! Above the heat vent my Balinese carved bobble head bird windchime gently nods his head ever time the heat kicks in. I love it!!!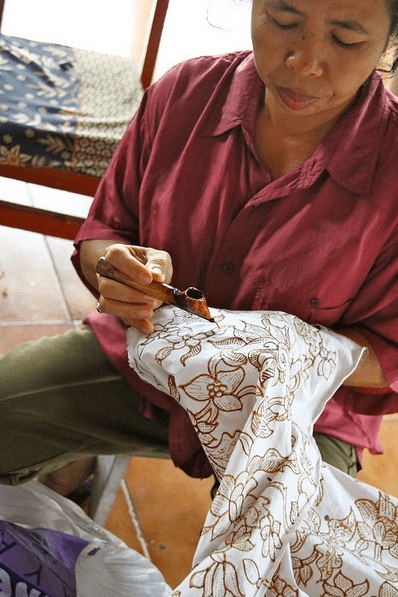 ABOVE: I PURCHASED A COUPLE OF BATIKS FROM THIS TALENTED ARTIST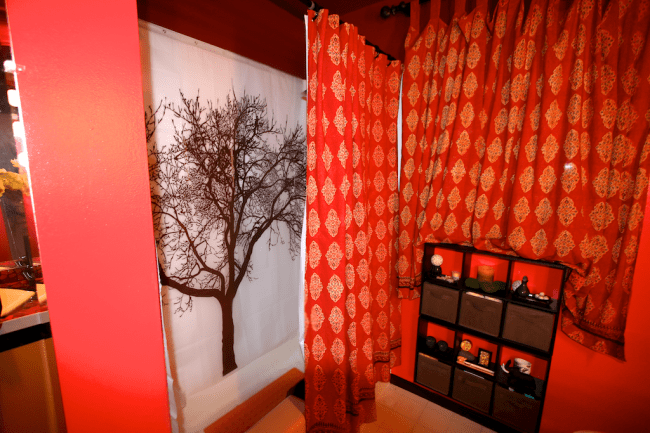 Inside the tub/shower enclosure I hung a vinyl shower curtain against the far wall to give it some interest. My tile walls are stark white and in need of some minor repair so this stunner of a curtain did the trick!!! 12.00 at Linens and Things!! The Cube shelves on the wall are 2 units made by ClosetMaid and have cute little fabric drawers you can purchase separately. I put a bunch of my Bali and travel collectibles on the shelves and spa goodies in the drawers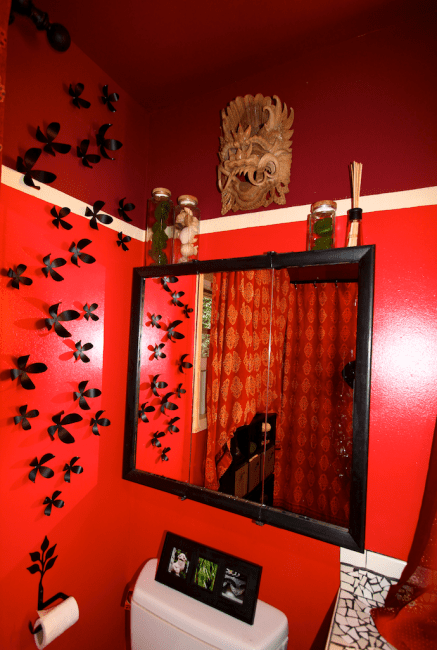 Ahhh my Barong!! This fella above the toilet may look menacing but he is not at all…kind of a good luck mythical animal in Bali who keeps the "bad" away. We purchased him on our 2011 trip and had him shipped home. I adore this hand carved mask and am glad I finally found the perfect place for Barong to be displayed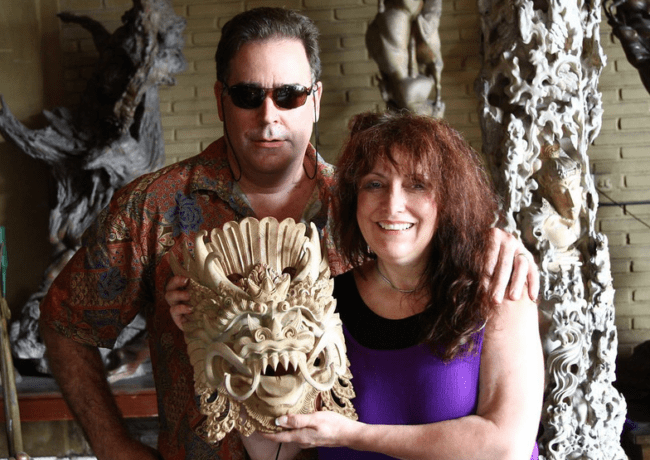 ABOVE: STEVE AND I MAKING OUR PURCHASE DIRECTLY FROM THE ARTIST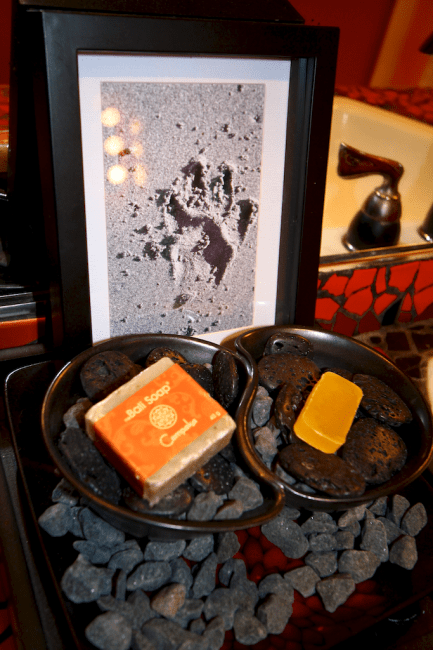 Of course no bathroom would be complete without a soap dish and a place to "wash your Sandy paws" . I took this photo on one of the Bali beaches last year and purchased the soap there as well. The slice of lemongrass soap sits atop some of my polished lava stone beads to help drainage. More black stone is scattered around on the tray to add to the organic/spa feel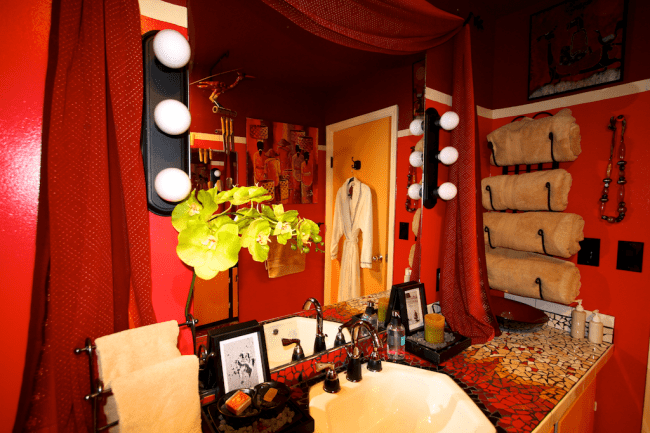 I had to stand at the back of the tub for this shot. The wide angle lens really helps give the "big picture" in such a tight space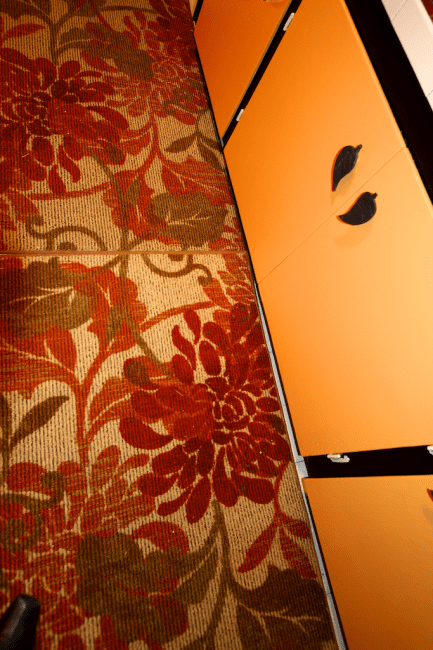 A closeup of the new runners and the handles my mom custom made for my bathroom years ago from black porcelain. One is being repaired so is not back on the vanity yet. No breakage….just the liquid nails gave way on the knob attached to the porcelain.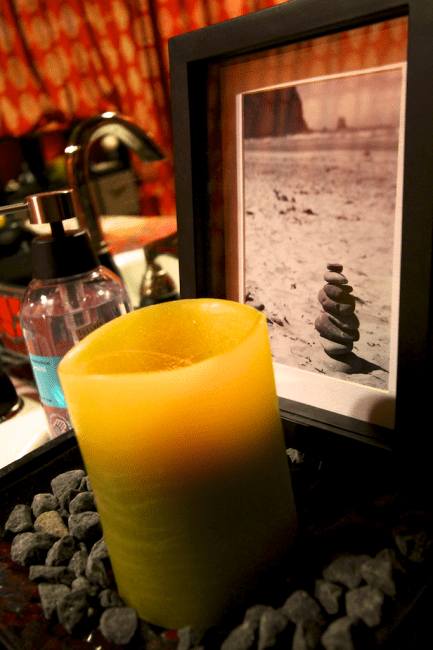 I'm LOVING my candles on timers. The entire house is full of them now. What a warm cozy feeling they add to the room without the danger of the flame. Steve loves them too. That photo in the background I took this summer on the Oregon Coast.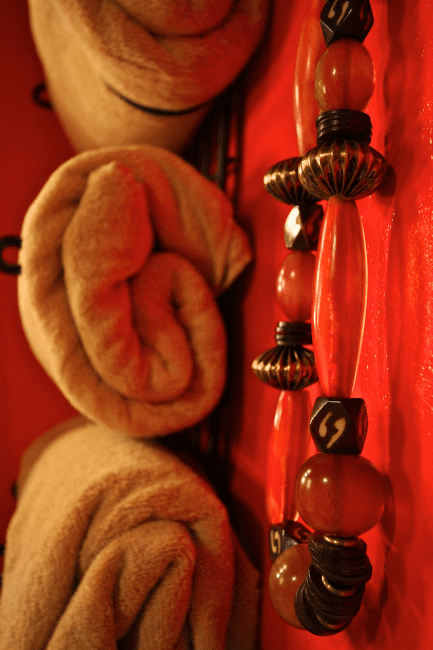 And a room just can't be complete without a piece of jewlery dangling about!!!