CLICK HERE TO ACCESS THE EARRINGS AND MANY BRAND NEW ITEMS AVAILABLE TODAY!!
WOW …..these are some of the most boo-tiful earrings I've ever done for more than one reason.
FIRST, this is a fundraiser. You know how I love to do panda fundraisers!!! US $5.00 of the profit from each of these pair of earrings sold, will go towards Pandas Internationals Bamboo Project (READ MORE BELOW)
SECOND…..they are absolutely as light as a feather on your ears!! This is a hard quality to find in a longer pair of earrings !! You will hardly know you are wearing them, yet they are waterproof and sturdy, created in polymer clay and shiny resin.
THIRD…this is the perfect gift item , as they come in a gift packet I designed which protect this beautiful pair of panda cubs while you are not wearing them (which will be as rare as the pandas themselves!)
I started with a square artwork I designed specifically to be cut in half to display one perfect panda in the bamboo, on each earring. A duo of coordinating pandas known as a diptych.
After permanently transferring each wee artwork to polymer clay I fire them to create the ear drop, then coat in 2 glossy hard layers of resin, encasing and magnifying the artwork . The colors absolutely pop, giving the design dimensional quality
The long slender shape of the earrings is reminiscent of a Chinese wall scroll. They frame the face sooooo beautifully. I need to get a model to wear these for me to photograph to show you what a knockout wearable art statement these are!
The ear wires are black enameled French hooks which really kick up the artsy vibe a notch. If you prefer silver surgical steel I can change them out. Just let me know!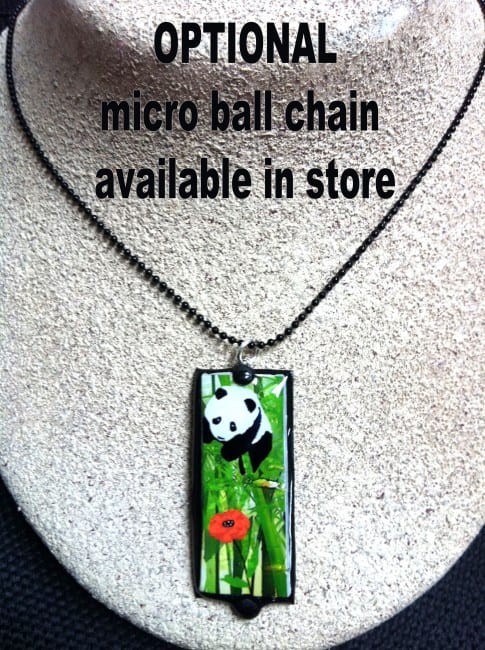 WHAT??? YOU DON'T WEAR EARRINGS (wish I could) JUST SAY THE WORD…and I will convert this pair of earrings into TWO wonderful pendants at no extra charge!!!!
Black micro ball chains are available in my store at an additional cost of 4.95 each and ship free when shipped with this set.
Use as a FRIENDSHIP pendant by keeping one for yourself and giving the other as a gift to your bestie!!.
CLICK HERE TO ACCESS THE EARRINGS AND MANY BRAND NEW ITEMS AVAILABLE TODAY!!
Thank you so BEARY MUCH for your support of PANDAS INTERNATIONAL BAMBOO PROJECT