BE SURE TO FIND MY LATEST ADDITIONS TO THE ARTFIRE STORE TODAY IN RIGHT SIDEBAR!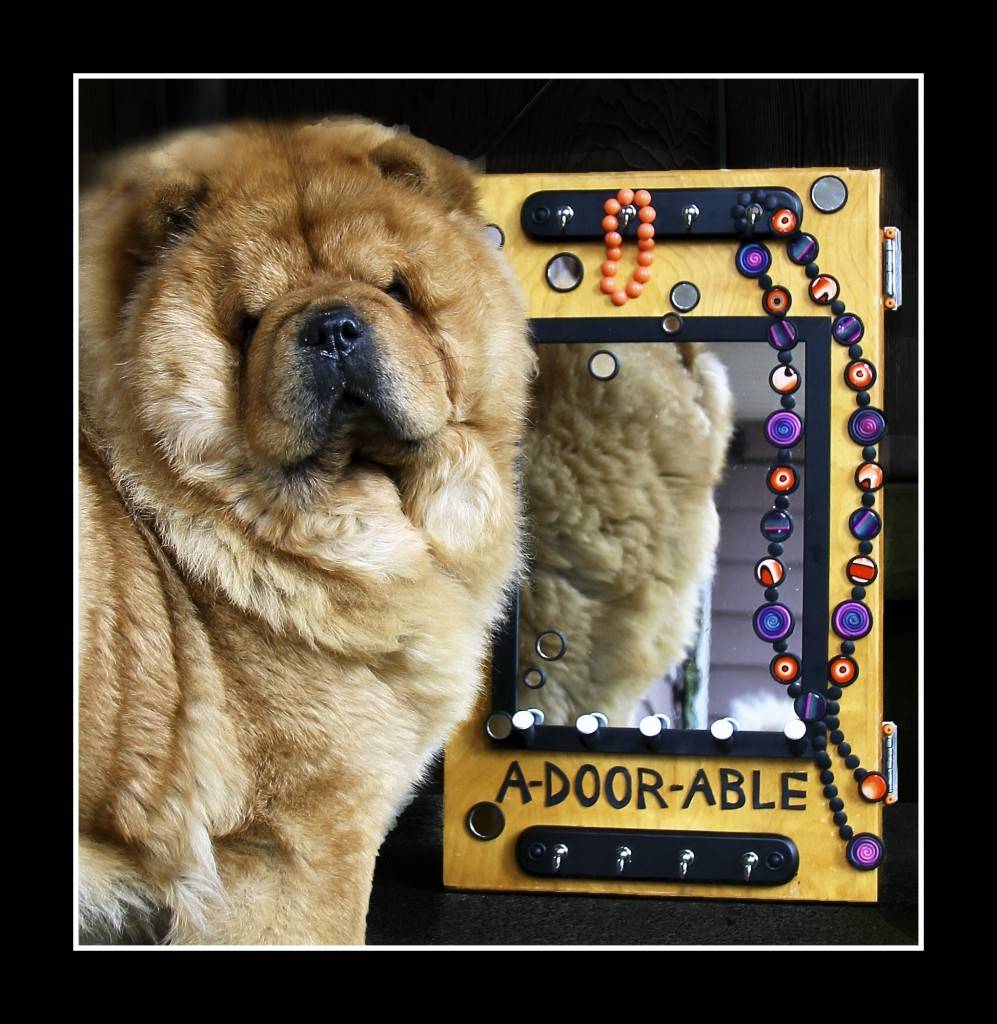 This fundraising project I happily agreed to do for our friends who's talented daughter Natasha is in a local pre-professional dance company.  The fundraiser is based aroiund Turning Old Doors into New Art. Each door will be unique and represent the creator's imagination. This silent auction runs during the annual DANCE WEST Spring concert from April 29th to May 1st 2011. All proceeds benefit the dance company.

CLICK HERE to see a page where all the pictures will be eventually posted…the items are just starting to be listed
My door I was given to embellish  I'm pretty sure is 1940's-1950's judging by the hardware and I think is maple.  The gorgeous  grain was still looking perfect so I opted to not paint the door first ( I almost did a number of times but stopped myself!)…. but just scrubbed it down wiht Murphy's Oil Soap to bring up the natural glow.  The original shellac finish was still beautiful as well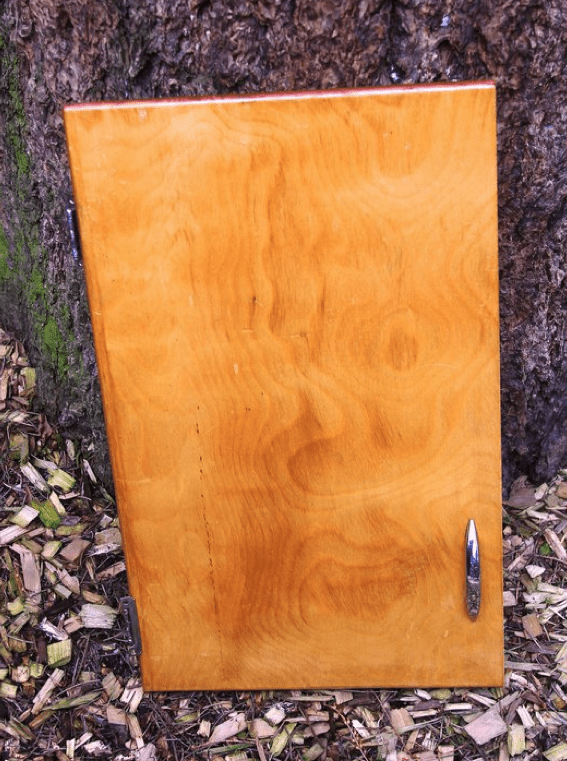 THE BARE DOOR AFTER I WASHED IT…..READY TO HAVE SOME FUN!
I decided to turn this piece into a dressing room mirror and jewelry organizer.  The faux jewelry I created from Polymer clay….each flat"bead" hand cut from my blended and patterened clay and edged in matte black frames.  Tiny round mirrors dot the door as well adding a nice amount of glitz without going overboard and feature the same black "frames" as the beads.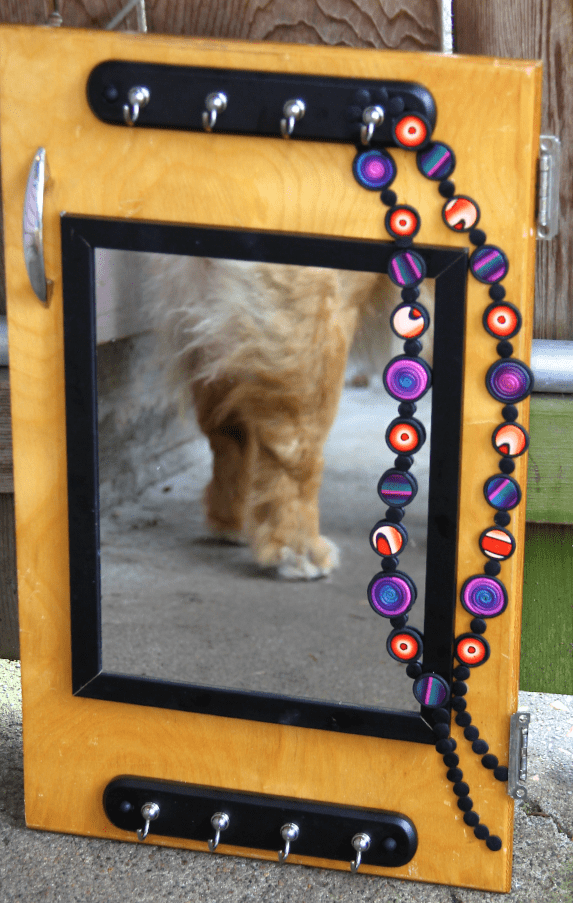 THE BEADS HAVE BEEN APPLIED TO THE DOOR AND THE HOOKS ARE NOW ON

I added Polymer clay "pegs" at the bottom of the main mirror for hanging  rings, bracelets etc and ,finished them in stark white ends to mimic stage footlights. The hinges were left in tact along with the shiny chrome handle and both embellished a bit.  The handle has a polymer clay key hanging from it and little orange "screws" dot the hinges
PHOTOGRAPHING  WAS A CHALLENGE…REFLECTIONS CAN BE A SURPRISE
Below see closeups of some of the details.  Thank you Leslie for giving my the opportunity to be a part of this exciting project.  I'm hope your group brings in  a lot of money for Natashas Academy from the fundraiser!  She is so talented …..the whole bunch are a joy to watch in action.  I can't wait to see the next performance girlfriend!!
BEAD CLOSEUP.  I PUT A GLOSS FINISH ON ALL BUT THE SPIRAL BEADS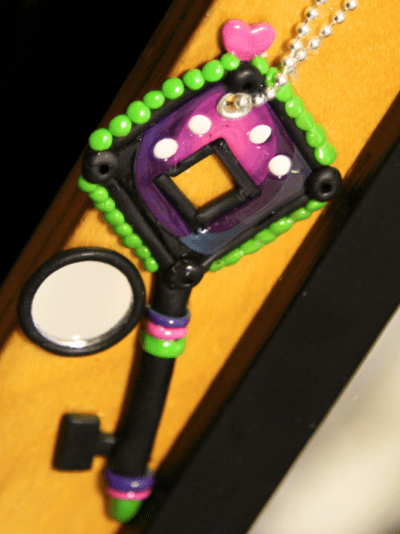 ABOVE IS THE CLOSEUP OF THE POLYMER CLAY KEY I  MADE AND A MIRROR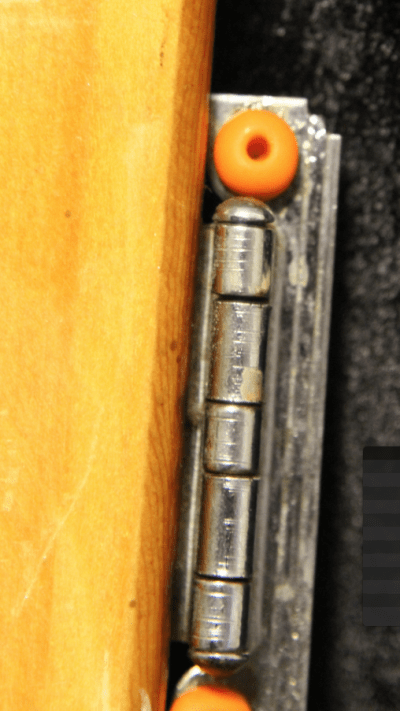 THE HINGE WITH IT'S ORANGE "FAUX FANTASY FASTNERS"
THIS OUTAKE SHOT CRACKED ME UP. LIL WAS SCARED OF THE MIRROR