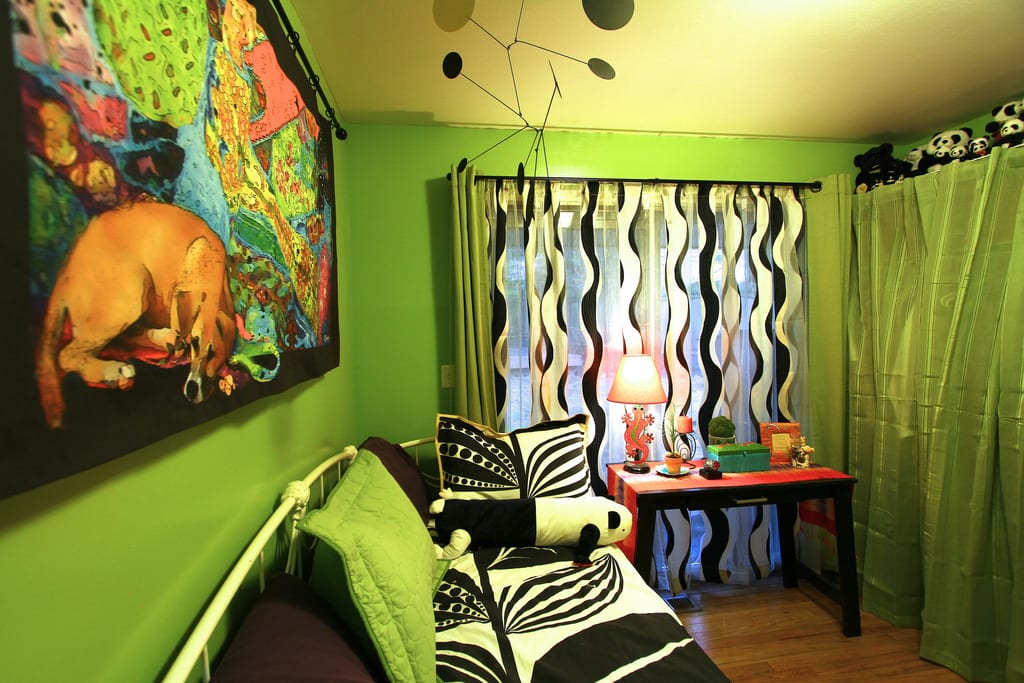 THE NEW DRESSING ROOM IN IT'S FINAL STAGES OF "DRESSING UP"
I can't believe I am finally winding down with this room remodel.  I wish I had taken BEFORE pix as it was the worst shade of mauve/pink you could possibly imagine. As my daughter said…like dirty Pepto Bismol.  It never got a coat of paint because it was so jammed with furniture and clothes it was impossible to wrap my brain around the project
MY 5 FOOT FABRIC PANEL I DESIGNED  WAS THE LAUNCHING POINT FOR THE REMODEL
The curtains to the right of the room were just taken out of the package when I took these pix so they need to be steamed to get the wrinkles out, but you can see they hide my WALL O CLOTHES RACKS very nicely.  The panda collection above the curtains needs arranging and more are in boxes..Yeow!  I'll show you a more "finished" room when the rugs arrive etc , with a peek at my storage under the curtains soon.
THE BEDSPREAD IS FROM TARGET.  RED PILLOWCASES ARE COMING TOO
There is a place for everything and everything in it's place.  The main theme here is "TRAVEL FINDS and FIBER ARTS" since it is afterall my dressing room 99% of the time….a guestroom when needed.
All the scarves and handbags displayed on iron pegs on the walls are from our travels in Africa, Thailand, Bali, Turkey, France,Japan….all over the world.  Putting the hooks on the wall is the best thing I could have possibly done to showcase all my big chunky jools and scarves. These works of art should never be hidden in drawers
A SECTION OF WALL WITH MY HILLTRIBE WALL HANGING AND JEWELRY
A  good example of travel finds is this unbelievable wall hanging …each piece is part of a garment…you can see a full dress yolk behind the lamp and one behind the orchid. This is full of beads and sequins. I purchased it in Chiang Mai from a man who gives work to the local tribes by reselling their handiwork. I'm so glad to finally have a place to showcase this beauty and be able to study it as I sit at this new desk I got.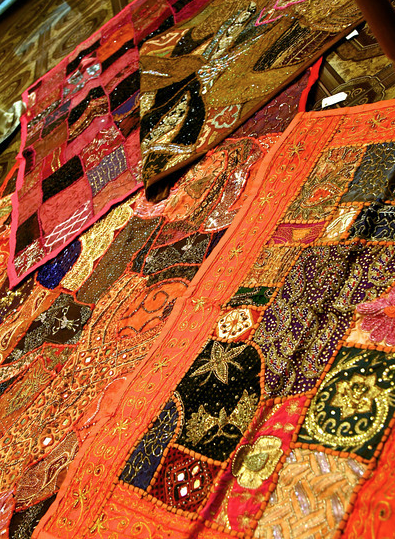 OH MY WHAT A DECISION I HAD TO MAKE IN THE CHIANG MAI GALLERY
A HILLTRIBE HAND WOVEN  TUNIC HANGS OVER THE CURTAIN
The ladies in one of the hilltribes n Chiang Mai Thailand  were sure happy to see Gayle and I. We literally bought the clothes off of their backs!  I am going to get a black curtain rod for this beautiful piece hanging over the curtains. It's now just on a rod.  I plan to suspend it from the ceiling so it won't interfere with the curtains being opened. All my clothes are under those green panels, hung on white wire closet shelves.  Lots of drawers underneath too
THIS PHOTO IS OF THE WOMAN WHO DID THE WEAVING OF THE GARMENT DISPLAYED..IGNORE THE WILTED BUYER..LOL
At this hilltribe we were the only visitors….not a place for the resort crowd but in my opinion it was paradise.  The little baby pigs running all over and the water buffalo tied to a tree chewing it's cud.  The sound of the wooden loom shuttle echoing inside the very rustic homes.  Young women with no teeth from chewing the beetel nut
It was so REAL and so unspoiled.  They were shocked when I had our guide ask if they would sell us any weavings. At first they didn't seem to have anything to offer, as they were weaving for themselves…not the tourists, but eventually they came out of their homes with a few choice pieces..and we bought them all.
PHOTOS OF WHERE I PURCHASED MY TREASURES WILL BE DISPLAYED ABOVE THESE NECKLACES IN SHADOWBOX BLACK FRAMES
I still have a lot of tweeking to do and need to paint the door.  The scarves will be rearranged and a set of black skinny drawers is yet to be delivered along with my area rug.  I love the drawer unit as it will hold all of my rings and bracelets.   As you can see below……I have far too many but love them all!!!
AFTER A SUCCESSFUL SHOPPING TRIP IN ISTANBUL, SEPT. 09
And just as a side note…I'm sure you have noticed the new facelift for the site. I just started it yesterday so it is in it's very early stages of being built.  You can still shop and peruse the site.  Be sure to stop by the GRAFFITI JEWELRY link to find a few new treasures in my ARTFIRE store