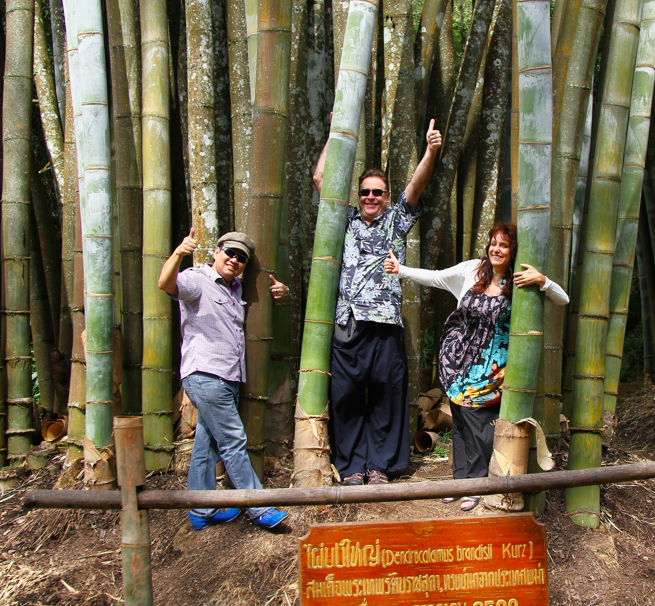 Yesterday was another picture perfect day filled with Chiang Mai adventures with Ekarat and our guide Pat.  We got up early and headed to Bhubing Palace which is the mountain residence of the King and Royal Family.  It is a fabulous garden setting at the top of the mountain overlooking Chiang Mai
You will see some of the highlights be clicking the thumbnails below.  The butterflies were exotic and large just like everything else in this fern encrusted rain forest.  The giant bamboo trees were the largest I have ever seen!!  My fave is the tree hugger photo at the top of this post.
From there we headed to the neighboring Wat Doi Suthep (Temple) which is the crowning jewel of this city.  Peaceful and serene, the views are world class looking down onto Chiang Mai city
We had a lovely noodle and curry lunch at a local small roadside restaurant which is exactly what we were craving, then back to the room to rest and freshen up for an earlier dinner at a waterside garden restaurant where Ek had Pat take GAyle and I in February.  Such a beautiful setting, and Gayle….that  herbal fish dish was as phenomenal as ever!
I am writing this at 3:30 AM because I couldn't sleep.  Excited to get to Elephant Nature Park I am sure!!  I hear monkeys howling outside and am still pinching myself that we are really here.  Tonight we plan to camp out in FOOD STALL PARADISE and snack our way through as many as we can.  I will update as soon as I can with more photos!  Enjoy this grouping below and check out the new videos too.
[smugmug url="http://www.graffitimagery.com/hack/feed.mg?Type=gallery&Data=14990641_eaeuL&format=rss200″ title="PHOTO%20HIGHLIGHTS%20FROM%20TODAY" description="CLICK%20THUMBNAILS%20TO%20VIEW%20BEAUTIFUL%20LARGE%20IMAGES.%20%20%20HOVER%20OVER%20THE%20LARGE%20IMAGES%20TO%20FIND%20CAPTIONS%20″ imagecount="125″ start="1″ num="125″ thumbsize="Th" link="lightbox" captions="false" sort="true" window="false" smugmug="true" size="X1″]