My friends….what a Thanksgiving week it was ….from the moment my hubby Steve told me we were going to Indonesia as part of our 3 week upcoming trip I have been going crazy researching Bali (where we will be setting up home base)  Our trip will include a full week in Chiang Mai Thailand, a few days with our good  friend Ek in Bangkok, a few more days in Beijing China, and over a week in Bali.

Annie Faye the Lotus in the Moonlight clothing designer in Bali

We will be staying in a darling villa that Annie is graciously letting us rent in Bali when there is hardly a room to be found in peak season!! !! I will ask Annie if it would be ok to post a few photos she sent us of the villa as it is as charming as it can be, situated on a rice paddie slightly inland and away from the hustle and bustle of the cities.  The infamous "rice terraces" in Bali are one of the sights we can't miss. I hear they are electric green!!
CLICK PHOTO BELOW TO READ MORE ABOUT THE RICE TERRACES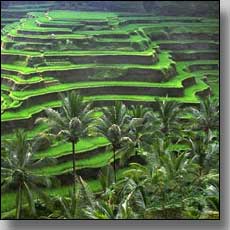 BELOW IS REFERENCED FROM "WHY GO BALI"
Bali is a mecca for arts and handicrafts. The way they do it over here, is that a particular village will specialize in one thing. I guess this started in the good old Bali tradition of 'my neighbor is having success doing this, so I should copy'. One expat I talked to said it doesn't occur to locals to sell other stuff. For example, in Celuk, the silversmith village, they don't sell woodcarvings. But imagine if you were the only one selling woodcarvings, you might actually sell some!
You can take bus trips to villages that specialize in various products, its easy to get the places mixed up.
CLICK PHOTO BELOW FOR MORE INFO ON BALI'S ARTS AND CRAFTS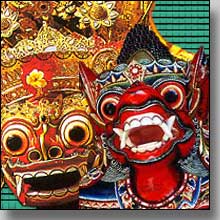 Here is a list of villages with handicrafts:
•Bangli – Coconut & Bone carvings / Silver
•Banyuning – Pottery
•Batuan – Baskets / Painting
•Batubulan – Stonecarving
•Bedulu – Painting (traditional calendars)
•Belayu – Weaving (Songket)
•Beratan – Silver / Weaving (Songket)
•Blahbatuh – Gongs / Gamelan
•Bona – Bamboo furniture & Baskets
•Budakaling – Silver & Gold
•Celuk – Silver & Gold
•Gianyar – Weaving
•Jati – Woodcarving
•Kamasan – Painting (Wayang style)
•Krambitan – Painting
•Mas – Carved masks and other items
•Mengwi – Weaving
•Patean – Pottery
•Pejaten – Pottery
•Penarukun – Carvings
•Puaya – Carved masks / puppets
•Sawan – Gamelan instruments
•Seminyak – Blogging
•Sempidi – Ceramics
•Sideman – Weaving
•Tampaksiring – Coconut & Bone carvings / jewelry
•Tegallalang – Woodcarving
•Tenganan – Weaving (Geringsing, double-ikat)
•Tihingan – Gongs
•Tohpati – Painting
•Ubud – Woodcarving / Painting
•Ubung – Pottery
DECIDING WHICH VILLAGES TO VISIT IS GOING TO BE A TOUGH ONE!! I GUESS WE MIGHT JUST RENT A CAR AND VISIT THEM ALL…THEN RENT A CONTAINER  TO SHIP ALL THE GOODIES BACK..LOL…DON'T I WISH!  MUCH MORE ABOUT OUR TRIP TO COME.
BE SURE TO CHECK OUT ALL THE NEW GOODIES IN THE BAMBOO TEAHOUSE FOR GIFT GIVING!!
BELOW IS "YO YO THE PANDA" …MY LATEST ADDITION TO THE TEAHOUSE