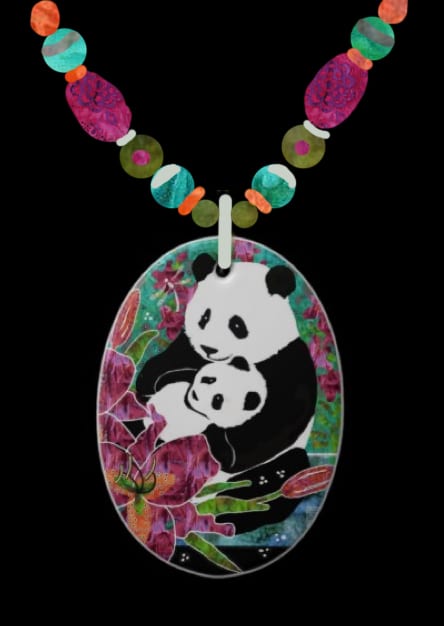 ABOVE IS A PHOTOSHOP GENERATED EXAMPLE OF HOW THE ORNAMENTS WILL CONVERT TO A STUNNING PENDANT
Oh how I love it when Zazzle comes out with a new product,  and this one is right up  my alley!!  They are custom  porcelain ornaments featuring some of my most popular  artworks, and the design is on BOTH sides!!!  I have been sitting at this computer nonstop getting 21+ designs up for you to choose from….everything from pandas to moonbears, chows to kitties and beyond!!  There is something for every animal lover!
The double bonus to these gorgeous pieces is that they can be worn year round as wearable art.  I am working on a very inexpensive conversion kit for you to transform your porcelain ornament in minutes, to a stunning pendant with a silver bail that will fit any chain in your jewelry box, or use your beading skills to create a necklace masterpiece.  The pendants weigh less than my glass ones of the same size and are extremely sturdy , a great value ..AND waterproof!.
CLICKING ANY THUMBNAIL BELOW WILL BRING YOU TO  THE ORNAMENT PAGE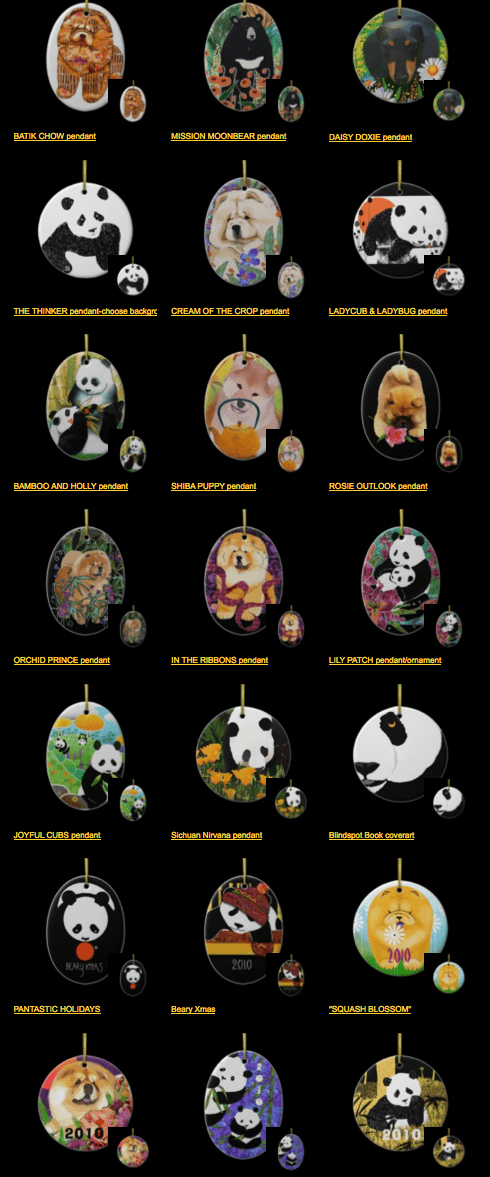 I am waiting for a few supplies to arrive Monday to pull the elements of the conversion kit together and creating a video to show how fast and easy it is to do.  As soon as that is done I will do another blog post and give you the link to the kit.  If you order pendants/ornaments now, your pendant kit will be arriving very shortly afterward
BELOW, DONT' MISS THE NEW ADDITIONS TO THE 2011 CALENDARS IN THE STORE
Again, clicking thumbnails will bring you to my Calendar page
USE COUPON CODE FOR 40% OFF AT CHECKOUT…INCREDIBLE SAVINGS AND AFFORDABLE GIFT IDEAS!!!
40CLNDRS2011 Ends 11/30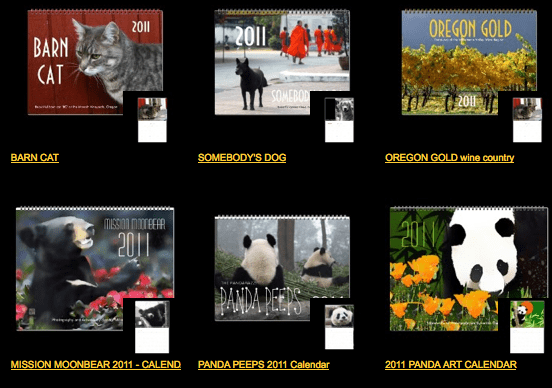 CLICK THE RED BAG BELOW TO SEE THE NEW JEWELRY ITEMS IN THE STORE TOO!!!