MY FIRST FIELD TRIP WITH THE NEW CAMERA..CLICK PHOTO ABOVE.  THERE IS AUDIO

Cameras are one of my passions and something that never became an integral part of my artwork until "digital" came along.  The instant gratification that comes along with seeing your images within moments of capturing them , is right up my alley.  I never was a good one for waiting to have prints developed, and don't have the extra room to do film processing myself.
YOURS TRULY …WAY BACK WHEN
I never once thought I would get hooked on cameras but I'm a hopeless addict.  Each bigger, badder, better Canon camera that hits the shelves, I yearn for and start saving my money like crazy until I can lay cash down on the table for it at our  PRO PHOTO SUPPLY

BELOW I'VE EMBEDDED A NUMBER OF RESOURCES , REVIEWS AND IMAGES OF THE 7D
This baby is not a point and shoot by any means but worth the big learning curve

My CANON 40D is not that old but I just keep wanting to move ahead with my photography, and my special needs with my eyes were a perfect match to this new and innovative auto focus system on the 7D.  Wow I'm glad I got it now before we go on our next vacation.  It will take me a couple of months to program all the customizable "bells and whistles" . I"m so excited I can hardly stand it!
My  trusty 40 D will now be hanging off one shoulder with my macro or wide angle lens, the new 7D over the other with my zoom.  Now I need to start saving for a tag along masseuse to keep my shoulders in shape to carry these cameras, gear, my stick and a backpack.  If I fall over I'll be like a turtle on it's back!
ONE OF THE FIRST SHOTS OFF THE NEW CAMERA OF BEAUTIFUL MEGAWATT!
Much more to come……….and look for the September Newsletter in your email on September 1 for lots of jewelry related goodness!
HAVE A FANTASTIC MONDAY MY FRIENDS!!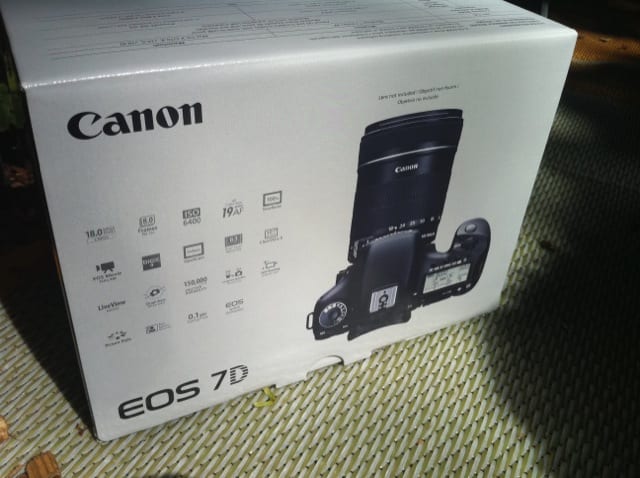 ABOVE…THE NEW TOY BEFORE I OPENED THE BOX
BELOW….THESE YELLOW BAGS MAKE ME DROOL.  THERE  IS USUALLY A NEW CAMERA INSIDE!!