REFER TO OUR ITINERARY HERE TO SEE WHERE WE ARE VISITING EACH DAY THIS WEEK
ABOVE IS A PHOTO I TOOK OF  SHU EMBROIDERY DEPICTING THE SICHUAN OPERA/FACE CHANGING in 08.  Below you will find all sorts of interesting facts and destinations in Sichuan Province and the city of Chengdu which we will be checking out this week!!!
WE ARE HERE IN CHENGDU!!!  Arriving just before noon from a short overnight layover in Beijing with the day ahead of us to unwind, stretch out…and get our bearings at our awesome hotel we got at a fantastic rate… the BUDDHA ZEN!
Just one week ago Budda Zen was voted the #1 Hotel in China by TRIP ADVISOR  … OMG I am SO glad we made our reservations before the rates go up!!! Wooooooooooo Hoooooooooooooooo…what a bonus find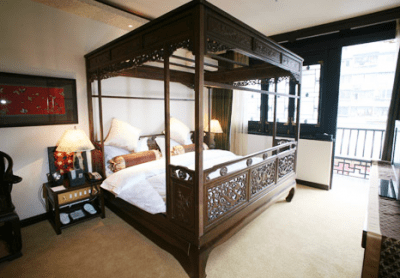 BUDDHA ZEN BOUTIQUE HOTEL ROOM
"Buddha Zen Hotel, a territory for Buddha-worshippers, is located at Wenshufang folk and custom street and adjacent to famous thousands-year WenshuyuanBuddhistTemple, where you can listen to Buddhist sermons, smell incense, and experience ancient charms everyday. Moreover, the hotel is in the circle of Central Business District (CBD) of Chengdu, and near Tianfu square-the heart of Chengdu and Yanshikou commercial circle. "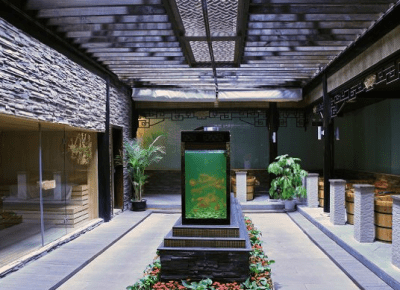 BUDDHA ZEN BOUTIQUE HOTEL SPA
"Buddha Zen is named by Master Chishan as the first hotel with the theme of Buddha Zen culture in China. The design of the hotel follows the spirit of Buddha Zen with the combination of traditional Chinese aesthetics. Its interior design is unique and its couplets are meaningful. In the hotel, there are a plenty of rare Tangkas, ancient temple paintings and antiques, which include the oldest man-made embroidery of Qing Dynasty in Sichuan. It is a good chance for you to feel a sort of predestined relationship with Buddhism in the hotel. Buddha Zen Hotel has asked the prestiged monk to pray four-facet Dari Rulai Buddha status from Nepal to settle in the North Hall of the hotel. It is extremely attractive, especially its couplets as 'Four-facet Buddha look through all around while bless East, West, South and North; Eight-direction wind runs through all around while passes Spring, Summer, Autumn and Winter – Be Companions Always.' It is so called that great boon will be achieved from Buddha after you walk around him three times with sincere respect."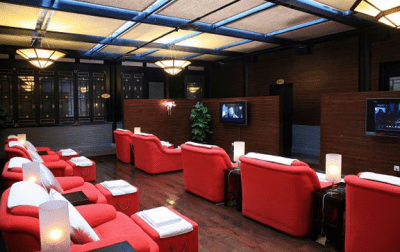 BUDDHA ZEN BOUTIQUE HOTEL SPA PHOTO

"Buddha Zen Hotel was born with excellence and continues creating marvels without any counterpart. The tranquility included in the traditional culture is showcased by the active modern expressions. Surrounded by the noisy metropolitan culture, you still have a chance to experience an eremite's life in the hotel, where you can have vegetarian meals in Rong Zhai Restaurant, enjoy sauna in Zi Zai Spa, talk about doctrines in Jian Cha Teahouse, and get a good rest in any one of the thirty five guestrooms which are deliberately decorated with Buddha Zen style and the first choice for Buddhist dignitaries, Buddha-worshippers, and high-end business persons.
In and out Buddha Zen Hotel, you can see a world with round sky and square earth."
ABOVE IS A LITTLE "FACE CHANGING" ACTION FROM THE SICHUAN  OPERA
Each of the underlined links below contain a wealth of info for the armchair tourist!!! Enjoy and be looking for new audio and video updates as they come in !
——————————————————————————————————————–
CHENGDU HIGHLIGHTS WE WILL BE SEEING OR PARTICIPATING IN  THIS WEEK ARE BELOW…ALL PHOTOGRAPHY BY SANDRA MILLER 2008

——————————————————————————————————————–
BIFENGXIA PANDA BASE…meeting with director, Dr Tang and visiting the pandas and taking tons of photos  to help fundraise for Pandas International and to gather content for  my new book called "Blind Spot"
CHENGDU PANDA BASE…meeting with directors and Lichunlin the public relations coordinator, visiting Bao Shi my adopted cub, learning more about the Lowland China Tiger and the Red Panda breeding programs which are something I ran out of time on last visit
ANIMALS ASIA FOUNDATION MOONBEAR RESCUE…meeting with founder/director Jill Robinson to learn much more about the moonbears and their plight in the bile farms.  We will be spending 2 days with Jill, Rainbow and Richard Zhou soaking up all the moonbear facts we can for my new book "Shoot for the Moon"
SICHUAN OPERA A must do in Chengdu!!! Click below to see another typical performance

SHADOW PUPPETRY part of a typical Sichuan Opera performance.  Entrancing!! Click image to see video

JINLI STREET this is very close to our hotel.  Shopping ancient crafts and traditional foods..loved it last time
PAPER CUTTING We missed the chance to see a demo of this last time…NOT this trip! Click image for video
————————————————————————————————————-
MORE INTERESTING INFO ABOUT CHENGDU CHINA
————————————————————————————————————-
* Population: 10,600,000
* Area:12,400 sq. km
* Annual average temperature: 62.1F
* Area code: 028
* Postal code: 610000
* City flower: lotus
* City tree: maidenhair tree
* Nickname: City of Lotus
Chengdu is the capital of "Heavenly State" (Tian Fu Zhi Guo), habitat of giant pandas and city of cotton-rose hibiscus.
Located in the west of Sichuan Basin and in the center of Chengdu Plain, Chengdu covers a total area of 12.3 thousand square kilometres (4,749 square miles) with a population of over 11 million.
Benefiting from Dujiangyan Irrigation Project which was constructed in 256 B.C., Sichuan Province is reputed as "Tian Fu Zhi Guo", literally a place richly endowed with natural resources. Chengdu, as the capital, is extremely productive. The Min and Tuo Rivers, two branches of the Yangtze River, connected to forty other rivers, supply an irrigation area of more than 700 square kilometres (270.27 square miles) with 150-180 million kilowatts of water. Consisting of abundant mineral resources, the land is extremely fertile.
The history of Chengdu can be traced back 2,400 when the first emperor built his capital here and named the city. Through thousands of years its original name has been kept and its position as the capital and as the significant center of politics, commerce and military of the Sichuan area (once called Shu) has remained unchanged.
Since the Han (206B.C.-220) and Tang (618-907) Dynasties when its handicraft industry flourished, Chengdu has been famous for its brocades and embroideries. Shu embroideries still enjoy a high reputation for their bright colors and delicate designs, ranking among the four main embroideries in China. Chengdu was the place where the bronze culture, an indispensable part of ancient Chinese culture, originated, the place where the Southern Silk Road started, and the place where the earliest paper currency, Jiaozi (not the dumpling!), was first printed. It is listed among the first 24 state-approved historical and cultural cities and owns 23 state and provincial cultural relic units.
In addition to its profound historical and cultural background featuring historic places of interest such as the Thatched Cottage of Du Fu , Wuhou Memorial Temple and Wenshu Monastery , etc, natural beauty abounds in surrounding areas such as in the Jiuzhaigou Scenic Area and Huang Long Valley (Yellow Dragon Valley) . The natural habitat of giant pandas, Chengdu Panda Breeding and Research Center , supports the world's only giant panda breeding and research base.
Sampling the famous Sichuan cuisine is a must on a trip to Chengdu. Enjoying the food as well as the culture, shopping and having tea at a teahouse afford a deeper understanding of Chengdu.
Improved land and airlines extending nationwide provide greater convenience. Chengdu is also the main inland access city to Tibet.
Click map thumbnail to see the larger Google map!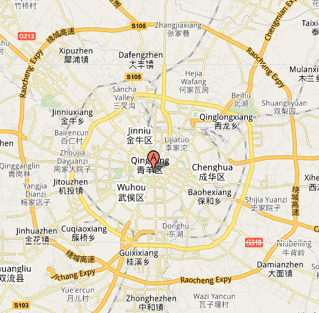 BE SURE TO CHECK THE AUDIO AND VIDEO UPDATES BELOW DURING THE COURSE OF THE DAY FOR ANY "ON THE FLY" POSTINGS.  TONIGHT WE WILL DO A FULL REPORT FROM THE BUSINESS CENTER OR INTERNET CAFE COMPLETE WITH PHOTOS!!!