ABOVE: THE FISH THAT GOT AWAY….I AM STILL THINKING OF HAVING THIS STUNNING TEAK BETTA SHIPPED TO ME!! THIS WAS DONE BY A CARVER IN CHIANG MAI AND WAS ALMOST AS TALL AS ME
Hello my friends!!!!  After many many hours of flying and no sleep I am home safely and so excited to look through all of my photos and get them posted for you to see.  Again my sincere apologies for the lack of updates during the trip.
ABOVE: Wat Phrathat Doi Suthep Chiang Mai Thailand
We were wifi-less for most of the trip which means no emails or blog posting ability.  The few times we got a voice update to go through involved getting every thing to fall in place like time of day, location we were trying to use our iphones at, and avoiding being timed out during an upload…..frustrating to say the least.  I decided that vacation is no time to be frustrated and I can post much nicer images once I'm home anyway.  Next trip…….I bite the bullet and take the laptop!!!
ABOVE: STREET MARKET IN CHIANG MAI THAILAND
I am loading my smaller memory cards first and decided to do a video of the craftmanship in Chiang Mai to give you a preview of things to come.  Turn up your volume on this one.  You will visit the Teak carvers, Lacquerware, and Silk artisans in this vid
BELOW: BHUBING PALACE GARDENS, CHIANG MAI THAILAND
BELOW: HILLTRIBE WALL HANGINGS….I'LL TAKE A PHOTO OF THE ONE I PURCHASED!
Thank you all so very much for stopping in and commenting.  I sooooooooo wish I could have replied to each and every one of you.  I will be catching up on as much as possible this weekend and returning emails and of course getting my images worked on with the stories to go with them.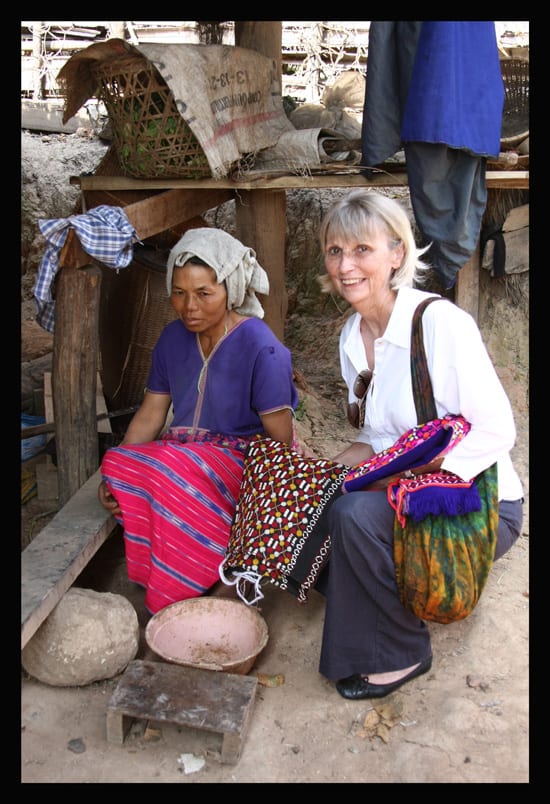 GAYLE AND HER HILLTRIBE WOVEN TREASURE…MORE TO COME
Over 7000 photos taken on this trip and some of the best I have ever gotten of the pandas and moonbears and ellies too.  I have so much to tell you all I don't know where to start!!!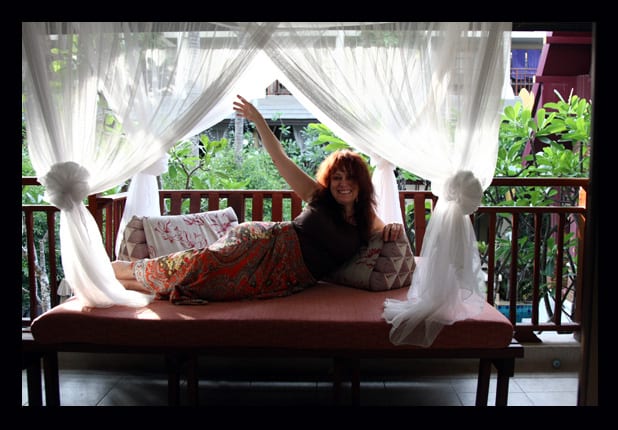 ABOVE: THE "PRINCESS BED" ON MY PHUKET BALCONY THAT HAD A SLEEPING SPELL!!
A SPECIAL THANK YOU TO EKARAT FOR ALL THE HELP AND HOSPITALITY YOU GAVE US ON THIS TRIP.  I COULD NOT ACCESS MY MONEY IN MY BANK THE ENTIRE TRIP (FINDING A NEW BANK!!)……..OMG……A VERY LONG STORY BUT EK CAME TO THE RESCUE .  MORE ABOUT ALL THAT LATER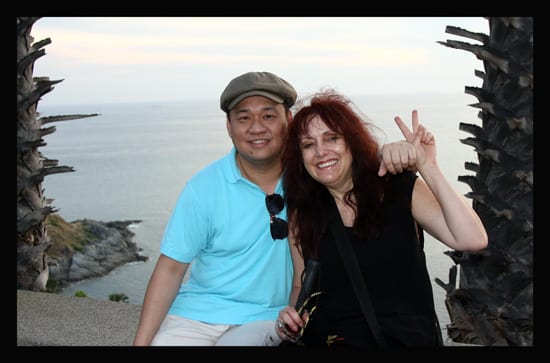 ABOVE: EK AND ME ON PHUKET OVERLOOKING THE OCEAN