Hello my friends and Happy Birthday to my mom from Chiang Mai…we are celebrating a bit early because of the time difference!! Mom I hope you have the best day ever an I think of you ever day..I love you so much!!!
MAKING FLOWER GARLANDS FOR SPECIAL OCCASIONS AND BUDDHIST OFFERINGS IN 08
Mom keep an eye out  for some presents in my next post because Gayle and I are going birthday shopping for you at Chiang Mai Markets today!!
I only wish I could bring you home a foot massage like the ones Diana and I saw here in 08

Or even better..how about some good grubbin!!   In Thailand you had better be careful what you ask for.  Good "grubs" might be what you get for your celebratory dinner!! ….mmmmmmmmmmm Creamy centers like a Twinkie and high in protein!!!
Mom I know after this video you will be in the birthday frame of mind !!!
The Birthday Girl!!
BELOW IS FROM A WEBSITE I FOUND TO EXPLAIN THE HAPPY BIRTHDAY GREETING IN THAI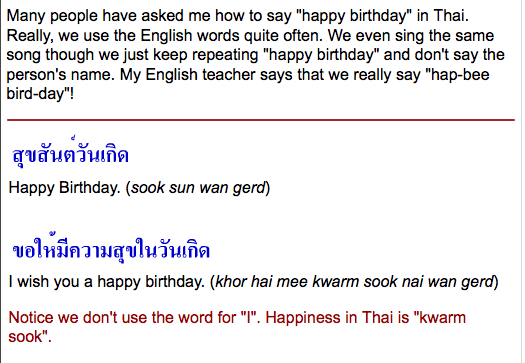 All the photos you see are images of my mom. She has been restoring all the family tree photos for our ancestry albums and I stole them…THATS RIGHT…STOLE THEM off her Flickr page.  Mom you haven't changed a bit.  You are forever young in my eyes and the  most beautiful woman on the planet…
HAPPY BIRTHDAY MOM!!!!
Birthday Customs Thailand
One of the distinct customs in Thailand is the way they celebrate their Birthdays. Usually the Parents and loved ones of the birthday boy or girl purchase birds or fish to the number of the person's age. They add an extra number as a good luck charm for the next year as they would want to see the person live another year with them.
FEEDING CARP FROM A BOAT IN BANGKOK IN 08
Some blessed water is then sprinkled on to the creatures by the birthday boy or girl who then lets them free into the water or air according to the nature of the creature. The myth behind this method of celebration is that it pleases the Gods. With so many Gods it must be hard to keep them all satisfied!
CHIANG MAI THAILAND MAP…CLICK THUMBNAIL TO VIEW LARGER