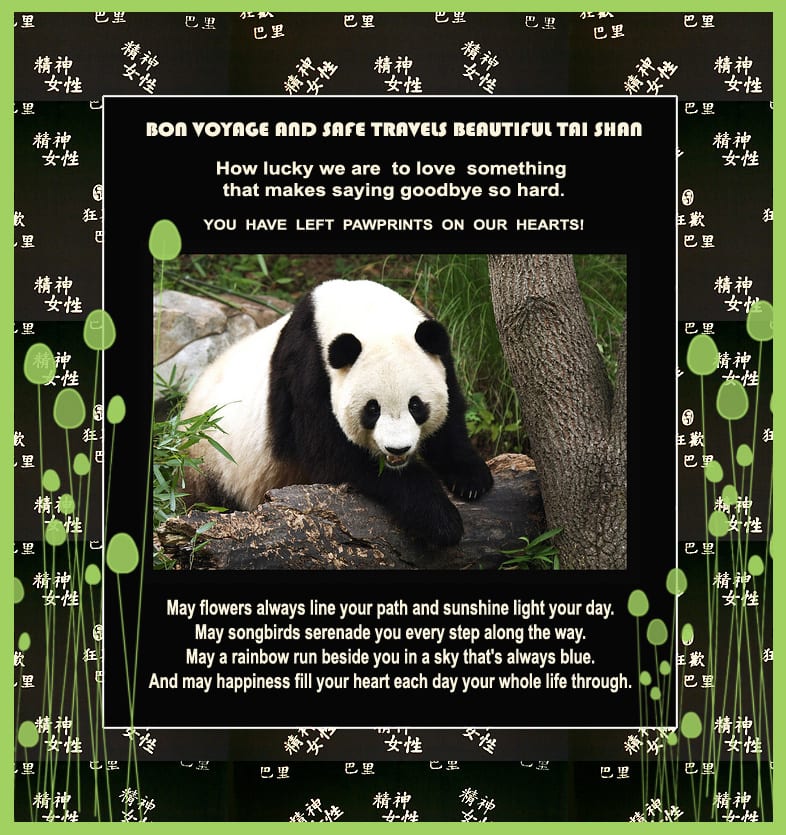 As I am preparing to leave shortly myself for our China adventure, I couldn't help but take a couple hours out of my packing and cleaning  to watch the live feed on CNN bidding our American born Tai Shan from the DC National Zoo, and Mei Lan from Zoo Atlanta a safe journey.
Using my screen capturing tool I managed to get this wonderful video capture of an  interaction between Nicole , Tais keeper who is traveling with him to Chengdu…..feeding him his favorite treats of fruits, veggies and biscuits to divert his attention from all the media hype.
The video was of Tai as he just was unloaded off the Fed Ex truck, getting ready for the ride out to the Panda Express plane
Above, ….heading out of the building to the plane
ABOVE: being lifted into the plane…this boy was unflappable…munching on bamboo. The zoo staff did an incredible job of giving Tai Shan the "wings" to handle this kind of craziness
Almost in the plane
One final peek at his adoring fans
photo Fed Ex
CLICK HERE FOR MORE ABOUT TAI AND LANI'S DEPARTURE TODAY AT CNN
BELOW IS A SCREEN CAP ONE MINUTE VIDEO I TOOK FROM THE NATIONAL ZOO PANDA CAM AT TAIS FAREWELL PARTY THIS WEEKEND…THE SNOW DIDN'T HOLD BACK THE CROWDS ONE BIT
So until we meet again in Bifengxia and Chengdu on Monday and Tuesday…..Bon Voyage and Happy travels to our black and white Special Envoys.  See you all right here at the blog…my own journey is about to begin!!
Special Envoy by Sandra Miller 2010
TRACK TAI AND LANIS FLIGHT TO CHENGDU BY CLICKING THE PHOTO BELOW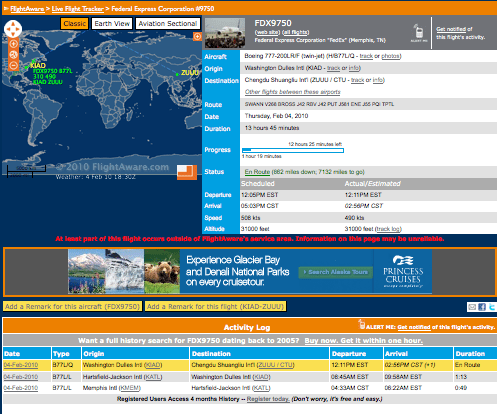 AND SOME LATE BREAKING NEWS!!! …CLICK THE IMAGE BELOW TO READ THE ARTICLE ON A FRENCH WEBSITE ABOUT MY UPCOMING JOURNEY!!!  THANK YOU SO MUCH GENEVIEVE.  I HOPE YOU AND YOUR READERS HAVE A FUN TIME ON OUR TRIP!!! PACK YOUR BAGS…WE LEAVE TOMORROW!!
NEW AUDIO AND VIDEO UPDATES BELOW