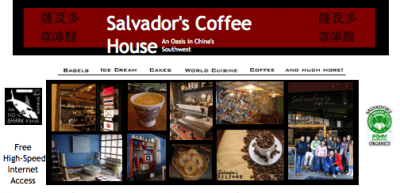 CLICK IMAGE TO GO TO SALVADORS COFFEE HOUSE IN KUNMING CHINA
(This post did not go out to the emailing list yesterday so am resending to make sure  my blog is working correctly for the trip.  Let me know in the comments below if you already got this midday on Wednesday …yesterday …..thanks my friends!!)

I must have been a lab rat in a previous life,….. or better yet, one of PAVLOV'S DOGS. This morning when I woke up, I wandered into my kitchen as I always do to make my coffee and check my email. As I was getting the French Press ready and waiting for the computer to wake up, I heard Chinese dialect on my TV and out of the blue, began to smell all the foods of a typical morning market in China!!.
TYPICAL CHINESE BREAKFAST OR "SNACK"…TOPPED WITH VARIOUS GOODIES
I sat here wondering why I am drooling over something I can't really even smell or see. The Chinese laughing and talking on TV (yeah I listen to an Asian channel hoping some Mandarin will rub off) triggered an instant FEAST in my brain including my favorite morning beverage YUNNAN COFFEE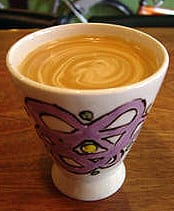 I am so stoked to finally bring home some Yunnan Coffee from China on this upcoming trip….. only a little over one week away!!. There is nothing in the world quite like it!! Yunnan Coffee has a natural sweet /nutty flavor and could wake up an elephant the way the Chinese brew it. YUM
ABOVE: THE PRISTINE COFFEE PLANTATIONS OF YUNNAN PROVINCE IN SOUTHERN CHINA
"Yunnan, China is the most southern part of China, and also the richest in biodiversity and ethnicity. There are a multitude of different ethnic minorities and species living together. Yunnan province is said to be the 'real' China, the last frontier of land in China with pristine nature, not over developed with industrialization."
KUNMING CHINA 2006….CITY OF ETERNAL SPRING
My son spent some time in Yunnan Province in the city of Kunming studying Mandarin following his graduation a few years ago. We talk about going back often and will sometime soon!!!
MY SON AND I IN KUNMING 2006
A VERY BLURRY PHOTO OF WHAT I THINK WAS SALVADORS COFFEE SHOP
…BRY HELP ME OUT ON THIS
These were some of the other students studying Mandarin with Bryan in Kunming
Roasted corn …another Chinese staple street food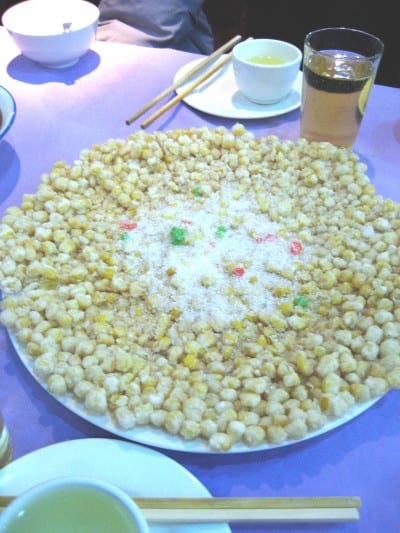 Heres another unusual crispy corn dish we had in Chengdu 08….topped with sugar!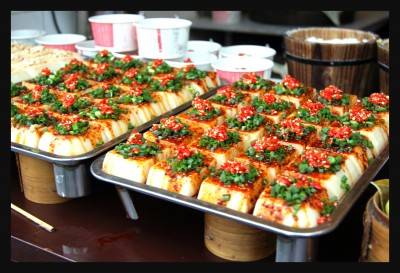 And classic Sichuan heat!!! over some sort of custardy ricey thingie
I am getting hungry just writing this and will go grab a rice cake to stave off the hunger…but somehow it just wont' be the same until I have a steaming cup of my Yunnan coffee to go with it!!
CLICK PHOTO TO LEARN MORE ABOUT YUNNAN COFFEE IN ZHUKULA