This gorgeous sling style handbag is on Ebay right now.Both the front and back are decorated with chows and embellishments.  Lots of pockets and zippers and all Scotchgarded so you don't need to worry about getting it dirty
CLICK PHOTOS OR LINKS TO ACCESS THESE ITEMS IN MY STORES OR EBAY
DID YOU ALL HAVE A SUPER WEEKEND??? As you can see I worked straight through the crazy NW storms to get some of the coolest artworks listed on my websites for you to consider for holiday gift giving!!  My yard as well as myself look VERY windblown. .  Today is sunny and I'm thrilled to bits to soak in the rays in my studio window as I write to you all.
THE TOP 3 ITEMS  ARE ALL EBAY AUCTIONS STARTING AT $1.00 WITH NO RESERVE as a Thanksgiving week special for you all!!!  I adore REAL auctions where anything goes!! Many of my Ebay store items have a portion of the proceeds going to Pandas International as well
CLICK HERE TO ACCESS THE AUCTIONS PLUS MUCH MORE IN MY EBAY STORE
AND BELOW FIND NEW BATIK CARDS IN MY ZAZZLE STORE PLUS TONS MORE!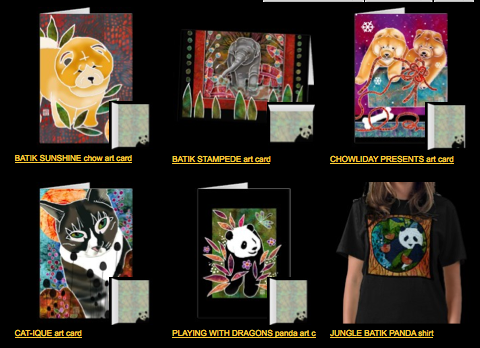 ALSO NOTICE THE NEW LINK ON THE HOMEPAGE AT GRAFFITI GOSSIP
CLICK ON GO SHOPPING JUST UNDER THE BLOG HEADER AT GRAFITI GOSSIP TO FIND ALL MY MERCHANDISE WEBSITES IN ONE CONVENIENT LOCATION…YES…EVEN I WAS GETTING CONFUSED SO I WOULD EXPECT YOU ALL WERE GOING CRAZY WHEN YOU WANTED TO FIND MY ITEMS BETWEEN MY POSTINGS.
This is the beauty and curse of evolving and growing in my art…..it means I need to keep changing my websites to keep up with my interests and yours!   Next I will be making some additions to my main website  SANDRAMILLER.COM
since a few things are needing updating badly.  That will come after the holidays as it's a 2 week project
So I think I will stop with this info so as to not inundate you with too much in one post.  I have all sorts of awesome goodies in the works and will be posting a good portion of them on Ebay this week either in the Ebay store or as an auction.
Have a beautiful Thanksgiving week…I will be posting again before Turkey Day
Hugs, Sandra.