If the photos do not load in your email, CLICK HERE to view this newsletter on my blog
where you can also catch up on any daily news and available goodies you might have missed
Hello everyone!!  Can you believe November is here already???? OMG my Thailand/China trip is just around the corner …..panda, moonbears and ellies OH MY!!! I'm trying to not get too excited yet.  I have so much to do and so many ideas from our recent trip I need to start on too!!
I took these photos you see of the maples in our yard yesterday.  This is quite late for our trees to be starting to turn and my huge Japanese maple hasn't disappointed me one bit!!  The backlighting on it in mid morning is exquisite.  Where else can you find those shades of red??? SIGH!!!
ABOVE IS THE BACK OF A HAND APPLIQUED AND PAINTED PANDA DESIGN I JUST FINISHED. CLICK THE PHOTO TO FIND 7 GREAT PHOTOS TO LOOK AT WHERE I AM OFFERING THIS BEAUTY FOR PURCHASE
Well maybe I spoke too soon…where else do you find those rich tones  but in  hand batiked garments from Bali that is!!!! One of my fave garment designers Annie has given me the go ahead to work with her designs to embellish as one of a kind ART TO WEAR fashions!!  I'm so excited I could burst!!
What better "canvas" to work on than  base garments which I can stand behind 100% as this is all I wear practically.  Annie's gorgeous batiks from Bali are the highest quality I've found and are artfully and elegantly constructed to flatter the feminine form in the most  COMFORTABLE and sexy way possible
ABOVE IS A YUMMY PANDA BLOUSE WITH A VERY COOL ASSYMETRICAL HEMLINE
CLICK TO FIND IT ON THE WEBSITE.  THIS IS ONE OF A KIND
The other thing I love about working with these garments is they are mostly "FREE SIZED" meaning the cut and drape of the clothing fits a variety of sizes and figure types which takes a lot of the guesswork out of trying to decide what sizes to buy to apply my art on.  My biggest challenge is choosing colors……I LOVE THEM ALL!!!!!!!!!!!!
ABOVE IS MY NEW LOGO FOR THE GARMENTS.  YOU WILL SEE BELOW WHAT "HAUGHTY BUT NICE" MODEL I HAD POSE FOR THIS GRAPHIC!!
HERE IS THE LABEL YOU WILL SEE ON YOUR GARMENT AT THE NECKLINE
MEG WAS LOVING THE COOL CRISP DAY WITH THE WARM SUN ON HER OLD BOD!!
AND ABOVE YOU WILL FIND A LOTS AND LOTS OF NEW MERCHANDISE IN MY ZAZZLE STORE!!!
CLICK HERE TO FIND NEW PANDA, CAT AND CHOW ITEMS!!!  NEW MEN'S CHOW TIES ARE ON THE WAY NEXT WEEK
BELOW YOU WILL FIND A VIDEO I RECORDED FROM MY LIVE STREAM ON MY NEW TV STATION  WHICH I WILL BE USING FOR THE LIVE BEAD SHOW!!
A TENATIVE  OPENING DATE FOR THE SHOW IS THIS COMING SUNDAY, NOVEMBER 8TH.  I WILL SEND CONFIRMATION OF THAT DATE AND  THE TIMES THAT I WILL BE LIVE TO CHAT ON GRAFFI-TV.  MORE TO COME ON THURSDAY ABOUT THE SHOW
YOU CAN ACCESS GRAFFI-TV ABOVE AS WELL
JUST ONE EXAMPLE OF THE GORGEOUS BEADS FROM MY TRAVELS THAT WILL BE AVAILABLE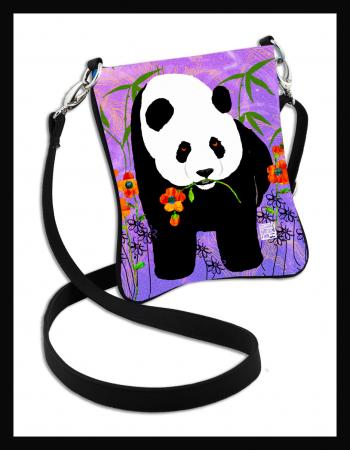 And more NEW handbags in many different styles and artwork at GRAFFITI JEWELRY
AND MY ANGELIC (HA) MEG… AS BACKLIT AS THE MAPLE LEAVES.  A PERFECT "HALO" OF FUR  FORMED AROUND HER SILHOUETTE
I could go on forever with all the new things I've been up to but I think I'll save something for later!!  For now look for my update later this week about the bead show.  There will be some awesome pendants in those mixtures as well as a few new items on the site to consider besides beads
Have an incredible week my friends!!!
HUGS…SANDRA