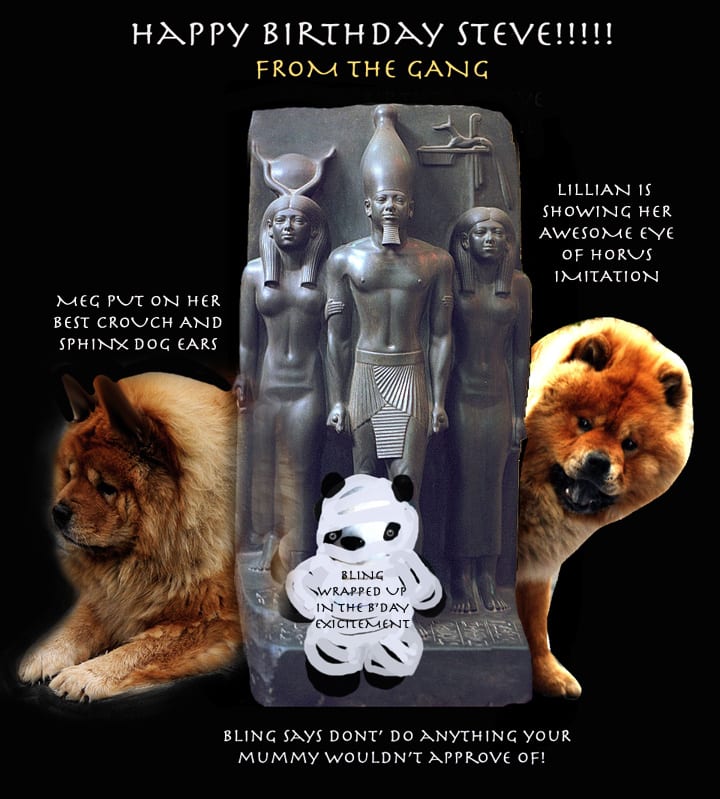 Hi everyone!!! Well you probably know by now we are here in Cairo and have so much planned this week !!!  Our first couple of days were just catch up on jet lag time and getting to know the city a bit.   Now comes the fun of visiting the pyramids and sphinx!!
Today is Steves birthday and the "kids" wanted to do something special for him so they posed for this virtual greeting card in his honor.  I'm not sure whether Meg or Lillian did the hack mummy wrap on Bling but I guess it's the thought that counts!  They really enjoyed the challenge an Bling just giggled because it tickled a lot!!
Becky , I hope all is well at home and the girls  are behaving well.  Give them a special treat for us today for Steves birthday!!
I'll be posting photos later today so please make sure to stop back in and we love to get your comments!!!
Luv from Cairo
Sandra and Steve!!!
SIGN UP FOR THE GRAFFITI GOSSIP BLOG UPDATES SO YOU DON'T MISS A SINGLE TRAVELBLOGUE POST!