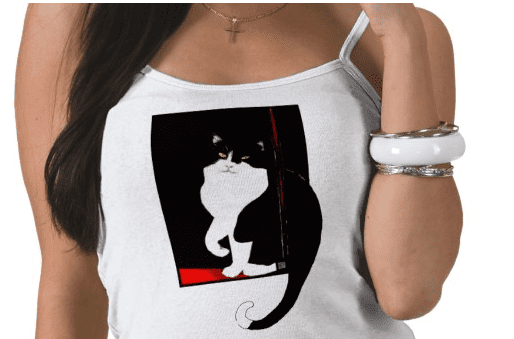 I'll have to admit, I'm not the biggest "Faster Pussycat"  fan(late 80's rock group) but this song has always been one of my very favorites.  The best ROAD TRIPPIN tune ever!!!  My kids are probably shaking their heads in disbelief!!!  Yes Bry and Liz…mom still rocks !!!  I hadn't heard this in years and we were listening to the song on the way to the wine tasting on Sunday…I STILL love it!!!!
The use of this old Buster Keaton silent film was CLASSIC and very very funny.  Below I attached the lyrics.  Have you had days like this where you felt you were on the LAME TRAIN???? SMILE!!!  My favorite line from the song is quite profound actually
"I GUESS THE TRACKS YOU MAKE ARE YOUR OWN"
I was going to post photos of the weekend today but am not quite ready so will show you my newest Zazzle designs instead!! A strange connection to the video but since the group is Faster Pussycat this seemed appropriate!! LOL.  I worked my tail off yesterday and today to get this one done!! My FIRST kitty cat design inspired by the dance studio kitty from the weekend!!

——————————————————————————————

LYRICS TO "NONSTOP TO NOWHERE" BY FASTER PUSSYCAT
CHORUS 1:
I'm on the lame train
I got a first-class ticket on the nonstop to nowhere
Where it takes me I don't know
I guess the tracks you make are your own
Well it's 5 o'clock in the morning And I can't fall asleep again
Times are changing and moving fast Way too fast for me
Seems like only yesterday I was skipping school and stealing gasoline
I've been talking I guess you call it Talking a white lie
One minute I'm on top of the world And the next thing you know
CHORUS 1:
Sometimes I just sit and daydream And I just slip away from here
If only I had a crystal ball Or could invent a time machine
I'd go into the future Take a good look around
And see what life has in store for me
I've been walking I guess you call it Walking a thin line
One minute I'm on top of the world And the next thing you know
CHORUS 2:
I'm on the lame train
I got a first-class ticket on the nonstop to nowhere
Where it takes me I don't know
I guess the tracks you make are your own
It's like achain gang going I know the exit
But my problems seem to follow me
Wherever I go Nonstop to nowhere
I don't believe the preachers They're just sticking out their hands
I don't believe the government And who the hell's this Uncle Sam?
Mr. Conductor Will you help me off this train?
Well I believe I'm on the wrong one and it's taking me down the drain