Talk about an appropriate photo to celebrate Mothers Day with.  As I stood outside taking pix this afternoon, I felt something hit my head…literrally a "Chicken Little….the sky is falling" episode!  This is what hit my head and landed next to my feet.  A new life had come into the world and Mama Robin was cleaning house so her new babies would have a clean bed to sleep in. A mothers work is never done
Scroll down for the video I made for my mom for Mothers day!!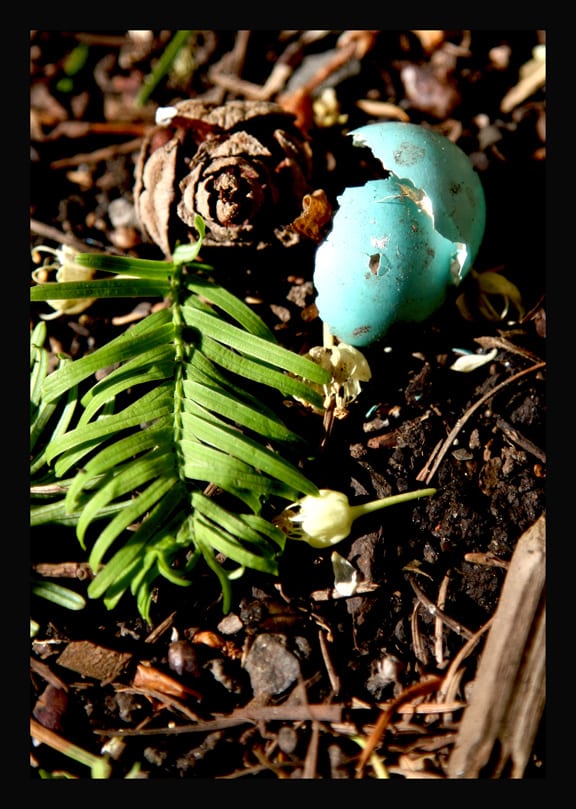 The second weekend of May is always the opening weekend for our local Beaverton Farmers Market….known for their incredible organic produce and a very high percentage of perennial growers as well…Just ask my mom, Diana, and Mary Susan how much fun this place is.
Mom LOVES to go to this market and garden centers , so for Mom's day I am taking you on a virtual tour mommy!!!!  I hope you enjoy this and you have a package on the way of goodies from the market too!!
TURN ON YOUR VOLUME AND CLICK THE ARROW IN THE LOWER LEFT ON THE IMAGE BELOW TO START
HAPPY MOTHERS DAY, MAY 2009 from Sandra Miller on Vimeo.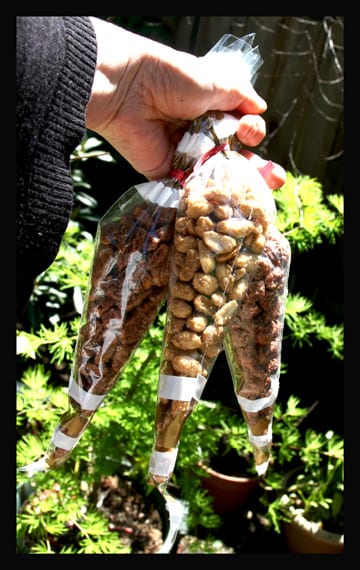 Mom is ready to strangle me right now…I can tell because she WANTS these toffee covered peanuts, pecans and hazelnuts RIGHT NOW…..how are you going to wait mom??? LOL!
HAPPY MOTHERS DAY TO ALL MY MOMMY FRIENDS!!!!