GARDEN SCULPTURE I PAINTED CALLED "ONE GOOD TERN, DESERVES ANOTHER"
Hello my friends!! I've been so busy these past couple of weeks and am just now getting caught up on my blogs and journals. When spring hits in Portland…..the garden doesn't wait!!!
CLICK THE ARROW ON THE VIDEO BELOW TO SEE MY GARDEN YESTERDAY!!

ABOVE: A  STUNNING ROSE THAT IS PRIZED FOR IT'S THORNS
This rose is planted strategically in the garden where the flat translucent red thorns catch the backlighting from the afternoon sun.  I purchased it last summer on an outing with Frankie and Susan and am SO glad I bought it!!
ABOVE: THE PLANTS ARE STARTING TO GROW SO FAST YOU CAN HEAR THEM SQUEEK!
This is one of the "rooms" in the front beds that I am redoing with art and furniture.  I need to get some more annuals for this area
ABOVE: A DELICIOUS AFRICAN DAISY IN WATERCOLOR WASH HUES
ABOVE: I FINALLY CAPTURED MY CHICKADEE FEEDING HER BABIES!!
ABOVE:THIS IS BEFORE THE NEW WOODCHIPS GO ONTO THE TRAILS
I am getting this area where the old tree was cut down last year.  I decided to showcase the trunk and give it some "decor" including the butterfly bench and will have orange zinnias and nicotiana towering in the later summer
ABOVE: DIANA…..THAT IRIS THAT NEVER BLOOMS YOU GAVE ME…..ITS FULL OF BLOOMS!!!!
———————————————————————-
BE SURE TO CHECK OUT THIS LINK AT PANDARAZZI TO READ ABOUT MY ITINERARY FOR THE 2010 CHINA/THAILAND TRIP TO VISIT THE PANDAS AND MOONBEARS!!!
———————————————————————-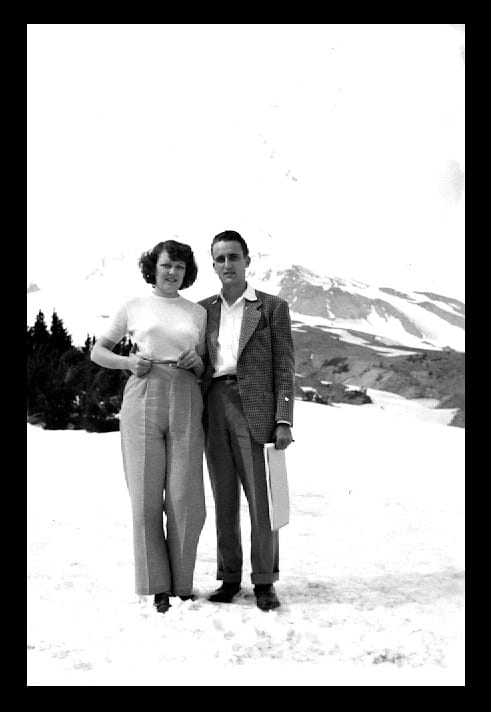 AND IN LOVING MEMORY OF MY DAD FOR MEMORIAL DAY…. A FAVE PHOTO OF MY MOM AND DAD IN 1948, VISITING MOUNT HOOD IN OREGON!  THIS IS ONE OF MOMS INCREDIBLY RESTORED IMAGES SHE HAS BEEN WORKING ON. MOM……….BRRRRRRRRRRRR
Who would have imagined I would have ended up living in PDX with my whole family in the midwest!
HAVE A SAFE AND FUN MEMORIAL DAY WEEKEND EVERYONE!!!!!