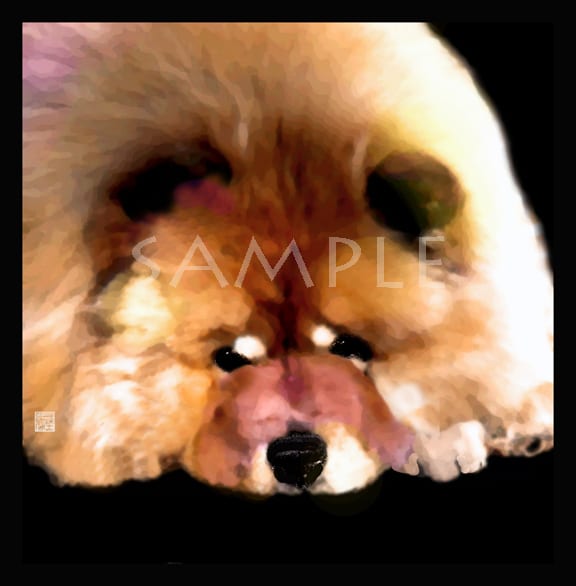 Introducing my latest artwork available as a high quality giclee print!!!!  This is an extremely limited run of prints as only 20 will be produced total. Each one will be printed on demand as they are ordered and come to you professionally packaged by my printer.
PRINT SIZE  IS A GENEROUS 16″x16″  WHICH WILL FRAME UP AS APPROX A 24″ X 24″ FINISHED SIZE WITH YOUR OWN MATS AND FRAME!!
The look on this chow's face says it all……it's "chow-ese" for ….."I'm not getting up……Step over me !" Anyone who has been owned by a chow has seen the "look".
The watercolor wash effect gives such a soft dreamy quality to this artwork while the rich black background absolutely makes this stunning chow absolutely POP from the background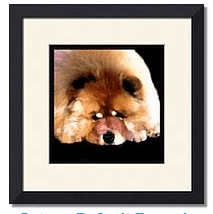 CLICK BELOW TO PURCHASE WITH PAYPAL OR CREDIT CARD
[wp_1027cart:Step Over Me:price:78.00:end]
The black border is part of the print so when you frame it you have an instant inner black "mat" to layer another mat over. The white mat outer mat and simple  black frame really do set this beauty off. There is no home or office decor this would not coordinate well in…..super neutral.
The paper I chose to have the print created on is Somerset Velvet,which is a delicately textured fine art paper engineered to give you the highest resolution and color saturation possible. It has always been the first paper choice among serious artists and printmakers dating back to the 1700's and the days of handmade paper.
Somerset Velvet is 100% cotton, acid-free paper with luxurious weight, texture and finish that truly delivers museum quality appearance.  This is the same paper my original watercolors are always created on.  It's hard to tell the print from the original…believe me…I've come close to mixing them up myself!!
Consider a Mother's Day or Fathers Day gift or a focal art piece for your own home or office!!!
SHIPPING IS FREE IN THE U.S.  FOREIGN BUYERS PLEASE CONTACT ME FOR SHIPPING RATES BEFORE YOU PURCHASE..THANK YOU SO VERY MUCH!