What a little treasure this pendant is…absolutely FILLED to the brim with a brocade of springtime flowers. I lost count of the days it took me to complete this multi layered design. Each pass through the kiln for a 24 hour firing at 1500 degrees…I hold my breath that the colors dont' shift or burn out. This stayed so incredibly vibrant and translucent as well.
The pendant measures approximately 2″ long x 1 1/2″ wide not including the sterling and brushed aluminum bail. The 2 rings provide a lot of movement to the piece and allow you to lift the pendant to the light to show off it's vitreous nature as well.
DESIGNERS:  I WILL INCLUDE A SMALL SIDE DISH OF BEADS TO COORDINATE THIS PENDANT .  OTHERWISE I WILL INCLUDE THE SILVER NECKWIRE IT IS DISPLAYED ON.
THE UNREAL PRICE ON THIS FLOWERY MINI WORK OF ART IS 58.00…AND FREE U.S. SHIPPING!!!
SORRY…THIS PENDANT IS SOLD..THANK YOU!
OUR AMSTERDAM JOURNEY SEEMS EONS AGO DOESN'T IT..WE WENT THIS TIME OF YEAR
A FAVE SHOT FROM THE TULIP GARDEN DISPLAY IN AMSTERDAM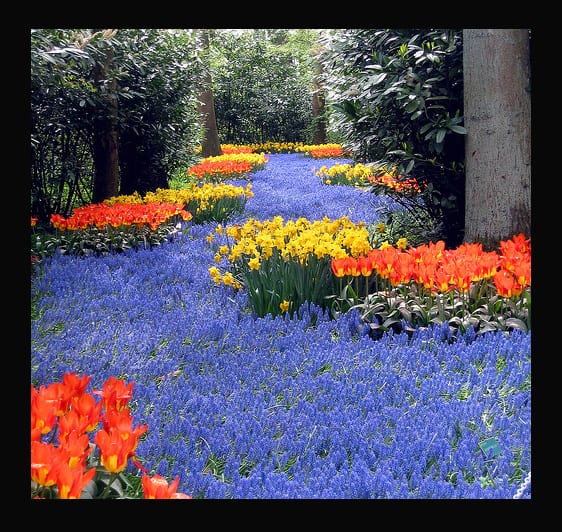 THIS IMAGE IS RIGHT UP THERE WITH MY ALL TIME FAVORITE TRAVEL PIX..TAKEN IN AMSTERDAM