I'm so thrilled at how these newest designs turned out on the black tshirts at my Zazzle store!!  Both the panda and the chow can be ordered on all the DARKS, WHITE, OR CREAM……however on the pastels the tshirt color will show through on the white parts of the design.  I locked the pastel options in the store  incase you try to order them..
Remember this beauty….it's the Chow painting I did for Steve for Xmas!!!  It's so gorgeous in person!!
CLICK ANY OF THE IMAGES TO GO TO THE LATEST PRODUCTS

LADIES, I HIGHLY RECOMMEND UNLESS YOU ARE A VERY SMALL SIZE TO ORDER THE MEN'S TSHIRTS
YOU CAN FIND ALL THE SHIRT DESIGNS DISPLAYED ON THE WOMEN MODELS..EVEN THE MENS SHIRTS
THIS PANDA DESIGN WAS ALSO USED ON A SPECIAL VALENTINES DAY CARD I AM CURRENTLY OFFERING AS A FREE DOWNLOAD FOR ANYONE CONTRIBUTING TO THE LATEST MOONBEAR #2 PROJECT…SEE PANDARAZZI FOR MORE INFO….WE ARE SPONSORING A BLIND MOONBEAR AND CURRENTLY HAVE 315.00 OF 600.00 NEEDED BY VALENTINES DAY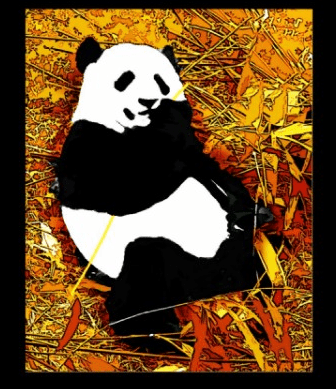 THIS SCRUMPTIOUS DESIGN IS ALSO AVAILABLE AS AN UNFRAMED OR FRAMED POSTER
Have a super week everyone and Thanks for looking!!
BIGGEST OF HUGS!….SANDRA